News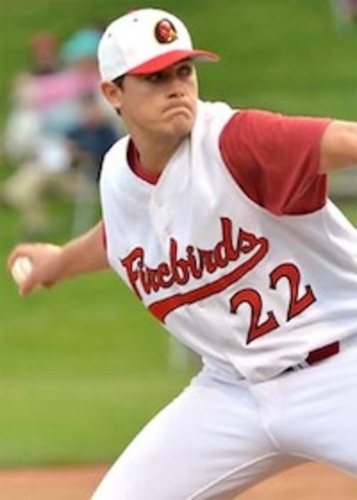 07/10/2015 6:24 PM
Article By:
The Orleans Firebirds are performing on all cylinders this season as they enjoy a Cape Cod Baseball League-best record of 18-7.
Orleans is 7-3 in its last 10 games, and the team's success can be credited in large part to its solid pitching, highlighted by Mitchell Jordan.
Jordan, a junior at Stetson University, is leading the Cape League in strikeouts with 31, followed closely by teammate Eric Lauer with 30. In addition, the 6-2, 205-pound right-hander is 4-0, his ERA as good as it gets at 0.00 through 27 innings pitched, and opponents have managed just nine hits off him all summer.
The Longwood, Fla., native has already been named Coca-Cola Pitcher of the Week twice this summer and he seems nearly untouchable with a baseball in his hands.
"I try and focus on one pitch at a time, one inning at a time and not look too far ahead," Jordan said on his strategy when he takes the field. "I do everything one step at a time even when I'm warming up honestly, you don't want to get ahead of yourself or think innings ahead because that's when you can get in trouble."
His method certainly has paid off for both himself and his team as the Firebirds have a stronghold on first place in the East Division. Perhaps most important to the team's success is how much fun the players are having.
"It's been a lot of fun playing with great players and a coaching staff that get along so well," Jordan said. "We're just taking it easy and enjoying it out here, you only get this experience once in your life."
They may be taking it easy and enjoying their time here, but on the field the Firebirds have no plans of letting up.
Jordan's host family, the Radkees, are housing him and five of his teammates in just two rooms, which has allowed for friendships to be forged both on and off the field. "It's a little tight, but it's been a great experience for me," Jordan added.
When asked what has made this summer so successful for Orleans, the pitcher answered, "We have so many players hitting and pitching well for us and our coaches are doing a great job. We have great chemistry all around; we're playing great baseball."
As the month continues and the playoffs approach, the Firebirds will try and keep their success going.
"We want to keep playing well as a team, and I believe we have the best chance to win it all in this league," Jordan said.