News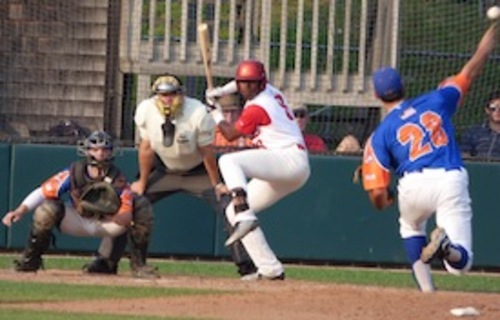 07/23/2015 8:21 AM
Article By:
The Cape Cod Baseball League Friendly's All-Star game is slated for Saturday, July 25, at Wareham's Clem Spillane Field and will feature the best the league has to offer, including six Orleans Firebirds representing the East.
Right fielder Kyle Lewis (Mercer), first baseman Ronnie Dawson (Ohio State) and pitcher Mitchell Jordan (Stetson) will start for the East while Nick Zammarelli (Elon), Sean Murphy (Wright State) and Eric Lauer (Kent State) are reserves on the roster.
Orleans field manager Kelly Nicholson will be on the coaching staff for the East side and Firebirds outfielder Willie Abreu (Miami) will participe in the Home Run Hitting Contest.
It's quite impressive to have this many players from one team on the All-Star squad, but for the league-leading Firebirds, who have clinched the playoffs with a 26-9 record through Wednesday, July 22, it's to be expected.
"To be honest, I think our whole team could be All-Stars," said Firebirds first baseman Dawson, who's having a solid summer. He's batting .269 with four home runs, 13 RBIs and 10 stolen bases as of July 22.
The 6-2, 215-pound junior wasn't sure if he could make the All-Star roster at the beginning of the summer, but stayed true to what his hitting coach told him. "I asked Coach Benny (Craig) what I needed to do to make the All-Star team when I first got here, and he told me to trust him in what he taught me," Dawson said. "I owe it all to him."
His teammate, Lewis, is having a stellar stint with the Cape League, batting .308 with 19 RBIs, 36 hits, and six home runs, which is tied for second in the league behind fellow Firebird Bobby Dalbec (Arizona), who has eight as of July 22.
"This has been a really fun summer and it's a privilege to play with such a great team and great coaching staff," said Lewis, a 6-4, 205-pound junior. "Coming into the season it was a goal of mine to make the All-Star team and I'm honored to play and represent my team, school and myself. It's a big honor all around."
The standout also believes it says a lot about Orleans that six of its players will represent the East on Saturday and one will be part of the Home Run Hitting Contest. "We have what I think are the top two pitchers in the league on the All-Star team in Mitchell (Jordan), and Eric (Lauer). There's so much talent on this team. It's exciting to be a part of a team like this."
Jordan is leading the league with a 0.24 ERA and six wins while Lauer leads the league in strikeouts with 48, validating Lewis' statement.
Rounding out the Firebirds on the East All-Star list are reserves Zammarelli and Murphy, who are batting .242 with 19 RBIs and .205 with seven RBIs, respectively.
"We're always trying to challenge each other and see who can be the next guy to step up," Lewis said. "Someone can always come through for us. It's a really great environment out here."
When it comes to the All-Star game itself, players are just looking to enjoy it and make the most of it.
"I just want to go out there and have fun, get the chance to play with some great ballplayers and future big leaguers," Dawson said. "There are going to be a lot of different fans there. Hopefully I can make them Ronnie Dawson fans."
Look for the Firebirds to make their presence known Saturday when the East takes on the West in the midsummer classic.