News
10/31/2007 9:09 AM
Article By:
for immediate release: 31 October, 2007
JOHN WYLDE to be Inducted
into the Cape Cod Baseball League Hall of Fame
Saturday, 3 November 2007, at 10:30 am
Chatham Bars Inn
CAPE COD, Mass. – Long-time league and team jack-of-all trades administrator John Wylde, who will celebrate his 25th anniversary with the Wareham Gatemen in 2008, will be inducted into the Cape Cod Baseball League Hall of Fame, Saturday, Nov. 3 at Chatham Bars Inn. This is the eighth class the Cape League has inducted.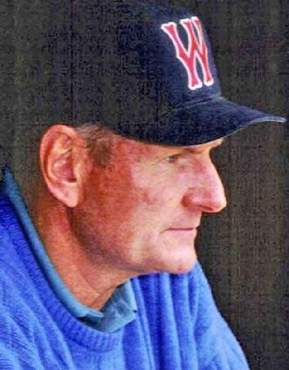 'Voice of the Wareham Gatemen', General Manager and President, John Wylde
Wylde will join eight other former players, administrators and managers who will also be inducted into the league's Hall of Fame. This year's class includes former major league pitcher Walt Terrell, who enjoyed an 11-year career with the New York Mets, Detroit Tigers, San Diego Padres and Pittsburgh Pirates, and Bob Schaefer, former bench coach with the Oakland A's and Kansas City Royals.

Other 2007 inductees include Cotuit's former league batting champion Del Bender, Harwich's league MVP and batting champion Scott Hemond, Bourne's league batting champion and MVP Dick Licini, Wareham's league MVP John Morris, Chatham's All-Star infielder Steve Saradnik and former Falmouth player-manager Jack Walsh.

Wylde, whose Gatemen were presented with the Commissioner's Cup for exemplary behavior both on and off the field this past summer for the second time in the last three years, will be presented with the 2007 Cape League's Richard Sullivan Executive of the Year Award at the induction ceremony.

"John's contributions to the Cape League and the Wareham franchise are innumerable. His meticulous strive for perfection is seen in every committee and every aspect of the league with which John is associated", said Cape League President Judy Walden Scarafile. "He is a true aficionado of the game, a game he loves beyond explanation. There is no one more deserving of this honor".

Wylde moved to Wareham with his wife, Patty, in 1974 after living in Dover, Mass., and Hollywood and LaJolla, Calif. He has been associated with the Wareham Gatemen since 1980, first as a fan, then becoming a sponsor in October, 1983. He currently serves as President, Treasurer, and General Manager, as well as being a member of the Organization Review/Budget Committee of the Gatemen.
For more than two decades, Wylde has served the Cape League in several capacities. He is currently a member of the CCBL Executive Committee and has held the position of official statistician, coordinator of all scoring and liaison with Sportsticker, the official statistics company of the Cape League. He has served as chairman of the nominating committee and member of the Budget, By-Law, 2007 All Star Game and Expansion committees.

John attended Harvard University, where he participated in football and ice hockey and was also a member of the Crimson Varsity Tennis Team. He retired from Patterson, Wylde & Co., Inc., a Boston-based steamship agency, in 1994.

John has taught tennis in the past, from serving as assistant pro in Maine to teaching for the Wareham Recreation Department with his wife, Patty.

He has also been active in Wareham town affairs, serving ten years on the Wareham Finance Committee, five years as Chairman. He also served one term as a member of the Board of Selectmen. His love of baseball, especially college baseball and the Boston Red Sox Minor League system, is well known. He also enjoys collecting stamps and reading. At home games, John is most recognizable for his voice as the Wareham Gatemen public address announcer.

"John Wylde has been instrumental in assisting the CCBL to national prominence," said CCBL Commissoner Paul Galop. "His impeccable record-keeping and statistical data has been lauded and embraced by all levels of professional baseball as tools that they use to assess players. His extraordinary level of integrity and ethical behavior is second to none. John's dedication and commitment to his current and former players, the volunteers of the Wareham Gatemen and the CCBL Executive Committee have become legendary and profound. John's performance in the CCBL over his 25 year tenure is what many future generations will want to strive to attain and his election to the Hall of Fame is the exclamation point on a flawless and impeccable career."

Tickets are $75 each and can be purchased until Friday by calling the League office at 508-432-6909.

Included in the price are a morning brunch and the induction ceremony. There will also be a silent auction of baseball memorabilia.

The Hall of Fame brunch starts at 10:30 a.m. in the waterfront dining room, with the induction ceremony immediately following in the Monomoy Theater at Chatham Bars Inn.

Working in conjunction with the Hyannis Area Chamber of Commerce, the Cape League will have its Hall of Fame re-located from the Heritage Museums & Gardens to the lower level of the JFK Hyannis Museum on Main Street in Hyannis.

The CCBL Hall of Fame exhibit was first created at Heritage in 2003 under a five-year contract, and the display has been a feature of Heritage's History Museum since that time. Both organizations agreed that after five successful years, the show needs to be redesigned and revitalized, and that a new venue will be a positive step for all concerned.
ABOUT THE CAPE COD BASEBALL LEAGUE
Beginning its 124th season in 2008, the 10-team Cape League originated in 1885 with individual town teams, was reorganized into the Cape Cod Baseball League in 1923 with teams in Chatham, Falmouth, Hyannis and Osterville and is now the premier collegiate baseball summer league in the country.

A total of 198 former Cape Leaguers currently populate major league rosters, including former Cy Young Award winner Barry Zito (Wareham '97 & '98), former MVP Frank Thomas (Orleans '88), former two-time AL batting champion Nomar Garciaparra (Orleans '93), ALCS MVP Darin Erstad (Falmouth '96), AL Comeback Player of the Year Carlos Pena (Harwich '96/Wareham '97) and 2007 World Series MVP stars Mike Lowell (Chatham '94) and captain Jason Varitek (Hyannis '91 & '93).
Cape League alumni of yesteryear include Baseball Hall of Famer Harold "Pie" Traynor (Falmouth '19), former New York Yankee greats Red Rolfe (Orleans '30) and Thurman Munson (Chatham '67), former Texas Rangers/New York Mets manager Bobby Valentine, Cy Young Award winner Mike Flanagan (Falmouth '72), Rolaids Fireman-of-the-Year Jeff Reardon (Cotuit '74-76), major league scout Lennie Merullo (Barnstable '35) and Major League Manager of the Year Buck Showalter (Hyannis '76).


John Garner, Jr.
Director of Public Relations & Broadcasting
(508) 790-0394
[email protected]