News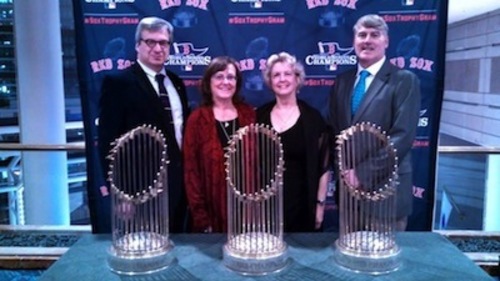 01/28/2016 4:43 PM
Article By: John Garner Jr.
One of the annual rites of winter in New England is the Boston Baseball Writers Awards Dinner, held last Thursday at Boston Marriott Copley Place.
On a frigid night in Beantown, the star-studded dais included first-year Red Sox President Dave Dombrowski, Boston manager John Farrell, executive director Rusty Sullivan of the New England Sports Museum and a bevy of other baseball executives, players and sportswriters.
In addition to Farrell, who pitched for then-Hyannis Mets in 1982, award recipients for the 77th annual Boston baseball dinner included two other Cape League alumni: Jackie Bradley Jr. (Hyannis, 2009) and Red Sox backup catcher Ryan Hanigan (Orleans, 2002).
The slick-fielding Bradley was named the Red Sox Comeback Player of the Year after hitting .249 with 10 homers, 17 doubles, 43 RBIs and 43 runs scored, in addition to playing all three outfield positions with excellence.
During his season on the Cape, the left-handed hitting Bradley hit .275 with 14 RBIs and 16 runs scored, and was among the league leaders with four triples for Hyannis.
Hanigan, who caught 54 games in a backup role, was named Red Sox Unsung Hero after batting .247 with two homers, eight doubles and 16 RBIs in 174 at-bats.
During the 2002 season for the then-Orleans Cardinals, the Andover, Mass., native and Rollins product batted .292 (10th in CCBL) with eight home runs. The East's starting catcher was named to the All-League team and was presented the Daniel J. Silva Award for Sportsmanship and John Claffey New England Top Prospect Award.
Other honorees from Boston included David Ortiz (Milestone Award); Brock Holt (Community); Mookie Betts (Hustle); Koji Uehara (Top Fireman); Eduardo Rodriguez (Pitcher and Rookie of the Year); Xander Bogaerts (Team MVP); Yoan Moncada (Top Minor Leaguer); broadcaster Don Orsillo (Good Guy Award); Jonathan Aro (Passion and Persistence); sportswriters Art Davidson (BBWAA's Dave O'Hara Award); and Dan Shaughnessy (Special Achievement); Torey Lovullo (Special Achievement); and Stacey Lucchino (Sports Museum Lifetime Achievement).
Out-of-town recipients included Mitch Harris (Tony C. Award); Chicago Cubs skipper Joe Maddon (Major League Manager of the Year); former Blue Jays GM and now L.A. Dodgers GM Alex Anthopoulous (ML Executive of the Year); Washington OF Bryce Harper (Best Hitter); and Chris Colabello (New England Player of the Year).
The sit-down dinner attended by more then 600 players, media and fans was preceded by a cocktail reception. A portion of the proceeds were to benefit the New England Sports Museum.
A small Cape Baseball League contingent of former president Judy Walden Scarafile, Hyannis VP Peter Scarafile, league secretary Kim Wolfe and I sat with the family of the late Judge Emil Fuchs, former owner of Boston Braves and namesake of the Fuchs Award, presented for long and meritorious service to baseball.
Capping off the night was master of ceremonies Mike Lynch, sports anchor at WCVB-TV Channel 5 in Boston. Lynch recognized the accomplishments of Scarafile and former Red Sox President/CEO Larry Lucchino, who both received standing ovations from the crowd.