News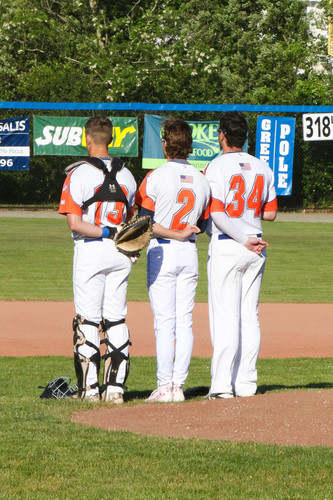 06/28/2018 9:09 AM
Article By: CCBL Public Relations Office
June 27 Cape Cod Baseball League Wrap Up
Hyannis (10-4-1): 7 at Brewster (3-12-1): 5
Brewster took an early lead after a three-run home run in the second inning off the bat of Dominic Canzone. Hyannis did not roll over, scoring four in the fifth inning themselves to take the lead. It was a close one all the way up till the end, where Hyannis scored two in the seventh, and Brewster responded with two of their own in the eight. The Hawks tacked on one more insurance run to complete the victory.
WP: Brett Schulze (1-0)
S: Dylan Thomas (2)
LP: Chris Murphy (0-1)
Notable Performances
Hyannis
Brady Lindsly (Oklahoma): 1-5, 2 RBI, R
Matthew Barefoot (Campbell): 3-5, 2B, RBI, 2 R, SB
Pedro Pages (FAU): 2-3, 2B, 3 RBI, BB
Brewster
Dominic Canzone (Ohio St.): 3-4, HR(1), 3 RBI, R
Ramon Alejo (UCF): 3-4, R
Orleans (5-10): 0 at Falmouth (6-8): 1
Wednesday night's game in Falmouth proved to be a pitcher's duel as both teams scored a combined one run on a total of five hits. The Commodores were able to cross a run in the third inning after an error by the pitcher allowed CJ Schaeffer on base. After a James Cosentino groundout, Schaeffer was able to advance to second, eventually scoring on a Logan Davidson single. Falmouth was able to complete the shutout thanks to some great pitching
WP: Scott Politz (1-2)
S: Ian Koch (1)
LP: Andrew Abbott (0-1)
Notable Performances
Orleans
Andrew Abbott (Virginia): 5.0, 1 R (0 ER), 2 H, 4 K, 1 BB
Joey Lancellotti (UNC): 2.0, 0 R, 0 H, 3 K, 1 BB
Falmouth
Scott Politz (Yale): 7.0, 0 R, 2 H, 4 K, 0 BB
Logan Davidson (Clemson): 2-4, RBI
Cotuit (8-6): 6 at Bourne (7-7-1) 5
After a shootout between the Kettleers and Braves in the first six innings, Cotuit was able to make the difference with a single run in the top of the eighth to seal the win. Michael Salvatore hit a leadoff single and ended up coming around to score on a wild pitch. It was not particularly a clean game with both teams committing three errors a piece. Despite Bourne collecting eleven hits, including three doubles and a home run, they left eleven men on base.
WP: Joseph Walsh (1-0)
S: Garrett Gayle (2)
LP: Greer Holston (1-2)
Notable Performances:
Cotuit
Michael Salvatore (FSU): 3-3, 2 RBI, BB, R, SB
Jakob Goldfarb (Oregon): 1-4, 3B, RBI, R
Bourne
Tyler Fitzgerald (Louisville): 3-4, 2B, HR(1), 2 RBI, BB, 3 R
Jared Triolo (Houston): 2-5, 2B, 2 RBI
Chatham (6-6-2): 3 at Wareham (10-6): 7
A big second inning from Wareham that scored four proved to be the deciding factor in this contest as Chatham was fairly quiet on the offensive side of the ball. The four runs for the Gatemen in the second inning included three hits and two errors. Jeremy Ydens was hit by a pitch with the bases loaded to score the first run. Then, a single by Sahid Valenzuela drove in two more runs. Ydens eventually came around to score on an error by the center fielder. Both of Chatham's erros came in this inning.
WP: Joseph Matulovich (1-0)
LP: Hunter Gaddis (2-1)
Notable Performances:
Chatham
Greg Jones (UNCW): 1-4, HR(3)
Tristin English (GATech): 2-4, 2B, HR(2)
Wareham
Sahid Valenzuela (Cal St. Full): 2-5, 2 RBI, R
Bryant Packard (East Carolina): 1-4, HR(2), 3 RBI, R
Lael Lockhart Jr (Houston): 2-3, RBI
Yarmouth-Dennis (8-5-2): 3 at Harwich (8-7-1): 2
Scoring was at a minimum in Harwich Wednesday night despite a total of eighteen hits; not to mention it took eleven innings to complete this one. Y-D scored one in the second and fifth, while Harwich would answer with one of their own in the following inning, the third and the sixth. There were no runs scored after the sixth inning until the top of the eleventh where Y-D's Luke Waddell hit a one out single to shortstop. After swiping second and advancing to third, Adam Kerner hit the go ahead run in with a single to left. The Mariners could not answer with one, and dropped the one-run game.
WP: Ryne Nelson (1-0)
LP: Jackson Gillis (0-1)
Notable Performances:
Yarmouth-Dennis
Adam Kerner (San Diego): 2-5, 2 RBI, SB
Noah Campbell (South Carolina): 2-5, HR(1)
Harwich
Brad Debo (NCSU): 2-4, 2B, RBI
Andre Lipcius (Tennessee): 1-4, BB, R
Thursday's Matchups:
5:00 PM
Orleans - Josh Hendrickson (1-0) at Cotuit - Bryce Jarvis (0-0)
6:00 PM
Yarmouth-Dennis - Karl Kauffmann (1-0) at Bourne - Justin Lasko (0-0)
Hyannis - Travis Marr (0-1) at Falmouth - Mitchell Stone (0-1)