News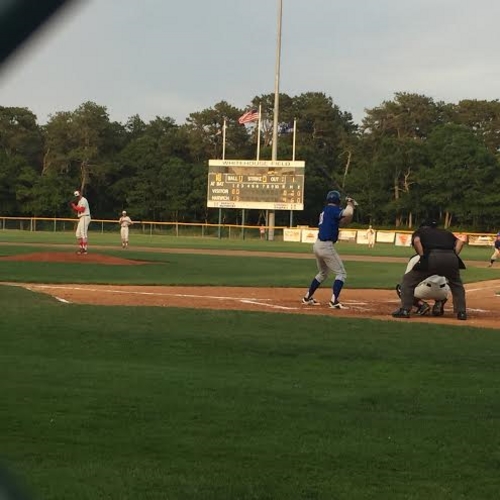 07/02/2018 7:30 AM
Article By: CCBL Public Relations Office
6/30 Cape Cod Baseball League Wrap Up
Saturday night was the last day in June, and Sunday''s slate of games takes us into July. The season is moving quickly, and we have seen some good baseball to this point.
Cotuit (8-8): 1 at Yarmouth-Dennis (9-6-2): 4
Y-D was able to hold Cotuit's offense at bay on Saturday night, allowing just seven hits for one run in their 4-1 victory. The Red Sox tossed four different pitchers, all of which struck out at least two Kettleers and as a group did not walk one batter. Y-D jumped ahead early 3-0 through four innings, including two RBI singles and a home run. They did not look back from there, scoring one more and shutting down the Kettleers offense.
WP: Jensen Elliot (2-1)
S: Tristan Baker (2)
LP: John Baker (2-2)
Notable Performances:
Cotuit
Cory Wood (Coastal Carolina): 3-4, R
Yarmouth-Dennis
Andrew Daschbach (Stanford): 3-4, 2B, HR(3), RBI, 3 R
Reese Albert (Florida St.): 3-3, RBI, R
Jensen Elliott (Oklahoma St.): 5.0, 1 R, 5 H, 3 K
Orleans (5-11-1): 3 at Brewster (3-13-2): 3
It was a hard fought ball game last night in Brewster, each team scoring just three runs. Orleans scored one in the second inning on a Matt Frazier RBI double. Brewster was able to tie it up in the fourth with a run, then another one in the fifth thanks to a Hunter Bishop solo shot. Orleans scored two more, one in the eighth and one in the ninth to take the lead 3-2. Brewster was able to cross a run in the bottom half of the ninth to tie the game and bring it to extra innings. The teams however could not decide a winner Friday night.
Notable Performances:
Orleans
Logan Wyatt (Louisville): 1-3, 2B, 2 RBI, BB
Spencer Steer (Oregon): 2-5, 2B, R
Brewster
Hunter Bishop (ASU): 2-4, HR(1), RBI, SB, 2 R
Cameron Eden (Cal Berkeley): 1-2, 2 RBI, BB
Jacob Hennessy (Clemson): 5.0, 1 R, 5 H, 5 K, 1 BB
Wareham (12-6): 17 at Hyannis (10-6-1): 4
Wareham rallied in the third inning, down 1-0, and put together a nine-run inning. Wareham sent thirteen Gatemen to the plate in the inning while collecting five hits and used two errors to take a 9-1 lead. Hyannis was able to get two back in the fourth and one in the fifth, but Wareham wasn't done. They put together a three-run sixth, two-run seventh, one-run eighth, and a two-run ninth to pour salt in the wound that was the Hawk's bullpen on Friday night.
WP: Jared Horn (1-1)
LP: Jordan Fowler (1-1)
Notable Performances:
Wareham
Pavin Parks (Kent St.): 2-6, HR(1), 3 RBI, SB, 2 R
Austin Shenton (FIU): 2-6, 2 2B, 2 RBI, 2 R
Lael Lockhart Jr (Houston): 2-2, RBI, 2 BB, 2 R
Hyannis
Todd Lott (Louisiana Lafayette): 3-5, HR(4), 3 RBI, SB, 2 R
Falmouth (7-9): 5 at Bourne (9-7-1): 7
Both teams were able to put together some multi-run innings in the middle of this contest. A three-run third for Falmouth and a two-run third for Bourne got things started. However, Bourne was able to score another three in the third to take a 5-4 lead. The Commodores scored one in the fifth to tie it up, but the Braves were able to answer right back with one of their own in the bottom half of the inning. Up 6-5, Bourne tacked one more on in the eighth to take the win at home.
WP: Mike Ruff (2-0)
S: Jacob Wallace (4)
LP: Carson Spiers (1-1)
Notable Performances:
Falmouth
Cameron Cannon (Arizona): 2-5, 2B, 2 RBI
Hayden Cantrelle (Louisiana Lafayette): 1-3, 2 BB, R
Kyle Stowers (Stanford): 3-5, 2B, RBI, 2 R
Bourne
Trey Benton (East Carolina): 3.0, 0 R, 0 H, 4 K
Lyle Lin (ASU): 3-4, 2B, RBI, R
Ashton Bardzell (Hartford): 1-3, HR(2), 2 RBI, BB
Harwich (9-8-1): 1 at Chatham (8-6-2): 5
Chatham silenced Harwich's bats on Saturday night, holding them to just one run that occured in the sixth inning. The Mariners also did a good job at keeping the Anglers' offense to a minimum, but blew up in the seventh inning when Chatham scored four runs to take a 5-1 lead. A Greg Jones triple scored one, a John Rave double scored one, a sacrifice fly from Ben Ramirez scored one, and it was topped off with a solo home run from Blake Sabol. The damage was done in the seventh for Chatham to take the win.
WP: Zach King (1-0)
LP: Michael Bienlien (0-1)
Notable Performances:
Harwich
Danny Casals (Maine Orono): 2-4, 2B, R
Aaron Schunk (Georgia): 1-3, RBI
Chatham
Greg Jones (UNCW): 2-4, 3B, 2 RBI, R
Branden Fryman (Samford): 2-2, 2B, BB, SB, 2 R
Dan Hammer (Pitt): 4.2, 0 R, 2 H, 2 K
Sunday's schedule features a full slate of games starting at 5:00 PM
5:00 PM
Chatham - Alek Manoah (1-1) at Cotuit - Seth Shuman (0-1)
5:30
Yarmouth-Dennis - Tommy Henry (0-0) at Wareham - Connor Lunn (2-0)
Hyannis - TBD at Harwich - Ty Buckner (1-0)
Bourne - Harrison Rutkowski (0-1) at Orleans - Kade Mechals (1-0)

Brewster - Benjamin Dragani (0-1) at Falmouth - Adam Laskey (1-0)