News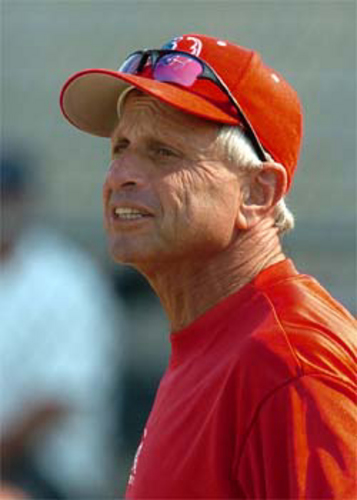 07/05/2018 8:55 AM
Article By: CCBL Public Relations Office
Scott Pickler,Yarmouth-Dennis Red Sox - Cypress College (Calif.)

Scott Pickler completed his 34th season with the Cypress College in 2018. He took over the Cypress College program in 1985 and has since led the Chargers to five state championships (1991, 1994, 1997, 2003, 2013) and four runner-up finishes (1996, 1999, 2004, 2007).
Pickler has amassed a career record of 981-493 (.666) and has been honored as National Coach of the Year for California Community Colleges four times. He has also sent hundreds of players on to four-year schools and the professional ranks.

Pickler has served as a coach for USA Baseball and has spent 18 seasons as a coach in the Cape Cod Summer League, where he's led the Yarmouth-Dennis Red Sox to five Cape Cod League championships. Over 70 of Pickler's Cape League players have moved on to the Major Leagues.

Before coming to Cypress, Pickler had an outstanding high school coaching career. In six seasons at Savanna and Loara High Schools, he posted a combined record of 123-36 (.774) and won the CIF championship with his 1983 Loara squad.
Pickler is a 1968 graduate of Savanna High School where he was named Athlete of the Year and inducted into the Hall of Fame alongside his brother (Brad Pickler) in 2016. He attended Cypress College and earned all-conference recognition under Coach Larry Mercadante. He earned a degree in physical education from San Diego State University, where he played second base.
Pickler joins fellow Cape League coaches in the ABCA Hall of Fame:

Ron Polk - 1995 - Hyannis
Jerry Weinstein - 2009- Cotuit
Mike Roberts - 2015 - Cotuit
Ray Korn - 2015 - Hyannis