News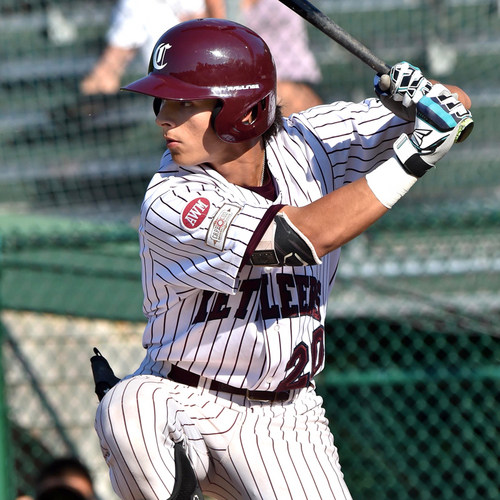 02/08/2021 5:09 AM
Article By: Taylor Viles

Playing a sport at a high level with the intention of continuing on to a professional setting is grueling on the body. Athletes put themselves through demanding drills and workouts leading to eventual retirement from the sport if not performed correctly.

For athletes who haven't made the pros yet, an injury could also signify the end of the road before the journey has even become exciting. Coastal Carolina star Parker Chavers had two fantastic collegiate seasons on their baseball team hitting .323 and .316, respectively, before getting sidelined by an odd injury causing him to get lost in the MLB's prospect pool.

It was a shoulder injury, caused by tripping down the dugout steps at T-Mobile Park in Seattle (home to the Mariners) during his school's spring break tournament in March of 2019. The injury is one baseball player's don't prepare for, and one Chavers wasn't expecting to miss time because of.

"It was just a freak accident and ended up...being a lingering thing," he said. Chavers only missed six games during the 2019 season still managing 15 home runs, doubling his total from his freshmen season. If he was feeling the injury, he certainly wasn't showing it. "Thankfully, I was able to play it through the summer on the Cape and get through that pretty healthy for the most part."

On Cape Cod, he played for Cotuit Kettleers under Manager Mike Roberts. His shoulder behaved and Chavers managed to play in 36 regular-season games, the all-star game, and seven playoff games.

Chavers stands at only 5'11" and 185 pounds, according to Coastal Carolina, which is on the low end of the college baseball spectrum for size. Still, with a wooden bat, he cranked seven baseballs over the fence on Cape Cod, two of which came during the postseason.

Like summer teammate and first-round pick Nick Gonzales, Chavers says despite his success, his favorite moment of the summer was winning the championship. "I mean, that's probably an easy answer, but there were definitely a lot of good players and a lot of tough competition. I was super proud of the way we played especially down the stretch. We were kind of inconsistent throughout the regular season, but towards the end, our lineup was just on fire." He doubled down by saying it was one of his favorite baseball experiences ever.

"That summer for me was just a huge learning experience. Not just about baseball, necessarily, but I kind of just learned a lot about myself," said Chavers. He said the Cape is where he learned to handle failure because of the intense competition.

"It's definitely different than just a normal college game. I mean, it's the two or three best players off every team is that's making up all the rosters," said Chavers. "I don't want to say you can be more content with failure, but at the same time, you have to realize that it's not gonna be easy. It's the closest thing to pro-ball you're going to get before you get there."

As Chavers said, his shoulder injury didn't prevent his all-star summer on Cape Cod, but once fall-ball came around, he began to experience some discomfort. "[When] I got back to school last fall it kept getting worse and something ultimately, I had to have surgery on."

The surgery occurred in December of 2019 halting Chavers' participation in the most important season of his life to that point; the one just a few months before the MLB draft.

He was hoping to be able to play during the season, but COVID-19 made a return impossible as the season was cut short. "Not being able to play last spring for the few games before COVID hit was definitely was eye-opening to have to sit on the bench and watch my teammates play instead of being out there," said Chavers."I know we take that for granted a lot to be able to play every day. "

Even though he was on the bench, Chavers learned how to see the game from a different perspective, a direct result of the injury. "It definitely rekindled my love for the game, made me want to push even harder and rehab and get back and just prove I'm healthy and that I can still play at a high level," said Chavers of the whole experience.

The high level he's talking about is both what he showed on the Cape as well as what he proved during his college career with his .323 overall average and his 22 home runs during two college seasons.

His injury only gave him an opportunity on the sidelines as his coaches told him of the chance he was given to bring leadership to the team during his 2020 season. "One thing my coaches told me was...to kind of take this [moment] and use it, kind of become another coach and help our younger guys."

On top of his new role as a role model, Chavers also took advantage of his extra time by focusing on baseball's nuances. "I tried to find some things during the game to do to keep myself busy," he said. "I just tried to pick up some pitches and work on sign sequences and just little things that maybe not necessarily you're paying much attention to as you're playing because you're in the of the flow of the game."

Because Chavers wasn't able to show his worth in the spring because of his shoulder situation, the 2020 draft was a daunting accomplishment, one that he thought he was ready for. "I still thought there was a really good chance I was going to be taken, obviously, not where I was going to be before the injury. But things didn't really pan out the way we thought they would... No hard feelings. It's the business and a lot of people miss out on opportunities that they deserve. If anything, it just a little added motivation to come back and prove myself again and show that I'm healthy."

This coming college season, his health is a priotity to him, "one of my big goals is not to miss a game this year," he says.

During his final year of college, Chavers looks forward to showing the leadership quality he began to learn last season at Coastal Carolina but also understands the step he's taking. "I've never really been the biggest vocal leader, I guess. I kind of more lead by example. That's definitely been one of my focuses this year to take on more of a vocal role and be a leader and help our younger guys."

Injuries deter many athletes from continuing in their dream but for Chavers, it only makes him stronger and reinforces the thought process he's lived by. "I've kind of just always had a chip on my shoulder and no matter how much success or where I've gotten, it's kind of always been to try to prove someone wrong," said Chavers.