News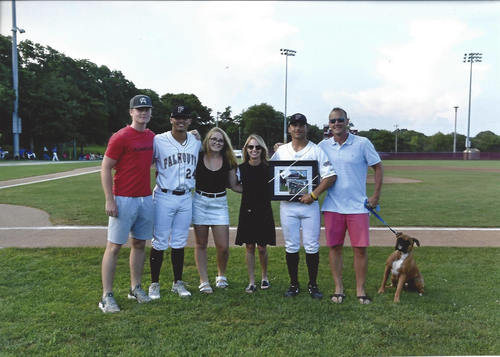 03/27/2021 4:19 AM
Article By: Taylor Viles
Jeff Griesbauer and his family began hosting for the Falmouth Commodores during the 2018 season after they saw a Facebook ad before the summer. After a family discussion, they agreed to take part in the summer tradition.

For Griesbauer, hosting is about establishing a connection with a player and continuing to support and follow them while they improve in their career. "The relationships you build with these kids..." he said. "They're all just such nice kids and they're all so grateful."

Of the players the family has housed, all have been pitchers except for Troy Claunch, a catcher, who played for the Commodores in 2019. Griesbauer remembers asking the team if it would be possible for them to house a position player because their playing time is more predictable. "My wife and I would go to the away games and all the home games. If you have a pitcher, you don't know if they're going to get to play. So it was really nice to have Troy who played basically every single day and had a great summer as well."

Griesbauer's son is a pitcher at Falmouth High School and is committed to play for North Carolina State in the fall. He said although his son and the players had a lot in common, they wouldn't practice together. "They didn't grab a ball and go out front or anything, but they definitely talked about what they know," he said.

One perk of hosting a Cape League player is their potential family tree. Many of these athletes were raised in the MLB lifestyle with their fathers as professional baseball players. Griesbauer remembers having Tom Glavine (Atlanta Braves, 1987-2008) and his family over for dinner one night as his son, Peyton, was staying at their house. "My son was a little star-struck that we had a Hall of Famer in our house. It was pretty amazing," said Griesbauer.

Although 2021 will only be their third season as host parents, Griesbauer understands the draw and recommends giving it a try. "It's going to be a lot more special than you actually think it could be," he said. "It makes summer so much more enjoyable than it already is."
. . .

The Cape Cod Baseball League (CCBL) has relied on a community of host families to provide housing to young ballplayers from around the country for decades. Host families play a critical role in making the league everything it can be.

After appropriate discussion and consultation regarding Covid-19 safety, the CCBL is pleased to report that we are making plans to resume play in 2021! If you want to learn more about the host family experience email [email protected].