News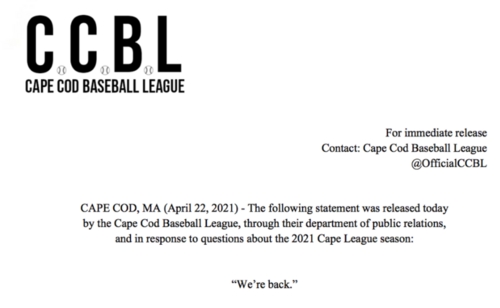 04/24/2021 3:57 AM
Article By: CCBL Public Relations Office
PRESS RELEASE
April 22, 2021
Cape Cod, MA - The Cape Cod Baseball League's Executive Committee met Wednesday evening and voted to approve an amended forty game schedule, which will begin on June 20,2021.
Ensuring the health and safety of our fans and players is our number one priority. Amending the schedule to begin the season on June 20th is an important step towards that goal.
We appreciate your support and look forward to a safe, exciting Cape Cod Baseball League season.
More details about the official 2021 schedule are in process and will be released soon.
... For media inquiries, please contact:
Ben Brink - Public Relations Director
Cape Cod Baseball League
978-609-7238