News
07/31/2009 1:16 PM
Article By:
31 July 2009
Cape League All-Stars Honored at Fenway
By Ashley Crosby, CCBL Intern
BOSTON, Mass.--The Cape Cod Baseball League All-Stars got a taste of major league crowds at Fenway Park this past Thursday. With a crowd of 38,102 there to see Boston face Oakland, the All-Stars made their way onto the field during a pre-game ceremony to receive plaques and be recognized for their achievements on the fields across the Cape this summer.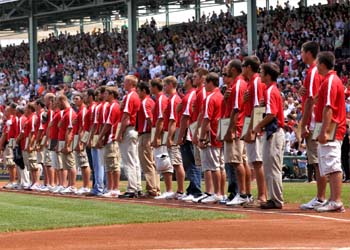 CCBL 2009 All Stars were introduced individually and recognized in pre game ceremonies at home plate.
Photo by SportsPix 2009
"You walk out and you've got 30,000 plus people staring at you on the field and you kind of get goose bumps a little," said Harwich right-hander and East All-Star Alternate Mathew Price (Virginia Tech). Price, a Braves fan, admitted, "After going through that I think I could cheer for the Sox. Honestly, I was just blown away by the whole experience."

The players from both division squads lined the first and third base lines after shaking then-Red Sox pitcher and former Wareham Gateman Justin Masterson's (2005) hand. Field managers greeted former Cape Leaguers now in the majors, including Kelly Nicholson's brief hello to former Orleans player Nomar Garciaparra (1993) and Wareham's Cooper Farris's meeting with Masterson.

"Seeing the players on the field and being on the field with them, I think it's kind of cool to be able to think I can get there one day," said Cotuit closer Daniel Tillman (Florida Southern). "I got butterflies from the whole experience."

East Division All-Star Gary Brown (CS Fullerton) agreed that the whole experience was an eye opener for the players striving to make the majors. "You see it on TV and it's a little different. It was really cool to put it in perspective rather than at a distance on TV. We could potentially be there some day."

"There were a lot of people, it was a pretty cool experience," said Cotuit catcher Cameron Rupp (Texas). "Hopefully one day I'll be able to do this every day."

The All-Stars got to play at Fenway last week, but, Price said, the two experiences were different. "The All-Star game and playing in front of everybody there to see you, and then you got to see and get a taste for what it's like to be able to play in the major leagues, it was awesome. They were two different events and they both gave me an experience."

The Red Sox put on a show for the All-Stars, beating Oakland 8-5. David Ortiz's go-ahead three-run home run was a standout in many of the players' minds, right alongside with "seeing how small (Boston second baseman Dustin) Pedroia really was," said Brown.

Even the Yankees fans in the group enjoyed the infectious atmosphere at Fenway. "You can't even put words on the experience," said Elliot Glynn (Connecticut), a pitcher and All-Star from Orleans. "Hearing the fans, and seeing how passionate they are about the Red Sox, it was just a great experience."

All-Star and Orleans Firebird Alex Hassan (Duke) will get a taste of that even sooner than some of the others recognized. While at Fenway for the recognition day, Hassan signed a contract with the Red Sox, bringing him a step closer to the major league fields the Cape players dream of playing on some day.
Ashley Crosby can be reached at [email protected]

Interns: Chris Blake, James Chandley, Ashley Crosby, Phil Garceau, Michael Campbell, Katy Ann Fitzpatrick