News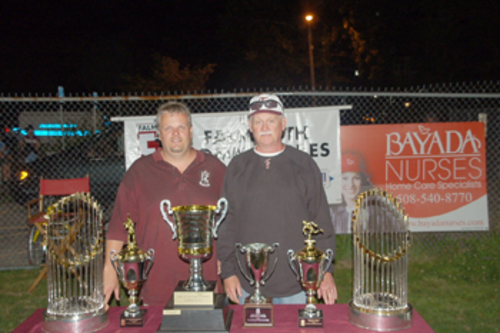 11/03/2011 8:47 PM
Article By:
Former Cape Cod Baseball League Vice President Chuck Sturtevant will assume the general manager's position for the Bourne Braves, starting Nov. 1. Sturtevant named his son-in-law and CCBL Director of Memorabilia Dan Dunn as Braves' assistant GM.
Both men previously served as Falmouth's GM, with Dunn succeeding Sturtevant from 2003-2006, after Sturtevant held the position since 1991. Sturtevant hired current Bourne field manager Harvey Shapiro to manage Commodores teams in the mid-90s in-between head coaching jobs at Bowdoin and Hartford.
"[Shapiro and I have] had a relationship for so long," Sturtevant said. "Both of us, I think, are looking forward to it."
Sturtevant expressed a strong desire to return to his familiar post as a GM after serving as the league's VP the past three seasons.
"I definitely missed contact with the coaches and players," Sturtevant said. "That's a very special time for me. I've had, I guess, 17, 18 [former players] in the Major Leagues right now that played for me."
One of those former players, Darin Erstad (1993-1994), is now head coach at his alma mater, Nebraska. It's a relationship that they expect to provide Bourne with Huskers' players for years to come.
"Probably, to be frank with," Dunn said, "a few months ago some of those players may have been going to Falmouth if we had not switched to Bourne, but we signed what we think are the better players from Nebraska to be Bourne Braves."
Dunn cited his days as Falmouth's GM helped him develop strong relationships with Clemson, Notre Dame, Oregon State, Texas Tech and Vanderbilt. (Falmouth has had at least one player from each of those schools over the past three seasons.)
Vanderbilt sent players such as infielder Jason Esposito (2009) and pitcher Jensen Lewis (2003-2004) to Falmouth in the past, but Dunn hopes to change that trend this year after signing highly- touted freshman catcher Chris Harvey from the SEC's Commodores. The 18-year-old from Pennsylvania graduated high school early to catch for Vanderbilt this year.
"It's a gamble, let's face it, whenever you bring a kid in," Sturtevant said, "especially because he's so young. That's going to be interesting how he handles this whole approach. But, from what we're being told by [Vanderbilt coach] Tim [Corbin], he's going to be catching quite a few games as a freshman."
"There's an example of a team that we would like to draw from each year," Dunn said. "Because, we know the coaching staff, they know us as general managers and managers that we're going to treat our players right and I know they have a lot of faith in Coach Shapiro."
The Braves welcome back five players from the 2011 team, headlined by Cape League All-Stars Ryan Eades (LSU) and Colin Moran (UNC).
Eades made seven appearances on the mound, allowing three earned runs over 32.1 innings for a 0.84 ERA. Moran collected 28 hits in 26 games (.289 AVG) with one homer and ten RBI.
They also have their eye on a couple draft eligible players they plan to offer at least a temporary contract. If those players aren't drafted or don't sign quickly, they could play for the Braves all summer.
After years of experience down Route 28 in Falmouth, Sturtevant and Dunn bring a wealth of baseball knowledge and a commitment to treating their players well to a team that qualified for the Cape League playoffs in 2011 by finishing third in the Western Division.
"I think I can bring a lot of the things that I learned from [Falmouth field manager Jeff] Trundy's nearly 20 years in the Cape League about how to recruit players, how to treat players," Dunn said. "I think [that's] an important thing that we'll bring in."
"Back in '96, some people on the committee criticized me because I refused to let future major leaguer pitcher) Eric Milton pitch the final playoff game with only three days of rest," Sturtevant said. "I just wouldn't do it...and I think college coaches respected me for that."