News
07/27/2008 10:21 AM
Article By:
27 July 2008
East Overtakes West, 8-6, Before 8,629 Fans
In Under Armour Cape League All-Star Game
CHATHAM, Mass. – Chatham's Grant Green (Southern California) and Harwich's Mark Fleury (North Carolina) put the finishing touches on a seven-run eighth inning as the East pulled off a shocking 8-6 come-from-behind victory over the West in the Under Armour Cape Cod Baseball League All-Star Game, which attracted an overflow crowd of 8,629 to Veterans Field Saturday night.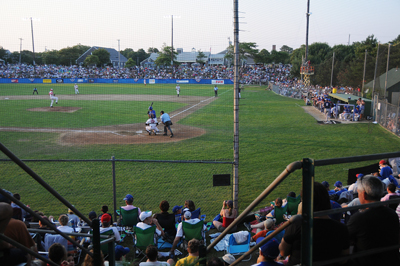 2008 All Star Game, Veterans Field, Chatham
swilson / CCBL
The West's pitching staff had combined to allow just one hit through the first seven innings and held a commanding 6-1 leading entering the bottom of the eighth when Cotuit's Seth Blair (Arizona State) took the hill for the West.

Blair got himself in trouble early, walking two of the first batters and allowing the third to reach on a single. After a strikeout, Orleans' Tim Wheeler (Sacramento State) laced a two-run double down the right field line to cut the West's lead to three runs.

A trio of streakers put the game on hold for a few moments before Chatham's Green drilled the next pitch he saw to straight-away center to knot the game up 6-6.

"I just started busting up," Green said of the three unclothed males. "It was the funniest thing I've ever seen in a baseball game."

After Harwich's D.J. LeMahieu (Louisiana State) singled, Fleury hit a high fly ball to right field that caught the wind and cleared the fence just over the glove of Hyannis right-fielder Trent Ashcraft (East Carolina), giving the East its first lead.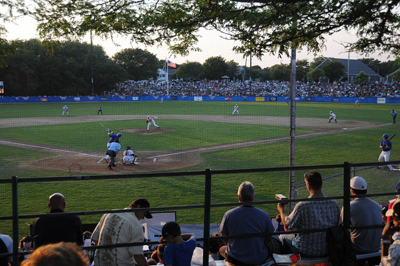 2008 All Star Game, Veterans Field, Chatham
swilson / CCBL
The seven-run winning rally was the biggest since the All-Star Game went to the East-West format in 1988, and the two home runs in the inning marked the first time that had ever been done by one team in the All-Star Game.

Green was named the East MVP and Ben Paulsen (Clemson), who drove in two runs in the sixth, was named the West MVP. The selections were made by a poll conducted among the scores of Major League scouts in attendance.

"I feel like I represented the Chatham A's well," said Green. "To do that here, I finally feel like I can wear this uniform with pride.

The West stars put together a big inning for themselves in the sixth, scoring five runs off Martin Viramontes (Loyola Marymount) of Orleans. Paulsen lined a pitch into the right-centerfield gap, plating two runners, and Falmouth's Trevor Coleman (Missouri) singled in a run.

Orleans' Rich Poythress (Georgia) broke up a perfect game and pulled the East even at 1-1 with a leadoff homer to right field in the fifth.

Two hours before game time, each squad sent three players to the Baseball Factory Home Run Hitting Contest. Brewster's Connor Powers (Mississippi State), Yarmouth-Dennis' DeAngelo Mack (South Carolina) and Orleans' Angelo Songco (Loyola Marymount) represented the East while Wareham's Blake Dean (Louisiana State), Hyannis' Chris Dominguez (Louisville) and Bourne's Kyle Roller (East Carolina) represented the West.

Mack, who was inserted into the derby lineup after an injury to Harwich's Joesph Sanders (Auburn), does not have a home run this season, but was able to hit six in the first round, which put him in the finals. Opposing Mack was Songco, who had homered eight times in the first round.

Mack hit four to lead off the final round, but Songco hit five, using only five of his 10 outs, to win the contest.

"That ball just jumps out here," said Songco. "This park is awesome to hit them out."

Phil Garceau, CCBL Intern ([email protected])


Interns: Chris Blake, James Chandley, Ashley Crosby, Phil Garceau, Stefanie Marini, Laura Rasmussen