News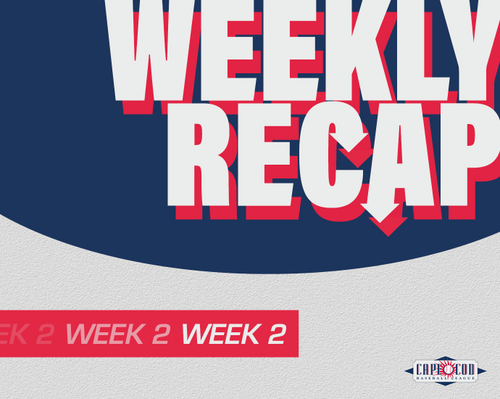 07/04/2021 4:24 AM
Article By: Ethan Kagno


Week two was as entertaining as the first. From pristine pitching performances to high scoring affairs, the Cape League season is off to the races. Here is a player from each team who enjoyed a tremendous second week.

Bourne Braves (8-0-2): Christian Knapczyk, SS/2B, University of Louisville
The undefeated Braves have been playing excellent team baseball since the start of the season. They finished up week two with a 8-0-2 record, and Christian Knapczyk has been undeniably their best player in that span as he's tied for the league lead in hits (14). This past week, the Louisville infielder also led Bourne in hits (7) and batted a smooth .333 to help the Braves go nearly perfect so far this season. Headed into week three, they lead the West Division by eight points, and have a +32 run differential which is best on the Cape. Will Bourne ever lose?

Brewster Whitecaps (4-4-2): Colin Davis, OF, Wofford College
"Mama, there goes that man" - says any broadcaster watching Colin Davis on the basepaths, probably. The speedster has swiped three more bases this past week bringing his total to 10 on the season, six more than the second place base-stealer in the league. Since the start of the season, the Wofford College senior has 4 multi-stolen-base games, impressive in of itself, but he's also tied for the lead in base-on-balls (8) and carries a .375 AVG through 10 games for Brewster.

Chatham Anglers (4-5-2): Seth Stephenson, SS/2B, Temple College
The junior college standout was seeing the ball really well this past week for Chatham as he went 5-for-11 including a 3-for-3 night with a double and triple against Bourne on Monday evening. Currently ranked as the 200th overall prospect in the 2021 MLB Draft that kicks off July 11, Stephenson has elite speed which scouts have as a 75 run grade (20-80 scale). His quickness was on full display in a game against Falmouth on Tuesday where he beat out an infield single to second base. The Anglers middle infielder is batting .333 with two stolen bases in seven games on the year and should be a major contributor moving forward for the third place A's.

Cotuit Kettleers (4-6-0): Jake Smith, P, University of Miami
Jake Smith pitched an efficient five innings on Monday against the Harbor Hawks in his Cape League debut for Cotuit. The 6'5", 200 pound right-hander struck out 10 of the 18 batters he faced and was credited with the win in a 13-5 victory over Hyannis at Lowell Park. Smith appeared in 18 games during the 2020-21 season with the Miami Hurricanes; a season where he went 3-1 with a 3.45 ERA over the span of 47 innings. Smith will look to continue his solid work in his next outing for the Kettleers.

Falmouth Commodores (4-4-2): Jace Bohrofen, RF/1B, University of Oklahoma
The Oklahoma Sooner batted .294 this past week for the 'Dores. Bohrofen also collected three more doubles, bringing his total to five on the year which is tied for best in the league with Cotuit Kettleer, John Rhodes (Kentucky). Bohrofen has been able to drive the ball with ease, and has impressed with a .333/.455/.667 slashline in 44 plate appearances for Falmouth. The rising sophomore was rated as the number three player in Oklahoma and number 38 nationally by Perfect Game out of high school. Bohrofen will look to keep things rolling this upcoming week for the Commodores.

Harwich Mariners (4-5-1): Brock Wilken, 3B/C, Wake Forest University
The Demon Deacon from Wake Forest rattled off a 5-RBI game for Harwich against Chatham last Sunday. Wilken mashed a Grand Slam off of 6'7" right-hander Austin Vernon (NC Central) in the bottom of the third inning and then later singled to left field which scored another run for the Mariners. Wilken is enjoying his first year on the Cape with 13 hits; good enough to be tied in second league-wide alongside Wareham's Owen Diodati (Alabama).

Hyannis Harbor Hawks (2-8-0): Marcos Pujols Martinez, 1B, University of Dayton
After a cool first week, Pujols Martinez finished his second week on a four-game hitting streak, two of which were multi-hit efforts. The Dayton Flyer went 6-for-15 (.400) and scored a team high four runs, one HR, and five RBI for Hyannis. The soon-to-be senior from the Dominican Republic enjoyed a superb 2020-21 season where he hit .346 with 12 HR and 53 RBI for the Dayton Flyers, who he helped go 12-4 in conference play.

Orleans Firebirds (5-4-1): Tyler Locklear, 3B/1B, Virginia Commonwealth University
Tyler Locklear, out of VCU, popped off this week as he was perhaps the hottest player since last Sunday. The corner infielder launched three deep balls this past week, which brought his total to four on the season; good enough to share the league lead with Owen Diodati (Wareham). Locklear's 16 home runs during the 2021 Atlantic 10 regular season was tied for first with Andrew Cossetti of St. John's and former Harwich Mariner, Riley Tirotta (Dayton). The Cape League RBI leader (14) will look to keep things rolling as he anchors down the middle of Orleans' potent lineup; an offense that now boasts the most runs in the league thanks to a pair of 12-run and 19-run outings on Wednesday and Friday, respectively.

Wareham Gatemen (4-4-2): Owen Diodati, RF/LF, University of Alabama
Is there anything this kid can't do? After being mentioned in last week's review, Diodati continued rolling with another home run which tied Tyler Locklear (VCU) for the league lead, as previously mentioned. "Dio" also made an unbelievable diving catch against Hyannis, showing off his range in left field. The Alabama product has not seen his OPS dip below 1.024 and has created a nice 1-2 punch with Justin Williams (Penn State); a powerful duo who crushed back-to-back home runs in Wednesday's tie with Yarmouth-Dennis. At 4-4-2, the Gatemen currently sit tied with Falmouth for second place in the West Division.

Yarmouth-Dennis Red Sox (4-3-4): Luis Ramirez, P, Long Beach State
Ramirez shined in his second start of the season against Orleans, where he surrendered two hits to go along with seven punch-outs in a scoreless tie last Sunday. So far this year, the Commerce, California native has yet to earn a decision, however has been completely dominant with a 0.81 ERA, 0.82 WHIP, and a miniscule 1.54 BAA after facing 46 batters in his two starts for the Red Sox.