News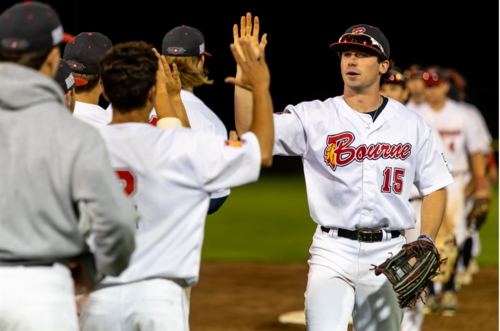 07/18/2021 4:28 AM
Article By: Ethan Kagno
It was a busy fourth week around the Cape Cod Baseball League. For many players both current and past, they turned their focus to the 2021 MLB Draft which heard 140 of their names called in 20 rounds of selections. With a flux of new faces added to numerous Cape League team rosters, there will be plenty of new names to keep tabs on for the rest of the season.
Bourne Braves (16-2-3): Cayden Wallace, 3B/OF, University of Arkansas
Cayden Wallace led his first place Braves to another solid week of baseball, going 5-1. Their first few wins of the week came in three straight matchups against a Hyannis team that has been struggling to find their true identity. In the latter game of the mini-series, Wallace was the exclamation mark on a Bourne comeback late in the game as he hit an opposite field double over the right-fielder's head which scored the game winning run. The Arkansas Razorback is currently in the midst of a solid year for the Bravos, hitting .309 with a .880 OPS and five doubles. This past week, Wallace feasted with three multi-hit games and doubled in four out of five.
Brewster Whitecaps (12-7-2): Bryce Hubbart, P, Florida State University
Bryce Hubbart dominated in his sole start of the week as he blanked Yarmouth-Dennis in a 5-1 victory. The Whitecap southpaw threw six innings and gave up just two hits and one walk in 21 batters faced. He whiffed 10 Y-D batters which broke his previous season high in a game against Yarmouth-Dennis earlier this season, where he struck out nine. Hubbart has been the kryptonite to an otherwise solid season for the Red Sox as they have mustered just three hits in two games against the Florida State Seminole. Hubbart improves to 2-1 with a 1.35 ERA and 0.80 WHIP and leads the CCBL in strikeouts (32) in four starts this season.
Chatham Anglers (9-11-3): Matthew Hogan, OF, Vanderbilt University
Matthew Hogan has been a regular in the Chatham A's lineup as of late and has a hit in each of his last six games dating back to last week. Since Sunday, Hogan is 6-for-19 with three doubles, three runs batted in, and a home run to bump his batting average up to .265 on the season. Although the Vandy Boy wasn't able to help bring home a championship back to the Commodores, he will hope to create a late season push for Chatham as we move past the halfway point in the season.
Cotuit Kettleers (11-10-0): Jace Grady, OF, Dallas Baptist University
The Kett's have been rolling. They've gone 6-4 in their last 10 games to propel them into second place (11-10-0); behind the Cape League's best, Bourne Braves (16-2-3). Jace Grady has made an immediate impact since being activated for Cotuit. In his first four games for the Kettleers, Grady has reached safely in each of them, going 6-for-15 (.400) and averaging a stolen base per game. Albeit a small sample size, the DBU outfielder owns a .400/.471/.600 slashline through his first week on the Cape.
Falmouth Commodores (8-10-2): Tyler Tuthill, P, Appalachian State University
The Clayton, North Carolina native made his first start of his Cape League career at home against Orleans last Monday. Tuthill faced 20 Firebirds and struck out five of them, allowing just two hits in six innings as he earned a no-decision in Falmouth's 1-0 victory. The 6'3" lefty from Appalachian State lowered his 6.75 ERA to a respectable 3.85 ERA in his fifth appearance this season. Tuthill will hope to continue his solid work next time out for the Commodores.
Harwich Mariners (11-7-3): Eric Reyzelman, P, Louisiana State University
Eric Reyzelman was near perfect in order to cap off a strong week for Harwich, who are currently 7-1-2 in their last 10 games. Reyzelman whirled five no-hit innings and struck out nine Whitecaps batters before making way to the bullpen in his no-decision. It was his first start of the season and he lowered his ERA nearly four runs on the season (2.35).
Hyannis Harbor Hawks (2-19-0): Jonah Scolaro, P, Florida State University
Jonah Scolaro pitched five scoreless innings on Tuesday against the first place Bourne Braves. It was his first start of the season after playing in six relief appearances for the Harbor Hawks. Scolaro has been one of the few bright spots for a struggling Hyannis side as he's allowed just one earned run and three hits in seven outings. Scolaro faced 16 batters en route to seven strikeouts before his night was over. So far this season, he has had tremendous numbers reflected by a 0.75 ERA, 0.67 WHIP, and an absurd 0.81 BAA which ranks first in the Cape League.
Orleans Firebirds (8-8-4): Hayden Thomas, P, Texas A&M Corpus Christi
Hayden Thomas appeared in two games this past week, one of which he started on Friday in a 5-4 win against Wareham. At Spillane Field, Thomas went five innings strong, striking out five and surrendering just three hits. Prior to that game, the Corpus Christi Islander saw some relief action out of the bullpen and threw two innings, allowing just a single base hit in a 1-0 loss against Falmouth. Thomas totaled seven innings, no earned runs, and nine strikeouts combined for the fifth place Firebirds.
Wareham Gatemen (7-11-4): Adam Mazur, P, South Dakota State University
The SDSU standout had two starts this week and allowed just one run in 10 ⅔ innings of work. He faced 39 batters, striking out 14 of them. Last Sunday, Mazur picked up the win against Hyannis while receiving plenty of run support in a 12-1 win. On the season, he has garnered a 0.66 ERA, which is third best in the Cape League (minimum 12.0 IP) and 0.80 WHIP in three starts this season for Wareham.
Yarmouth-Dennis Red Sox (9-8-5): Luis Ramirez, P, Long Beach State
Ramirez finds himself back in the Cape League Weekly Review for the first time since the Week Two edition. Despite receiving the loss in his last outing at Brewster, the Long Beach State product has gone at least five innings and struck out at least six in every one of his four starts for Yarmouth-Dennis. Ramirez has been superb this season as he sports a 2.05 ERA and a 0.86 WHIP through 27 innings with the Red Sox.