News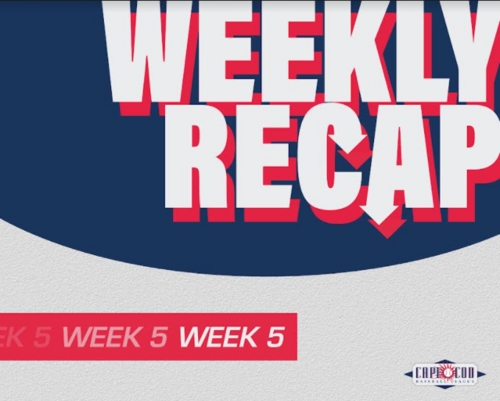 07/25/2021 4:39 AM
Article By: Ethan Kagno
After the All-Star selections were announced last Tuesday, many of those who made the East and West rosters continued to prove their case that they belonged atop one of the more prestigious Cape League's honorable mentions. Some of those players appear back in the Weekly Recap while we also see some new names for the first time.
Bourne Braves (21-3-3): Christian Knapczyk, SS/2B, University of Louisville
Christian Knapczyk makes his second Weekly Recap appearance of the year, with his first coming in week two. The newly selected CCBL All-Star had yet another solid week of baseball, going 9-for-21 (.429) on the week, while in the midst of a seven game hitting streak for the record-breaking Bourne Braves. Knapczyk is currently ranked second in the race for the batting title as he is hitting .333, with eight doubles (2nd), and 30 hits (2nd) on the Cape this year. The 21-3-3 (.833) Bravos just haven't been able to be slowed down this season, as they are on pace to shatter the 2015 Orleans Firebirds' 31-12-5 (.698) record.
Brewster Whitecaps (17-8-2): Bryce Hubbart, P, Florida State University
Bryce Hubbart remained dominant in a 2-1 win over Cotuit on Monday. The Florida State lefty threw five innings on his way to a no-decision despite not allowing a hit. His nine strikeouts helped him improve to 41 on the season, which is first in the Cape League. On Tuesday, Hubbart was voted into the Cape League All-Star Game roster alongside Jake Thompson (Oklahoma State), Zachary Neto (Campbell), Dale Stanavich (Rutgers), and Michael Prosecky (Louisville). Hubbart remains 2-1 on the year but has been lights out in his last four starts, bringing his ERA down to 1.08 (4th) and a 0.72 WHIP in five outings with Brewster. The Whitecaps remain hot, winning seven of their last ten on their way to a 17-8-2 record which leads the East Division.
Chatham Anglers (10-16-3): Maxwell Romero Jr, C, Vanderbilt University
Maxwell Romero Jr led the charge for Chatham against Cotuit on Wednesday night. The Vandy catcher became the 11th player in Cape League history to hit three home runs in a single game. With Romero's power surge at the plate, he helped guide a 12-3 blowout of the Kettleers as he knocked in six RBI before finishing a 3-for-5 day. Romero raised his OPS to .833 and SLG to .525 (from .340) on the season. The Florida native went 6-for-23 (.261) on the week but has been rolling as of late thanks to his record breaking game. With the Anglers still in the hunt for a playoff spot, Romero will be a key piece to a 10-16-3 Chatham team who currently sits in last place in the East Division.
Cotuit Kettleers (12-15-0): Luke Gold, 2B/3B, Cotuit Kettleers
Luke Gold was named a West Division All-Star in addition to teammates Eric Brown (Coastal Carolina) and Jake Brooks (UCLA). Gold went 5-for-19 (.263) this past week and ranks tied for second in runs batted in (19) and is tied for sixth in runs scored (16). The Boston College Eagle has been a staple in Cotuit's lineup all season long, and will be an important piece moving forward, as the Kettleers have slipped below Falmouth in the rankings for the second playoff spot out of the West.
Falmouth Commodores (11-13-2): Jack Jasiak, P, University of South Florida
Jack Jasiak appears for the first time on this week's edition of the Weekly Recap. Thanks in part to his solid six inning, two hit, no earned, six strikeout performance, the right-hander from Spring Hill, Florida shined in his fourth start of the season. Jasiak's terrific outing was enough to defeat the Bourne Braves, handing them only their third loss of the season. The 6'2" Junior has allowed hitters to bat just .214 off of him, while lowering his ERA to 2.89 and WHIP to 1.02 on the season. Jasiak will look to keep things rolling in his next appearance, as Falmouth continues to battle for the second playoff spot in the West Division.
Harwich Mariners (15-8-4): Trey Dombroski, P, Monmouth University
The Mariners ace continues to show why he is one of the best pitchers in the Cape League this year. Trey Dombroski pitched six strong innings, tallying nine more strikeouts to his season total of 38 which ranks second in the CCBL. The 6'5" Junior from Monmouth University earned his second win in his third consecutive start -- and carries a 38/1 K/BB ratio to an already impressive 1.10 ERA and 0.93 WHIP in 24 ⅔ innings pitched this season for Harwich. Dombroski was also named as an 2021 All-Star selectee alongside teammates Tatem Levins (Pittsburgh), Brock Wilken (Wake Forest), Pres Cavenaugh (UNC-Greensboro), Chris Newell (Virginia), Carter Putz (Notre Dame), Andrew Mosiello (Oregon), Eric Reyzelman (LSU), Owen Coady (Pennsylvania).
Hyannis Harbor Hawks (5-22-0): Clark Elliott, OF, University of Michigan
Clark Elliott enjoyed a 9-for-20 (.450) week, which included four two-hit games. Before going hitless in Wednesday's game against Wareham, Elliott was on an eight-game hitting streak, dating back to July 12th. Thanks to Elliott's solid performance, Hyannis was able to snap a season-long 12 game losing streak before rattling off three wins in their next six games to close out the week. Elliott paced all Harbor Hawks in hits this week with nine, as the Michigan Junior is now batting .352 with a .478 on-base percentage thanks to a 2-for-2 performance with five walks last night against Harwich. Elliott was also named to the West Division All-Star team with teammates Jonah Scolaro (Florida State) and Adrian Siravo (Weatherford).
Orleans Firebirds (10-12-4): Luke Keaschall, SS/2B, University of San Francisco
Luke Keaschall is a newer name to note as the season starts to wind down. The middle infielder from the University of San Francisco has been hot, carrying an eight-game hitting streak retroactive to July 16. His last five games of the week were all multi-hit efforts, including a 2-for-5 evening against Brewster in which he collected his second home run, and first triple of the season; in addition to a six-RBI outburst in Orleans' 8-6 win over the Whitecaps. Through ten games, Keaschall owns a .409 AVG to go with a 1.085 OPS for the Firebirds.
Wareham Gatemen (10-14-4): Cole Kirschsieper, P, University of Illinois
Cole Kirschsieper made his first Cape League appearance on Monday in relief against the Chatham Anglers at Veteran's Field. After becoming activated on July 16th, Kirschsieper wasted little time before bursting onto the scene for the Gatemen. The lefty hurled nine strikeouts and made efficient work of the A's in front of their home crowd. Kirschsieper faced 15 Anglers in four spotless innings as he picked up the win after dazzling in his Cape League debut.
Yarmouth-Dennis Red Sox (11-11-6): Dominic Keegan, C/1B, Vanderbilt University
Dom Keegan arrived to the Cape League to make his debut for Yarmouth-Dennis on July 16th and went 0-for-4 with two strikeouts. Perhaps that was just an abirition as the Methuen, MA native went 9-for-23 (.391) in his next six games, including three home runs in a two game stretch for the Red Sox. Last night, Keegan launched another home run against Brewster, giving him four this week to go along with six runs batted in. On the year, he has a solid .333/.333/.778 slashline with a 1.111 OPS. Despite the small sample size, Keegan could be a top player to keep your eyes on for the rest of the season as Y-D hopes to remain competitive in the tight East Division.