News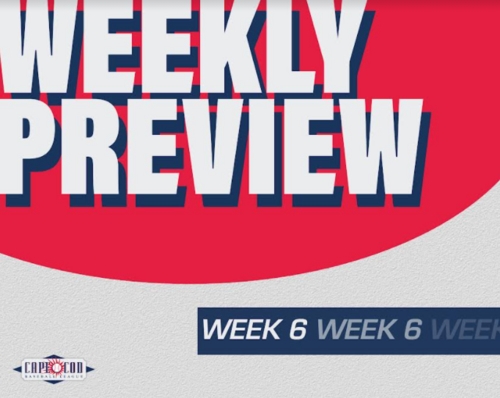 07/26/2021 4:48 AM
Article By: Ethan Kagno and Taylor Viles
Only a week and a half remains of the 2021 Cape League regular season. Teams have now positioned them in the standings as either a boom, bust, or a near .500 club in need of a dominant performance or two to lift them into the playoffs. So far, fans have witnessed 219 home runs, 386 doubles and 2,809 strikeouts. This week will all but wrap up the season, but not before playoff seeds are firmed up and players boost their personal stats in preparation for an upcoming MLB Draft. Multiple exciting matchups should be in store during the week, both player and team, that fans won't want to miss.
Storylines to consider:
West Division Chaos
With only four teams making the playoffs as opposed to the normal eight, managers must be extra strategic during games in order to buy themselves a birth in the postseason. It's going to take some late-season heroics to overtake the power-tandem that the Brewster Whitecaps and the Harwich Mariners have made from the top two spots, but in the West, the number two spot is up for grabs.
Falmouth, Cotuit and Wareham are within a point of each other. The team to perform the best over the remaining games will earn the right to try and knock off the scary one-seeded Bourne Braves in the first round. Falmouth comes into week six as the hottest of the three having won its last four games after a previous cool spell. The Commodores currently sit in the second spot with 26 points.
All three teams fighting for the spot currently have a record under .500 which does bode well for playoff success, but each could make the necessary change this week to improve their record and put some distance between themselves and the other two teams.
Offensive Category Races
One of the most exciting parts of being a Cape League fan is watching a player on your team play so well during the season, he gets noticed at the end with an award for his accomplishments. Those summer-long honors will be announced on the first day of playoffs, but with the season coming to a close, those players only have one more full week to prove why they deserve an award.
Offensively, the Cape has seen tremendous talent this summer with the likes of Owen Diodati (Wareham), Brock Wilken (Harwich), Chase DeLauter (Orleans), and Jace Bohrofen (Falmouth), to name a few. All four players are among those in both the summers' batting race and home run race. The current leader for batting average is Pres Cavenaugh who has caught fire lately, bumping his average to .365 thanks to recent back-to-back three hit games. DeLauter is tied for the league lead in home runs with eight followed closely by Diodati (7), Wilken (6) and Bohrofen (5).
Those four standouts have not only shown their consistency in the batter's box but also displayed their ability to drive the ball. Over the next week, look for each to put on a show during their respective games to, at the least, pad their own offensive numbers.
Player to watch:
Tyler Locklear, 3B/1B, Orleans Firebirds, Virginia Commonwealth
Locklear was hot last week, there's no other way to say it. The Firebird belted four home runs in four different games to tie him for the league lead with his teammate DeLauter (8). He also batted .276 to improve his season average to .253. He sits second in the league in RBI with 22, eight of which he collected over the last week. The Firebirds are one of the teams mentioned above which needs a hero to help them make the playoffs; Locklear is as good as any to help boost Orleans into a run during this week and into the top two spots.
Locklear's final two home runs last week came in solo fashion which doesn't help Orleans gain enough ground on the opposition. It would be beneficial to position him in the lineup, behind a player who has proven themselves as someone who can get on base. If he continues to show his power this week, don't miss any of his at-bats.
Must watch games:
Brewster @ Harwich - July 26, 6:30 p.m.
First place Brewster travels to Whitehouse Field on Monday to take on the Harwich Mariners who currently own the second playoff spot if the season were to end today. Both teams have been rolling as of late, with Brewster winning seven of their last 10 games, and Harwich sporting a 7-1-2 record in that span. The Whitecaps have taken care of business in the two games they've faced off against the Mariners, winning both via shutouts and outscoring them by 11 runs. In their first matchup, Harrison Rutkowski (Rutgers) blanked Harwich in six shutout innings and allowed just one hit in the 7-0 win. The second game had similar results, with Brewster's Mason Barnett (Auburn), Hunter Owen (Vanderbilt), and Griffin Green (Virginia Tech) combining to allow just four hits and no runs on their way to an easy 7-0 victory against the second-place Mariners.
Livestream link: https://www.youtube.com/channel/UCwPvkeZttTknpuAg3FIezcw
Chatham @ Orleans - July 28, 7:00 p.m.
Chatham and Orleans clash on Wednesday night to renew their rivalry after splitting the first two games of the season. On June 21st, the Anglers anchored down in a 6-3 win against their counterpart thanks to a bases-clearing double from Lyle Miller-Green. Their second match-up came on the Fourth of July when the Firebirds got the last laugh, setting off some early fireworks. Peyton Chatagnier and Chase DeLauter each homered for Orleans in an 8-3 defeat of Chatham. Fast forward to Wednesday at Eldredge Park, look for players like red hot Luke Keaschall (.408/.423/.633) and Tyler Locklear to do some damage against the Chatham Anglers and the eleventh player to ever homer three times in a Cape League game, Maxwell Romero Jr.
Livestream link: https://www.youtube.com/channel/UC2i1F41phT3XmN8UDPIpo8Q/featured
Cotuit @ Falmouth - July 31, 6:00 p.m.
The Cotuit Kettleers (12-15-1) head to Guv Fuller Field to take on the Falmouth Commodores (12-13-2) in an intriguing matchup that could heavily influence playoff implications down the stretch. With Wareham also still very much in the mix for the 2-spot in the West, this matchup is increasingly important. In their last game, the Commodores knocked around All-Star Jake Brooks (4.0 IP, 3 ER, 6 H) en route to a 9-4 win in Falmouth. Kristofer Armstrong was the difference maker as he went 2-for-3 with a three-run home run and RBI single, totaling four runs batted in on the night. Prior to that game, Cotuit won the first two contests by one run each. The Kettleers look to get back into the win column after struggling recently (3-6-1) in their last 10 games, while Falmouth tries to stay red hot.
Livestream link: https://www.youtube.com/c/FalmouthCommodores