News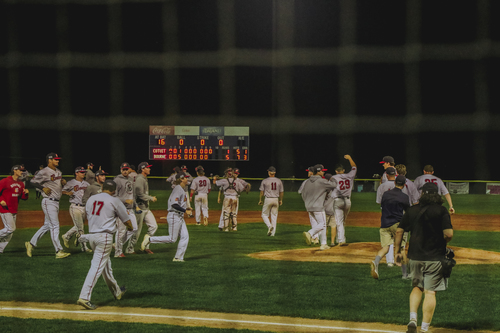 08/09/2021 4:41 AM
Article By: Taylor Viles
After two blowout performances by either side in games one (15-6 Kettleers) and two (10-4 Braves), the Cotuit Kettleers traveled up the Cape to Doran Park to try and upset the best regular-season team on Cape Cod, the Bourne Braves, in a winner-take-all game three.
It was the only game of the night after Brewster finished the two-game sweep of Harwich on Saturday night by a score of 5-4.
The Braves, coming off a dominant performance in a must-win game two, stayed hot offensively with a five-run third inning. The team racked up single after single to push the runs across the plate due partly to the shaky pitching from the Kettleers' Michael Ciminiello (Seton Hall) and Joseph Gieg (Boston College). Between them, they allowed four walks, four hits, and a hit by pitch allowing Bourne to bat around.
The offensive outburst proved to be all the team needed as Bourne walked away with a 5-1 win.
In the first two games, pitching was not close to spectacular for either side as the Braves had given up 19 runs and Cotuit had allowed 16 runs coming into game three. Needing a shutdown start to continue their momentum, Bourne turned to Matt Jachec (Indiana State). He produced 7 innings on the mound (pitching into the eighth) and only gave up one run on five hits. It was a pitching performance that Bourne Manager Harvey Shapiro said he was not anticipating.
"He exceeded my expectations," said Shapiro about his starting pitcher's performance.
Jachec, who arrived on the Cape a little over a week ago, found out he was getting the starting nod while attending his sisters wedding on Saturday. Even he was not expecting to perform the way he did during the high intensity game, especially as he was running on mostly adrenaline from a busy couple days.
"I can't even describe it," he said about his start. He said the last time he pitched into the eighth inning of a game was in high school.
Christian Knapczyk, who led Bourne in hits during game two with three, said Jachec's start was much needed for the team because of recent high scoring games against the Braves, but also because it will propel Bourne into the next round.
"It gives us so much confidence," said Knapczyk. "It just relieved all the pressure. It was just fun to watch and fun to play defense behind."
Offensively, in the final game for Bourne, season-standout Dalton Rushing continued his hot streak going 2 for 4 with an RBI for the second night in a row to improve his postseason batting average to .417.
Following game three, longtime Manager Shapiro wasn't yet sure how his team planned to face Brewster, as he was still taking in the victory, but his emotions showed he was excited just to move on.
"I'm just happy we're going to the next round. It's another round of baseball," said Shapiro.
Bourne will face Brewster in the Cape League Championship series to try and win their first championship since 2009. First pitch is scheduled for 6 p.m. Monday night at Doran Park.