News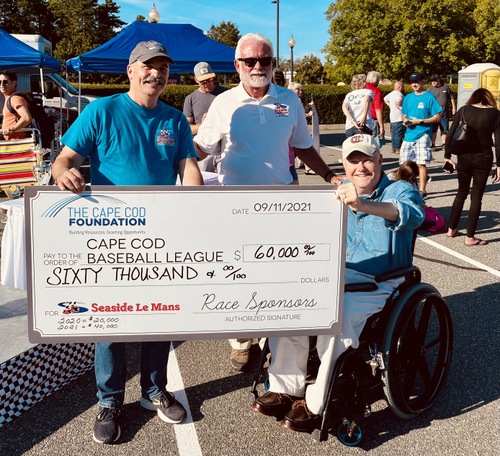 09/17/2021 4:14 AM
Article By: CCBL Public Relations Office
On September 11th the 2oth annual Seaside Le Mans was held on Mashpee Commons. Sixteen teams competed in the daylong event. The Cape Cod Baseball League is excited to announce that it has received $60,000 as a beneficiary of the Seaside Le Mans to bring baseball to youth on Cape Cod. These funds will ensure that young athletes across the Cape have the opportunity to participate in the Cape League's youth clinics.
The money was raised through the Seaside Le Mans "race for the Cape Cod community", of which the Cape Cod Baseball League was a beneficiary. Established in 2001 by The Davenport Companies, the Seaside Le Mans is a fund of the Cape Cod Foundation that raises money for designated beneficiaries in the Cape Cod community through it's fast-paced annual event featuring Formula One European style racing karts. Each kart team has six drivers, with sponsors choosing their own team.
Thanks to the support of dozens of sponsors, volunteers and contributors, the previous years of the Seaside Le Mans races have generated over $7 million for worthy local organizations. This year's beneficiaries include:
Cape Cod Healthcare: Hospice Services
Cape Cod Military Support Foundation
Cape Cod Museum of Natural History
Cape Kid Meals
Please join us in thanking The Davenport Companies, the Cape Cod Foundation, event sponsors, volunteers and contributors for coming together for this special annual fundraiser.