News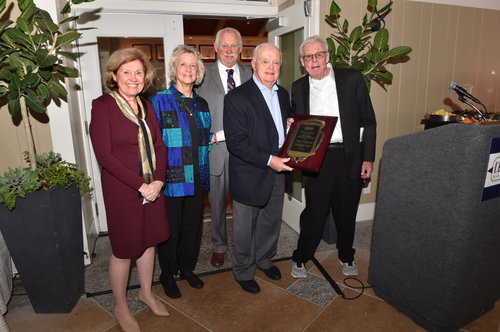 12/04/2021 5:22 AM
Article By: CCBL Public Relations Office
This year's Peter Gammons Award of Excellence and Distinction goes to the Yawkey Foundation in grateful recognition of its consistent generous support. The award was presented at the Cape Cod Baseball League's Hall of Fame Induction Ceremony at the Wequassett Resort and Golf Club on November 21.
There to receive the award were the Yawkey Foundation's Chairman John Harrington, CEO Maureen Bleday, and Trustee Judy Walden Scarafile, who led the Cape League as president from 1991 to 2015.
"I think I speak for all of us when I say that this award is very meaningful… thank you on behalf of the trustees of the Yawkey Foundation for this wonderful honor," said CEO Maureen Bleday.
The Yawkey Foundation has provided 37 charitable grants totaling over $3,000,000 to the Cape Cod Baseball League over the course of the last 40 years. Help from the Foundation has made it possible for CCBL teams to, among other things, maintain the tradition of playing with wooden bats, upgrade or replace fields for better playing surfaces, improve drainage systems, and install state-of-the-art field lighting and safety netting for improved safety.
The Yawkey Foundation has played a pivotal role in the Cape Cod Baseball League's growth and development, and we continue to be deeply grateful for the significant contributions it has made to our success over the years. The Yawkey Foundation is dedicated to perpetuating the philanthropic legacy of Tom Yawkey and Jean Yawkey, whose eight decades of quiet generosity supported individuals and families in the communities that were closest to their hearts – Massachusetts and Georgetown County, South Carolina.