News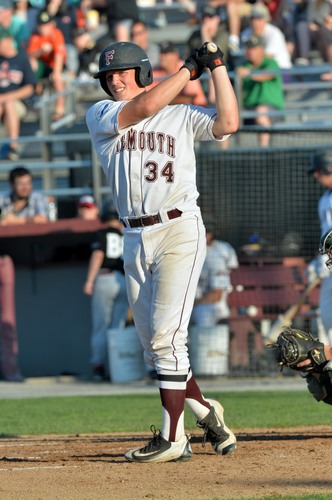 02/01/2022 10:00 AM
Article By: Kaley Brown
Adley Rutschman was the No. 2-ranked prospect in all of Major League Baseball (MLB) in 2020, one year after he was drafted first overall by the Baltimore Orioles.

The very next year, he took over the spot as the League's highest-ranked prospect.

One can assume that in 2022 the next step for the former Falmouth Commodore is the big leagues.

Rutschman spent the summer of 2017 in Falmouth, but did not post eye-opening numbers during his stint. Through 20 games played and 67 at-bats, the Cape Cod Baseball League alumni tallied just 11 hits, 10 walks, and four RBI as well as a forgettable .164/.282/.179 slash line.

Nevertheless, just one year later in his sophomore season with the Oregon State Beavers, the catcher helped lead his team to winning the 2018 College World Series (CWS) title. Rutschman was named the World Series' Most Outstanding Player after collecting 17 total hits – a CWS record – and 13 RBI.

However, the Sherwood, Oregon, native's best season came in 2019 as a junior, a season in which he logged 76 hits and 76 walks on top of 17 home runs. He slashed .411/.575/.751, his .411 batting average being a Pac-12-best that year. Rutschman received numerous accolades, including the Golden Spikes Award winner. Just two days after Rutschman's junior season came to an end in the 2019 NCAA Corvallis Regional, he was selected first overall by the Baltimore Orioles.

A little over one month after being drafted by the O's, Rutschman started his Minor League Baseball (MiLB) career with the GCL Orioles, in a stint that lasted just three weeks before he was promoted to the High-A Aberdeen IronBirds. With the IronBirds, the switch hitter played in 20 games and recorded 78 at-bats, recorded 25 hits, 15 RBI, 12 walks, 11 runs, eight total extra-base hits and slashed .352/.413/.481.

Rutschman finished 2019 with the Delmarva Shorebirds, another Class-A affiliate of Baltimore.
Rutschman's professional journey was halted due to the COVID-19 pandemic in 2020; nonetheless, the 23-year-old was ranked as MLB's second-highest-ranked prospect in the entire sport that year.

In 2021, just two years removed from the MLB Draft, Rutschman took over the No. 1 spot in baseball's prospect rankings. At the same time, he began his second full season in the Minor Leagues with the Shorebirds for a few weeks before being promoted to Baltimore's Double-A Bowie Baysox by the end of April.

Rutschman spent over three months with the Baysox, playing in 80 games and recording 295 at-bats. Over that span, he logged 80 total hits, 61 runs, 55 RBI, 55 walks, 18 home runs, 16 doubles and slashed .271/.392/.509.

In early August, Rutschman was promoted to the O's Triple-A affiliate Norfolk Tides, where he spent the remainder of the year. The phenom played 43 games with Norfolk and recorded 49 hits, 25 runs, 24 walks, 20 RBI, five home runs and slashed .312/.405/.490 to finish out his second professional season.

With the 2022 baseball season quickly approaching and considering Rutschman's swift ascension through MiLB since 2019, it is reasonable to expect that the Orioles will call him up at some point this year.

Baltimore has not had a reliable starting catcher behind the plate since Matt Wieters' departure in 2016, and similarly have not seen the playoffs since they lost to the Toronto Blue Jays in the Wild Card round that same year. Rutschman could very well be what the O's desperately need in order to get back to being competitive in the American League East division.

While it is unknown when Rutschman will get the call to the big leagues, it is almost certain that when he does, he will be Baltimore's starting catcher for the foreseeable future.