News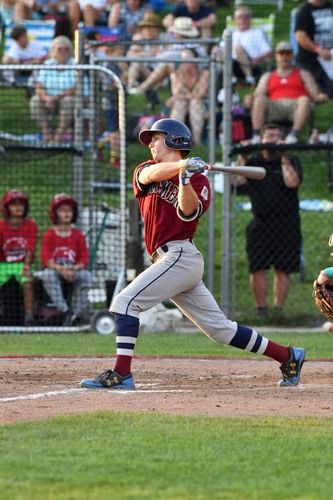 02/12/2022 11:00 AM
Article By: Kaley Brown
Former Wareham Gateman Matt McLain owned the No. 90 spot in Major League Baseball's (MLB) Top 100 prospect rankings in 2021 despite only playing Minor League Baseball (MiLB) for a couple of months. This is a sign that the 22-year-old will soon make his mark in the majors in the coming seasons.

The Tustin, California, native was originally drafted 25th overall by the Arizona Diamondbacks out of high school in 2018, but McLain decided to enroll at the University of California (UCLA) Bruins before entering the big leagues.

In his three years at UCLA, McLain slashed .280/.360/.478, logged 128 hits, 16 of those being home runs and 51 total extra-base hits (XBH). He also drew 55 walks and successfully stole 16 bases.

Upon the completion of his sophomore season, McLain spent his summer as a member of the Cape League with the Wareham Gatemen and entered his CCBL stint as the No. 7 prospect in the league as named by Baseball America.

He played in 34 regular-season games, logged 113 at-bats, 31 hits, 25 runs, 23 RBI, seven doubles, one pair of triples and home runs apiece, as well as six stolen bases. McLain owned a .274 batting average during his time as a Gateman.

Notably, McLain excelled in the 2019 CCBL All-Star Game and was named the game's Most Valuable Player because of his performance recording three RBI and one home run in the West Division's one-run loss to the East. McLain also competed in the 2019 CCBL postseason, recording two hits, runs and walks apiece over a three-game span with Wareham.

The Cape Cod League is quickly becoming a McLain family affair – during the summer of 2021, Matt's younger brother, Sean, also played for Wareham and their other younger brother, Nick, is expected to compete in the CCBL this summer.

Coming off of his summer with the Gatemen, McLain's enjoyed his best offensive season as a junior in which he played 47 games, recorded 183 at-bats, collected 61 hits, 47 runs, 36 RBI, 25 XBH (nine home runs), and a staggering 34 walks. McLain slashed .333/.434/.579 that spring and was named to the Pac-12 All-Conference team, too.

Prior to the 2021 MLB Draft, McLain was the top-ranked shortstop and the 12th-best overall prospect. He was selected by the Cincinnati Reds at No. 17, assumingly in an attempt by the team to begin to build some consistency at the shortstop position which has faltered since the departure of All-Star Zack Cozart in 2017.

Nevertheless, McLain began his MiLB journey in Cincinnati's farm system in early August of last year, starting out with the Arizona Complex League Reds before being promoted to the High-A affiliate of the Reds, the Dayton Dragons.

In his first game with the Dragons, McLain went 4-5 on the day which featured one double, one home run as well as tallying five RBI.

From his Dayton debut to the end of the MiLB season, McLain played in 29 total games logging 99 at-bats while recording 27 hits, 19 RBI, 17 walks, 15 runs, 10 stolen bases, six doubles and three home runs. He slashed .273/.387/.424 over that span.

Considering the fact that McLain is Cincinnati's third-highest ranked prospect in their MiLB system and put up decent enough numbers with the Dragons, it would not be surprising to see him open the 2022 season with the Reds' Double-A team, the Chattanooga Lookouts.

It is clear that Cincinnati thinks highly of McLain, as he has proved himself to be a young star to bet on less than one year removed from beginning his professional career. The organization might not be shy about expediting the shortstop to MLB as early as the 2023 season.