News
07/26/2004 1:36 PM
Article By:
26 July 2004
THIS WEEK IN THE CAPE LEAGUE
All-Star Game
Program Book
24 July 2004, Eldredge Park, Orleans

Cribb and Goyen are Brewster's Dynamic Duo
Brewster's Josh Cribb sits quietly in the Whitecaps dugout before his start on July 3, cleaning his white and orange cleats. The citrus smell of the foamy cleaner wafts through the air, which is thick with both anticipation and humidity before Cribb is scheduled to make his third start of the season. "You gotta clean these white ones before every game," he says, referring to his Clemson-issued cleats. "You gotta look sharp."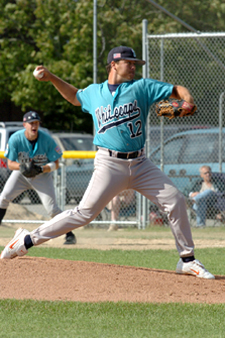 Josh Cribb, Brewster
SportsPix 2004
Cribb certainly has looked sharp for the Whitecaps in 2004, regardless of his fashion sense. In four outings, Cribb is now 3-0 with a 1.38 ERA. In twenty-six innings pitched, the 21-year-old righthander from Lake View, South Carolina has given up only 14 hits, 11 walks, and four earned runs while striking out 28.
Through July 9 and three starts, Cribb was perfect. He had given up no earned runs in the country's best summer collegiate baseball league. However, Cribb became a mortal again in the fifth inning versus the Yarmouth-Dennis Red Sox. After a walk by Matt Ray and a Jim Rappaport single, Matt LaPorta singled to left, bringing in both Ray and Rappaport. Cribb's reaction? He just smiled.
Cribb would allow two more runs in that inning, and the Whitecaps would lose on a walk-off homerun in the tenth inning. It seems that it just wasn't Brewster's day. However, it didn't faze Cribb.
He was still high off the wave of success he was currently surfing, beginning with his debut on June 21 at Eldredge Park versus the Orleans Cardinals. Cribb pitched a complete game one-hitter, walking three and striking out ten.
As any baseball enthusiast knows, baseball players are very superstitious creatures. One of these superstitions includes not talking about a no-hitter while it's in progress. Doing so would jinx the pitcher, not something a teammate wants to be responsible for. In keeping with tradition, the guys in the Whitecaps dugout didn't talk about it that night. Everything was business as usual.
In the bottom of the ninth with two outs, the Cribb's masterpiece was broken up by Orleans' Matt Anderson, who singled to second base. The next batter, Drew Butera, quietly grounded out to third. The game was over, and Cribb had pitched a gem on the Orleans diamond.
In the late innings, Craig Cooper, the right fielder from Notre Dame, had made an amazing diving catch, to keep the no-hitter in tact. But Cooper wasn't trying to be a hero--he had no idea that his pitcher had a no-hitter going. "Coop [Cooper] was playing hard like he always does," said Cribb, "I appreciate his effort, but I know he did it for the team, not for any individual, be that me or himself."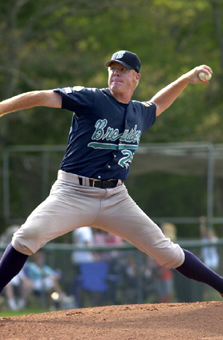 Matt Goyen, Brewster
SportsPix 2004
That teamwork and good ethic extends to Matt Goyen, the left jab of Brewster's one-two pitching punch. Goyen seems to have come out of nowhere, not highly touted, although insiders such as Brewster coaches, General Manager Dave Porter, and Cape League aficionados have been eager to see him pitch for some time. Goyen has been a pleasant surprise, currently leading the Cape Cod Baseball League in strikeouts with 40 through the games of July 10.
Goyen, out of Athens, GA and Georgia College and State University, is an impressive presence on the mound, standing 6'5" and weighing 220 pounds. In 2003 Goyen had an impressive start, but he injured his leg and was out for most of the season. Prior to his injury, Goyen started four games for the Bobcats, and posted a 3-0 record with a 1.96 ERA. He had struck out 21 batters in 23 innings pitched.
After Cribb's excellent outing against the Cardinals, the Whitecaps returned to Eldredge Park on June 30 with a spring in their step. They were reminded of the last game there, and how good it felt when all the pieces fall into place and your team is cruising through a game. Goyen took the mound for the Whitecaps, and he didn't disappoint.
Rivaling his teammate's performance, Goyen gave up two hits in nine complete innings pitched, walking none and striking out 18. Goyen gave up two singles in the first inning, but afterwards settled into a zone and froze Cardinals hitters. No Cardinal reached base after their half of the first inning. Brewster won 1-0.
Goyen and Cribb have a 4-0 and 3-0 record, respectively, leading their team in wins. Goyen is tied for the league lead in wins. Both pitchers have an ERA of 1.00, good enough for 8th in the league. These young men are full of remarkable talent, but perhaps the most remarkable thing about them is that you would never know how good they are. Even if you asked, it is doubtful that Goyen or Cribb would be willing to rattle off their stats to you. They probably wouldn't even know what their stats are.
This quiet confidence both on and off the field is what has made Brewster pitching so successful thus far this season. The right-and-left combo has worked masterfully for Brewster so far. As the first half of the season comes to a close, only time and the playoffs will tell if they have what it takes to become heavyweights—2004 CCBL Champs. -- Britt Berry, 2004 CCBL Intern, [email protected]
John Garner, Jr.
CCBL Director of Public Relations & Broadcasting
(508) 790-0394 [email protected]
Lou Barnicle, Director of Publications, [email protected]
Bruce hack, League Historian