News
07/26/2004 1:44 PM
Article By:
26 July 2004
THIS WEEK IN THE CAPE LEAGUE
All-Star Game
Program Book
24 July 2004, Eldredge Park, Orleans

The Falmouth Slugger Catches Up After Early Struggles
On a chilly June night in Falmouth, Daniel Carte stepped to the plate like he'd done a thousand times before.
It was the same game he'd grown up dominating in Hurricane, West Virginia. The pitcher stood the same distance away as he always did at that ballpark in Rock Hill, SC where Carte plays his college games for Winthrop University.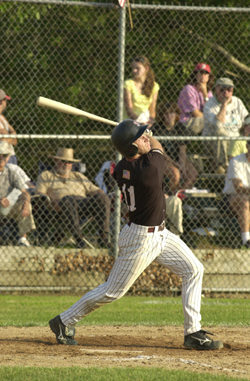 Daniel Carte of Falmouth in 2004 Cape League action
Gardner / CCBL for SportsPix 2004
But things were different here. The stocky right-hander had grown accustomed to reaching base, driving in runs and winning awards. Here, in the Cape Cod Baseball League, success was hard to come by.
On this evening – with a 4-4 deadlock in the bottom of the ninth – Carte's team still was searching for its first win of the season. He still was looking for his first hit. A 0-for-19 spell to kick-off the summer-league season had Carte pressing at the plate. He wasn't used to this kind of failure with a bat in his hands. This is a player who was named First-Team Freshman All-American by Baseball America in 2003. He hit .419 last summer and earned Great Lakes League Player of the Year honors, so he knew it wasn't the transition from aluminum to wood.
"You press a little bit," Carte said. "It hurts you. You're just thinking, 'Oh, man, not again.'" He just needed to stay confident and snap out of this funk. "It was obviously really disappointing, but I knew I could hit and knew I was going to hit," he said. "I just tried to get some extra work in and keep pressing forward. I didn't want to spend the whole season 0-for."
His coach could see the toll it was taking on his right fielder, as well. "I think he was frustrated," said Falmouth manager Jeff Trundy. "He always realized he was a better hitter than he was showing. A lot of guys would've been mental basket-cases by the time they've reached that point." He needed to trust the abilities that got him here in the first place. He needed to get set in the box, and get a good pitch to hit. Carte said the key to hitting with a wood bat is pitch selection. Swinging at the hitter's pitch. Now he just needed to find that pitch.
Then he got it.
Daniel Carte exploded on the first pitch he saw. His hips swept across his body with violent abandon. His hands, like a spring just waiting to uncoil, flowed through the hitting zone in a rush. He wasn't more than a couple steps down the first-base line when the ball cleared the fence in straightaway center field.
Carte's Commodore teammates rushed to meet him at home plate. The team had won its first game. Carte had his first hit. Things were good. As he trotted around those base paths in Falmouth that night, his white shoes gleaming with each and every stride, Daniel Carte could have never known just how good things were about to get.
Since that walk-off blast, Carte has become one of the league's premier power hitters. His first three hits of the Cape League season were round-trippers, and he has not cooled off since. "I don't consider myself a home run hitter at all," Carte said. "I think I'm more of a doubles hitter, gap-to-gap guy, but occasionally I hit home runs."
While he fits the bill as a thick, athletic ballplayer, Carte certainly doesn't look like the power hitter his numbers say he his. A couple of his Commodore teammates, outfielder Brian Bogusevic and first baseman Mark Hamilton, look the part. Both are 6-foot-3 and more than 200 lbs. Trying to hit the ball 500 feet is not in Carte's job description, and he knows it. "I'm not going up there trying to hit home runs," he said. "I'm just trying to hit the ball and put it in the gap. I've gotten lucky so far."
Whether it's luck or not, Commodore general manager Chuck Sturtevant couldn't be more pleased with Carte. "We thought he would hit more for line drives, but really, a lot of his home runs have just been really strong line drives," Sturtevant said. Make no mistake, Sturtevant is impressed with each of Carte's tape-measure home runs, but he just might be even more proud of the way the young ballplayer dealt with his early adversity. "That shows a lot of character for any player," Sturtevant said. "It takes a lot to be able to keep your head straight, keep focused and be able to come out night after night and perform. That shows me a lot about him."
Trundy has seen cases like this before. A star in college comes to the Cape, picks up a wood bat, faces a top-notch pitching prospect every night and subsequently struggles. What's important, Trundy says, is how a guy responds. "I've seen guys struggle the first few weeks and carry it through the whole season," Trundy said. "He didn't let that happen. To his credit, he didn't let the frustration snowball into a season long thing."
Carte still marches to the plate every night just like he always has. Just like he did back home in Hurricane, West Virginia. Just like he does at Winthrop.
Nothing has changed for Daniel Carte. Things are still good. T.J. Lasita; CCBL Intern; [email protected]
John Garner, Jr.
CCBL Director of Public Relations & Broadcasting
(508) 790-0394 [email protected]
Lou Barnicle, Director of Publications, [email protected]
Bruce hack, League Historian