News
07/24/2004 1:45 PM
Article By:
24 July 2004
THIS WEEK IN THE CAPE LEAGUE
All-Star Game
24 July 2004, Eldredge Park, Orleans

Curreri Powers East All-Stars to Win
ORLEANS – The terraced hill was empty, and tarps covered home plate and the pitcher's mound. Most of the players had long departed, and only a father and son playing catch disturbed the peace on the field.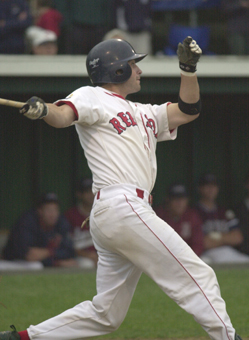 Frank Curreri hits one out of the park during his first at bat in the bottom of the first during Saturday's All Star Game. The west went on to win 13-0 over the East..
Gardner / CCBL for SportsPix 2004
But Frank Curreri still posed for pictures with family members in front of the first-base dugout, his uniform unbuttoned and untucked and his sunglasses still upside-down on the brim of his cap.
Curreri (UMass-Amherst) had earned a little time to relax, though. The Yarmouth-Dennis catcher hit a two-run home run in the first inning of Saturday's Cape Cod Baseball League All-Star Game, and his blast gave the East Division all the momentum it would need in a 13-0 victory at Eldredge Park.
Jordan Brown (Arizona), Ryan Patterson (Louisiana State), Jon Aughey (The Citadel) and Michael Campbell (South Carolina) also homered for the East All-Stars.
"It was crazy," Aughey said. "I didn't think it was going to be anything like that. I thought it was going to be a 3-2 ballgame."
Georgia Tech's Tyler Greene drew a walk to begin the bottom of the first, and Aughey promptly doubled him home for the first run of the game.
That brought Curreri to the plate, and one pitch after watching his bat sail into the crowd after a hard swing, he ripped a belt-high changeup over the fence in left-center field.
Brown, a first baseman from host Orleans, followed two batters later with a blast almost exactly where Curreri's fell.
The East Division didn't slow down in the second inning, as Brewster's Patterson hit a solo shot and Aughey followed a single by Chatham's Chris Getz (Michigan) with a home run of his own to left-center.
"The other guys were joking about it, giving each other a hard time, (saying) 'Oh, this one went further than that one,'" Curreri said. "But it doesn't matter – they all went out. Guys throw the ball hard, but if you throw out your hands and make good contact, it's going to go out. Especially with the short porch out there (in left field) – I like that."
From there, the East's pitching staff took over. Chris Nicoll (UC-Irvine), Dan Brauer (Northwestern), Andrew Miller (North Carolina), Justin Blaine (San Diego) and Craig Hansen (St. John's) each tossed 1-2-3 innings in relief of winning pitcher Ryan Mullins (Vanderbilt), and the West Division didn't manage a hit until the sixth inning.
Despite the lopsided score, the East Division stars couldn't help but be impressed with the arms on the other side.
Falmouth's Dallas Buck (Oregon State) pitched well enough, in fact, to earn the West Division's Most Valuable Player award for his inning of work.
"You've got guys throwing 99 miles per hour," Curreri said. "One guy threw a ball I didn't even see. It's like, 'What is going on?' Everyone here was outstanding."
In the end, though, it was Curreri's night. The Weymouth, Mass., native earned the East Division's Most Valuable Player award, as voted by the 70 scouts in attendance, but the presence of nearly 30 friends and family members made the evening as special as it was.
"They made the trip up for the special occasion, so I'm glad I was able to do something to give them a special treat for being here," he said. -- By Brian MacPherson, CCBL Intern, [email protected]
John Garner, Jr.
CCBL Director of Public Relations & Broadcasting
(508) 790-0394 [email protected]
Bruce hack, League Historian