News
06/29/2022 6:43 AM
Article By: Kayla Gregoire
From Boston to Brewster, four Boston College players have stuck together this summer while playing for the Cape Cod Baseball League.

Cameron Leary, John West, Joe Mancini, and Henry Leake consider themselves Eagles for most of the year, but for the summer they are Whitecaps. Three of the four Eagles are pitchers, while Leary plays outfield.

A two-hour drive away, the four Eagles did not have to travel too far to get to the Cape. BC has multiple players around the league, but Brewster holds the most players from the college. It can be weird at times to see your teammates in a jersey that is not the same as yours. With so many Eagles around the league, Leary takes it as a chance to know the pitchers he is facing.

"It's definitely a little weird," Leary said about playing against his BC teammates. "It's fun though. It helps me out as a hitter because I already know them as pitchers, but it's definitely fun."

The CCBL brings the best college baseball players all into 10 teams. Unlike BC where pitchers are facing players from up and down the lineup, each batter a pitcher faces in the CCBL is a tough out.

While Mancini may know how to pitch against his teammates, a CCBL out is harder to come by compared to a BC out.

"It's the best of the best," Mancini said. "The best three hitters in every lineup, best pitchers on each team. There's a lot of talent out here."

Mancini played on the Cape last year but as a Cotuit Kettleer. With Cotuit in 2021, Mancini played with two other Eagles. From playing with two college teammates to three, Mancini has enjoyed being able to see so many familiar faces on his summer league team.

Mancini graduated this year from BC, so getting to play with his teammates this summer is extra special.

"It's been awesome from both sides," Mancini said. "Getting to play with two other guys. Max Gieg and Luke Gold last year. Then this year playing with a couple other guys, it's just been awesome. Familiar faces are always good to see, especially when you're on a new team, so it's great to experience that and see the guys."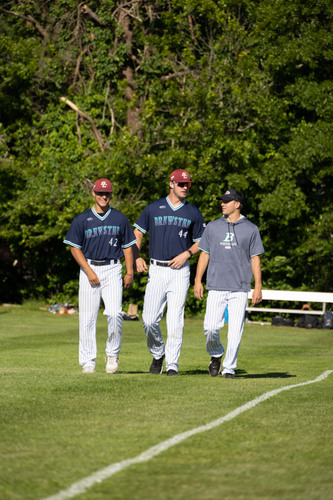 With at least one-off day in a week, the Eagles around the league put the friendly competition to the side and hang out together on those days. With the location of the Cape, it is a no brainer to go to the beach on the days off.

The school year ended in mid-May and for the BC guys, they had not seen each other until they stepped onto the Cape. The first two off days was a good time for them to all catch up before playing a game heavy schedule the rest of the summer.

"So far we have all gone to the beach together," Leary said. "All the BC guys on the Cape went to the beach together one day and it was definitely a good time. It's really good having so many guys from the same team here."

When fall of 2021 came around, Leary found out that he would be playing for the Whitecaps in the summer. He did not find out until the end of BC's season that he would be joined by three of his other teammates.

Leary found out about playing with his other teammates in the airport while the Eagles were headed to their last series of the season against Clemson University.

"I was excited, it's always good to know that you have people that you know already coming to the same team," Leary said.

On the other hand, for Mancini, he did not know what his plan was for the summer. When he got a call about playing in Brewster it was an opportunity he could not turn down.

"I wasn't planning to play summer ball," Mancini said. "My coach gave me a call last second at the end of the school year and was like 'Do you want to go to Brewster for a few weeks?' I was ecstatic."

Typically, when players come on to the Cape they are meeting some of their teammates for the first time when they step into the first day of practice. The four Eagles were lucky enough to see familiar faces when they walked into practice on the first day.

"Coming into a place with a lot of new people, it definitely helps having people that you know already and that you feel comfortable around," Leary said. "It helps you meet a lot of new people really."