News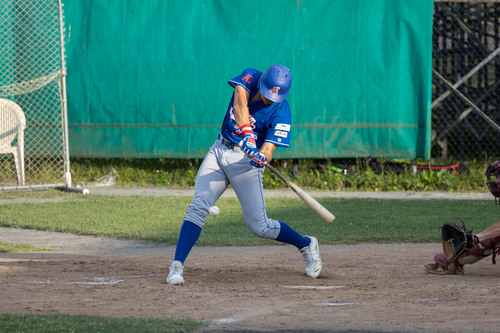 07/16/2022 7:46 AM
Article By: Brian Butler
With the league nearing the three-quarters point of the season, most of the players who will appear this season have made their debuts for their respective teams. While making it to the Cape League is an incredible accomplishment on its own, there are a few players who have made an impression due to amazing individual skills. While a true five-tool player is rare, it's always interesting to examine players that have standout tools. We examined who has the best of each of the hitter's five tools, plus one player whose skillset is too impressive to narrow down into just one category.
Power: Caden Grice, 1B/P, Chatham Anglers

As an incredibly rare two-way player on the Cape, Caden Grice is certainly an intriguing player to follow throughout the summer. In addition to starring both at the plate or while staring towards it, Grice has prodigious power. The Chatham first baseman has demonstrated elite pop throughout the season, clubbing four home runs in his 29 games, but he truly demonstrated his abilities at the league's annual Fenway workout day. While taking batting practice on the historic field, Grice consistently deposited balls well past the bullpens in right field and peppered the right field stands with souvenirs. The Clemson product seemingly effortlessly smashed baseballs into territory that few other lefty hitters could reach at all the rest of the day. Grice's smooth swing contains spectacular power, and the sound of the ball off his bat is similar to some of the most elite hitters in today's game.

Contact: Nate Furman, 2B/SS, Orleans Firebirds

Nate Furman knows how to get the bat to the ball. At the time of writing, Furman is currently hitting .307 on the summer, which ranks fourth among active hitters, but, even more crucially, he is a very difficult man to strike out. Across his 103 plate appearances for the Firebirds, Furman has just an 11.7% K rate, showing an elite ability to make contact. The UNC Charlotte middle infielder routinely hits near the top of the order for Orleans, working as their leadoff man in many of his recent appearances. Furman also demonstrates an outstanding penchant for setting the table to the tune of a .375 OBP to go alongside his impressive bat-to-ball skills.

Speed: Rikuu Nishida, 2B, Hyannis Harbor Hawks

A fan favorite on the Cape this summer, incoming Oregon infielder Rikuu Nishida has awe-inducing wheels. Nishida comfortably leads the league in stolen bases with 19, with the next closest player being his teammate and fellow speedster Mitch Jebb at 15. Rikuu has been caught stealing just four times as well, demonstrating that he knows how to pick his spots to go. The Hyannis second baseman also uses his fleet feet on the defensive side of the ball as well, routinely chasing down balls that many at his position would have little chance of reaching. Nishida can often be seen flying into deep foul territory or venturing into center field to track down a pop-up that a teammate might not be able to reach. The soon-to-be Duck also frequently catches defenses off-guard with his impressive ability to lay down bunts, and turns seemingly routine ground balls into infield singles with his elite speed.

Arm: Calvin Harris, RF/C, Cotuit Kettleers

Calvin Harris has only appeared in a week's worth of games for the Kettleers due to his recent national championship victory at Ole Miss, but opposing hitters have quickly learned not to test his arm. Harris has an absolute cannon of a right arm, already recording two outfield assists in his limited Cape League action, and even the throws that are not trying to catch an advancing runner are fun to watch. The pop of a ball in a fielder's glove after receiving a throw from Harris is second-to-none. Calvin has only appeared at catcher twice for Cotuit in his seven games, but opposing runners should be extremely wary of trying to swipe a bag should he continue to appear behind the dish.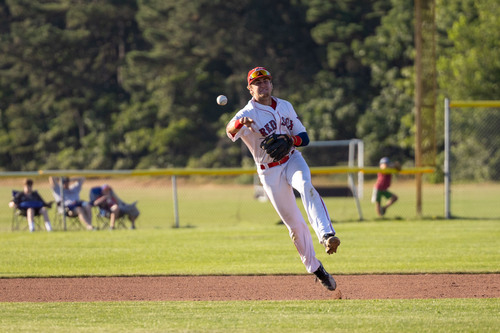 Defense: Hunter Haas, SS/3B, Yarmouth-Dennis Red Sox

While routinely appearing at one of the most difficult defensive positions for Y-D, Hunter Haas has demonstrated impressive fielding ability. Haas has made just three errors in his 196 innings (189 of which have come at short) in the field, and flies all over the diamond to make sensational plays on balls that many other shortstops would have trouble even getting to. The Y-D infielder has a knack for making some extremely challenging plays look routine, with a smooth glove on balls hit all over the field.

Versatility: Brooks Baldwin, INF/OF, Cotuit Kettleers

Although his time in the Cape League has come to an end as he prepares for the MLB Draft, Brooks Baldwin was one of the league's most entertaining players during his time in Cotuit. Baldwin appeared at seven positions for the Kettleers, spending time at every spot on the diamond except pitcher and catcher. In addition to appearing at almost every position, Baldwin is a switch hitter with an incredible ability to get the bat to the ball from either side of the plate. Baldwin also led the league in batting average amongst qualified hitters at the time of his departure, slashing at a .361 clip across his 97 at-bats. The UNC Wilmington super-utilityman also has tremendous speed, recording 11 steals in his time on the Cape. Baldwin is also by all accounts a great presence in the locker room, and his willingness to appear wherever his team needs him is seemingly a good indicator of that fact.