News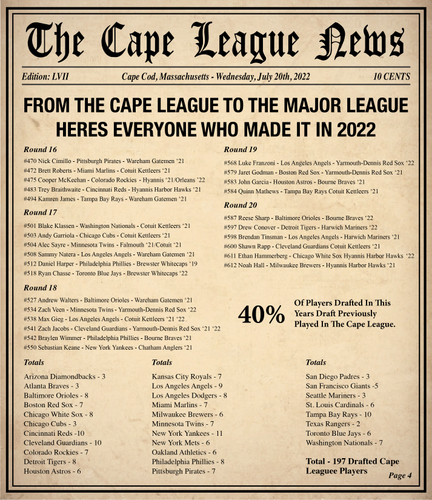 07/20/2022 6:32 AM
Article By: Ethan Kagno
It was a historic year for the Cape Cod Baseball League at the 2022 MLB Draft. 20 rounds and 616 selections later, 197 alumni were drafted by franchises across the Major Leagues. This made almost one-third (32%) of the draftees former CCBL talents. Of the 494 collegiate players selected, roughly 40% of them saw time on the Cape. Additional stats from three days of draft picks can be seen below.
Some fun MLB Draft facts from the @OfficialCCBL (Thread):

-197/616 Total draft picks (32%) played on the Cape at some point
-The @Yankees took the most Cape Leaguers (11)
-3 other teams (@Reds , @RaysBaseball , @CleGuardians ) took 10 Cape Leaguers each (1/2)

— Brian Butler (@brianbutler225) July 19, 2022
Round 1
The 2022 MLB Draft kicked off with the first two rounds Sunday evening, with many Cape League alumni waiting for their names to be called. While none went within the first seven picks, it was Brooks Lee (Yarmouth-Dennis '21) to hear his name first at the eight spot to the Minnesota Twins.
Lee became the highest drafted player in Cal Poly history since John Orton was selected 25th overall in 1987; more notably Mitch Haniger was selected 38th overall in 2012. The switch-hitting shortstop finished his collegiate career with an OPS over 1.000 and led the Big West in 2022 with a .357 AVG. In 2021, he showed power from both sides of the plate and displayed his 65-hit tool resulting in a .405 AVG with the Yarmouth-Dennis Red Sox of the Cape Cod Baseball League. Lee appears to be one of, if not the best pure hitters selected in the draft. His ability to switch-hit with power had the Twins front office enamored.
Minnesota Twins Director of Scouting, Sean Johnson really appreciated Lee's work ethic saying, "Brooks plays the same in front of 200 people as he does in front of 3,000 or 4,000. You can see the enthusiasm in his style of play, and he's a winner. He's a winning-type player, and that's what we like the most about him" (MLB.com). The Twins were able to snatch the 5th ranked draft prospect and are clearly excited by Lee's advanced bat which will eventually find itself in the Twin Cities before long.
After Lee came off the board, this started a flurry of seven of the next 11 draft picks being Cape League alum. Out of the 30 first-round selections, exactly one-third of them played collegiate baseball on the Cape. Gavin Cross (Brewster '21) was the first of three former Brewster Whitecaps to go in round one, the other's being Zach Neto (Brewster '21) and Spencer Jones (Brewster '21) who went 13th overall (STL) and 25th overall (NYY), respectively.
Cross, selected ninth overall to the Kansas City Royals, played seven games with Brewster before he headed to Team USA during the summer of 2021. At Virginia Tech, Cross showed off his above-average speed and gap power in the form of an-ACC leading, eight triples to go with 12 stolen bases. He hit 17 home runs with a 1.071 OPS for the Hokies and was a huge reason for Virginia Tech's nationally ranked program. In addition, Cross became the first Virginia Tech hitter to go in the first round since 1982. Cross brings athleticism and the potential for above average hitting, power, and defense to Kansas City. Royals vice president of player personnel, Lonnie Goldberg added that "it was important [the Royals] walked out of today with baseball players that were versatile, that could do a lot of what you see in the Major League team now" (MLB.com). Cross can play all three outfield positions well, and even spent time at first base with the Hokies.
Kevin Parada (Chatham '21) was the next to go at 11th overall by the New York Mets. Arguably the best bat in the ACC last season, Parada was also the highest ranked catcher in the draft class. He ranked top-five in SLG (.709), OPS (1.141), H (93), HR (26), and led the ACC in runs (79) and RBI (88). Parada appeared in nine Cape League games for Chatham in 2021, and had seven hits, two of which went for extra bases.
A pair of sluggers brought the firepower to the first round. Jace Jung (Orleans '21) was taken 12th overall by Detroit and Chase DeLauter (Orleans '21) was taken 16th overall by Cleveland. Jung has a plug bat with plus power, something he displayed numerous times at Texas Tech. Despite an unorthodox stance, Jung has been able to deliver hard contact all over the field and has the chance to unload 30+ dingers at the major league level.

DeLauter, out of James Madison University, became their highest draft pick ever. The Guardians clearly saw his physical presence and plus power. Standing 6'4" and weighing 235-pounds, DeLauter runs well for his size. He put on a home run derby in 2021 on the Cape, as he tied for the league-lead with nine. After slashing .298/.397/.986 for Orleans, DeLauter enjoyed an incredible season for the Dukes, batting .437 with a 1.404 OPS. He stole double-digit bases and walked more than he struck out.

Perhaps the biggest surprise of the draft was JuCo phenom, Cam Collier (Cotuit '22) falling to Cincinnati with the 18th pick. The 6'2", 210-lb 17-year-old out of Chipola JC was the hot topic on the Cape this season. He possesses one of the higher ceilings among draftees and scouts love the raw power, hit tool, and strong arm at the hot corner. He played a solid third base for Cotuit and saw some really good at-bats on the Cape against top arms.
Eric Brown Jr. (Cotuit '21) was one of the better surprises in the MLB Draft. The 63rd ranked prospect went 27th overall to the Milwaukee Brewers. A Kettleer fan-favorite last season, "EBJ" played a phenomenal infield for Cotuit, while hitting for contact and stealing bases. His 13 thefts were tied for second-place, and showed some pop in the form of five home runs. Brown Jr. may not have a tool that stands out, but he is extremely well-rounded and has a knack for putting the ball in play, even with his odd approach to the plate.
One of the most extraordinary players to ever set foot on the Cape became the tenth and final selection of the first-round. Reggie Crawford (Bourne '21) was the first player ever to throw triple-digits and hit a home run in the same season. The southpaw's heater is undoubtedly his best pitch, but also mixes in a plus slider which made some hitters pretty foolish during his time with Bourne and at UConn. Drafted as a two-way player, it will be interesting to see what San Francisco lets him do, as the lefty's arm strength is uncanny but his bat could play too.
Comp Round A Through Round 5
The Cape League's success didn't stop in Round 1. Dylan Beavers (Cotuit '21) and Jordan Beck (Harwich '21) were taken in Comp Round A by the Baltimore Orioles at #33, and the Colorado Rockies at #38, respectively. Notable players taken in the second round include Dalton Rushing (Bourne '21) who hit 24 RBI for the Braves, Tyler Locklear (Orleans '21) who was tied for the CCBL lead with nine home runs, and Carson Whisenhunt (Chatham '22) who featured some nasty stuff while striking out 19 in his first 11 innings of work this season.

After Whisenhunt went, Comp Round B had four more alumni in a row. One of which donned the batting champion crown from a season ago, Clark Elliott (Hyannis '21). He finished with a league best .344 AVG and reached base safely in 21 of his 24 games as a Harbor Hawk.
Round 3 had the most Cape League alumni in any round, with 15 of the 30 draft slots filled by a former Cape Leaguer. The most intriguing was Bryce Hubbart (Brewster '21) 94th overall to the Cincinnati Reds. The former Florida State southpaw was tied for the most strikeouts in the league with 45. He was as dominant as they come, repping a 0.87 ERA and not allowing an earned run for almost a full calendar month.
Rounds 4 and 5 featured Ryan Ritter (Cotuit '21/'22) who was selected 116th overall to the Colorado Rockies. He hit .292 and played an exceptional middle infield during his two seasons with the Kettleers. Last year's Most Outstanding Pitcher award winner, Trey Dombroski (Harwich '21) went later that round to the Houston Astros at pick 133. The Monmouth product was lights out on the Cape and finished with the best regular season ERA (0.85), accompanied by 45 Ks and just two free passes for the Mariners. Two players to highlight in Round 5 were Tres Gonzalez (Wareham '21) and Eric Reyzelman (Harwich '21/'22). Gonzalez was taken 138th overall by the Pittsburgh Pirates. The former Yellow Jacket finished third on the Cape with a .331 average and led the league with 40 hits. Reyzelman, a righty from LSU, posted gaudy numbers during the 2021 season with Harwich, striking out 36 batters in 23.2 innings pitched.
Rounds 6-10
The twelfth Cape Leaguer taken in the 6th round (191st overall by CWS) was none other than Eric Adler (Bourne '21). The Wake Forest product was perhaps the best closer on the Cape last season as he recorded a league-best seven saves for the Western Division champion, Bourne Braves. Luis Ramirez (Yarmouth-Dennis '21) got things started in the 7th round (199 overall by TEX) as the first alum off the board. The former Long Beach State Dirtbag won Pitcher of the Week on the Cape with Y-D last season, which was backed up by his first four starts of the 2021 season that resulted in 27 punchouts and a 0.86 WHIP. Hogan Windish (Harwich '22) stayed a Mariner on Day 2 of the MLB Draft, as Seattle selected him 216th overall in the 7th round. Windish was one of the top contributors in the league this season, doubling nine times and knocking in 20 runs.
In Rounds 8 and 9, a few more Brewster Whitecap champions were selected in Dale Stanavich (#232 to MIA), Chris McElvain (#243 to CIN), and Chad Castillo (#272 to PHI). The latter from California Baptist was named Playoffs MVP after hitting .400 with 2 2B, 3 RBI, and 1 SB.
Brody McCullough (Hyannis '22) was taken 293rd overall by the Chicago Cubs. The standout at DII Wingate put the league on notice this season. As a Harbor Hawk, McCullough struck out 30 and allowed runs in just two of his five starts. Brian Fitzpatrick (Brewster '21/'22) made his second stint on the Cape this season, not allowing a single run in four starts for the Whitecaps. The 6'7" lefty from Rutgers was selected 312th by the Milwaukee Brewers.

Rounds 11-20
Here are some more notable names that were drafted in Rounds 11-20.
#371 (CWS): Brooks Baldwin (Cotuit '21/'22): .361 AVG with 11 SB in 2022.
#421 (CLE): Pres Cavenaugh (Harwich '21/'22): .333 AVG, 7 2B, 7 SB in 2021.
#423 (CIN): Jared Lyons (Yarmouth-Dennis '21/'22): 3-1, 1.84 ERA, 0.99 WHIP, 33 K in 2022
#542 (PHI): Braylen Wimmer (Bourne '21): .282 AVG, 6 2B, 16 RBI in 2021
#597 (DET): Drew Conover (Harwich '22): 10 G, 1.76 ERA, 0.85 WHIP, 2 SV in 2022.