News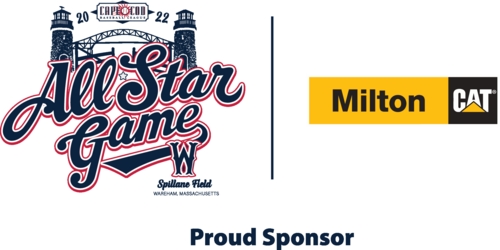 07/22/2022 4:05 PM
Article By: Daniel Fox
After a two-year, COVID induced hiatus, the Cape Cod All-Star game will return on Saturday in Wareham. The best the league has to offer will travel to Spillane Field to showcase their skills.

With their seven point lead atop the Eastern Division, it's no wonder that the Yarmouth-Dennis Red Sox are sending the most players to the All-Star Game. That group of nine includes Cole Carrigg, who is starting in the outfield for the East after hitting .313 and stealing 15 bases. The league-leading Red Sox pitching staff will also send three pitchers to Wareham, led by Jared Lyons, who has won three of his five starts with a sparkling 1.84 ERA.

While Y-D might have the most All-Stars, it's the Harwich Mariners who have the most players in the East''s starting lineup. The biggest star of that group this season is shortstop Nick Goodwin, who leads the league with 21 RBIs and is third with five home runs. He will be joined in the lineup by first baseman Joe Vetrano and third baseman Brock Wilken, the Cape League's reigning MVP.

The Brewster Whitecaps don't have any players in the starting lineup, but they have six players on the All-Star roster. That group includes five position players: catcher Kurtis Byrne, infielders Carson Demartini and David Mendham, outfielders Ryan Lasko and Grayson Tatrow. The lone pitcher on the White Caps roster to make Cape Cod's midsummer classic is Brennen Oxford, who has not allowed a run in 13.2 innings.
Oxford is one of nine pitchers to earn All-Star nods for the East, but the man getting the nod in the first inning is Orleans' Bryce Warrecker. Splitting time between the rotation and the bullpen, making four appearances in each role, Warracker has been among the league's best pitchers. His three wins and 1.73 ERA are both top five in the league and he also has an outstanding 24/6 strikeout-to-walk ratio. The lone Firebird joining Warrecker on the All-Star team is Luke Keschall, who will be a starting outfielder for the East team after slashing .279/.356/.419 with four home runs before the break.

Joining Keaschall in the starting outfield will be Chatham's Jack Deleo, one of the Cape's best all-around players. The Georgia Tech Yellow Jacket has launched four home runs and converted on all six of his stolen base attempts. He will be joined on the roster by a pair of offensive teammates: slick-fielding shortstop Marcus Brown and power-hitting outfielder Caden Grice. The Anglers will also send a pair of pitchers to Wareham. Starter Ben Hampton made a strong case to start the game by leading the league in both innings and strikeouts, while reliever Alex McFarlane has allowed just one run in 12.2 innings.

Over in the West, it is the Hyannis Harbor Hawks and the Cotuit Kettleers who will be most represented in Wareham, with each team sending seven players to the All-Star Game. This should come as no surprise to anyone who's watched the Cape League this season, as the two squads have battled for Western division supremacy all summer long.
The Harbor Hawks lead the Cape in runs by nearly a run-per-game margin, so it's no surprise that over half of their starting nine were elected All-Stars. Outfielder Cole McConell, who is coming off a three home run week, will be in the West's starting lineup, while speedsters Riku Nishida, Dom Pitelli, and Mitch Jebb, who have combined for 49 stolen bases on the year, will be weapons off the bench for manager Scott Landers, as will power-hitting outfielder Tito Flores. Left-hander Magdiel Cotto, owner of a 2.05 ERA and over a strikeout per inning, will get the honors as the West's starting pitcher.

Cotuit, meanwhile, will also send five hitters to the All-Star Game, although they will be three times as represented in the starting lineup. At catcher, the West will start Caleb Lomativa, who leads all catchers with a .314 batting average. First base will be held down by Tyler Johnson, who leads the league with seven home runs. Starting the game at shortstop will be Tommy Troy, whose .373 batting average would lead the league if he had enough at-bats to qualify.

Right behind Hyannis and Cotuit in terms of representation are the Bourne Braves, who will be sending six players to Wareham. This includes two of the league's best hitters in Matt Shaw (.361/.417/.630) and Evan Sleight (.321/.406/.452). Sleight's Rutgers teammate Chris Brito will also be making the trip north after slugging his way to four home runs and 19 RBIs, while pitchers Ty Cummings, Bryce Keener, and Bryce Cunningham will each ride strong starts to an All-Star Game selection.

The Falmouth Commodores offense caught fire once the calendar turned to July, and three of the hitters who led that turnaround will be making the trip to Wareham. That group includes Andrew Pickney, who bounced back from a rocky start to post a .340/.415/.638 this month, as well as Colby Halter and Alex Mooney, who have been staples of the offense all season long. The Commodores will also send both their top starter and top reliever to Wareham. Philip Abner has posted a 1.29 ERA over 21 innings, while Joey Ryan has emerged at the team's premier bullpen arm with three saves and 1.38 ERA.

Rounding out the Cape League's All-Star selections are the hosting Wareham Gatemen, who will have three players representing them during the exhibition. Catcher Ryan Campos earned a reserve role by leading the active roster in both home runs and stolen bases. He will be joined by Max Anderson, who is hitting a solid .292. The lone Gateman arm on the roster will be Grayson Moore, who has allowed just one run in 14.1 dominant innings.

All told, it should be a memorable day at Spillane Field on Saturday. The gates will open at 2:00, followed by a two-hour autograph session, a home run hitting contest at 5:00, and the highly anticipated game at 6:05.