News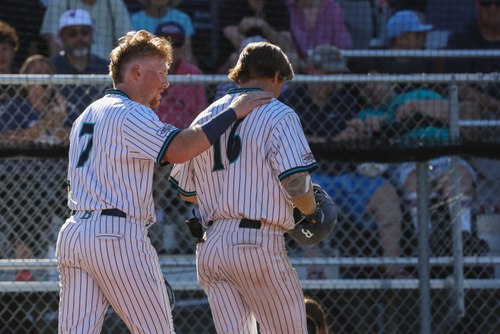 08/08/2022 6:39 AM
Article By: Ethan Kagno
The first round of the playoffs did not disappoint. Plenty of offense was to be had with 142 combined runs among first-round teams. Now, with only four teams left standing and the quarterfinals behind us, we take a look at Bourne, Hyannis, Brewster, and Yarmouth-Dennis in the semifinals. The last edition of the CCBL Weekly Preview is presented by Legacy Athletics.
Headlines:
Two Sweeps, Two Game Threes
Yarmouth-Dennis and Brewster got the brooms out to sweep Orleans and Harwich on Friday. Brewster remained undefeated in postseason play dating back to last summer, where they went 4-0 and took home the finals hardware. The Whitecaps cruised to victory adding two more wins under their belt to cinch a semi-finals berth in the West. Meanwhile, Y-D was able to fend off a fiery Orleans squad by winning twice in one day, due to game one needing to be finished hours before Game 2 due to darkness from the night prior.
Out in the wild West, it took a win-or-go-home Game 3 to decide the Western finals matchup. On Saturday, Hyannis came out strong, burying Cotuit at Lowell Park in a decisive 15-5 victory. The Harbor Hawks put up 24 runs combined in their first-round away victories to send the Kettleers packing. Falmouth's eight-run blowout in game two wasn't enough to silence the Bourne bats in game three. The Bravos put up a six-spot in the bottom half of the 4th inning to close the door on the Commodores' season.
Semifinal Action
The bright lights in Bourne and breezy grounds of Brewster are where the West and East championships began Sunday evening. A back-and-forth affair between the Red Sox and Whitecaps ultimately resulted in a 6-3 Brewster win. The victory marked a sixth straight playoff game without a loss, dating back to the beginning of the 2021 Cape League playoffs. They head to Red Wilson Field for a second date with the Sox at 3 P.M. EST.
The Bourne Braves played host to a hot Hyannis Harbor Hawks squad led by Manager of the Year, Eric Beattie. After knocking out a huge rival in Cotuit, they weren't able to swoop past the Bravos in game one, falling 4-3 against the former West Division champions from a season ago. The series shifts from Doran Park to McKeon Park as Hyannis looks to even the series at one apiece tonight at 6PM EST.
Players To Watch:
Carson DeMartini (Brewster/Virginia Tech)
Demartini enjoyed a 3-for-4 afternoon with a double, two home runs, and four runs batted in against Yarmouth-Dennis on Sunday. The Virginia Tech product helped Brewster win its seventh consecutive playoff game dating back to last season. Demartini will continue to rake behind the dish as Brewster looks poised to get past Y-D and back to the Cape League finals for the second straight summer.
Ryan Ure (Brewster/Oklahoma State)
Ure is in line to start Monday night with a trip to the Cape League finals on the line. His last outing was brilliant; lasting seven innings and allowing no runs in a win against Harwich on July 30. During the regular season, Ure tossed 24 IP and struck out 18 while finishing with a 1.50 ERA, 0.83 WHIP, and a 1-1 record.
Marquee Matchups:
August 8th: Yarmouth-Dennis Red Sox vs Brewster Whitecaps (3:00 P.M. EST @ Red Wilson Field) & Hyannis Harbor Hawks vs Bourne Braves (6:00 P.M. EST @ McKeon Park)
It's pretty simple what is at stake here. For Hyannis and Yarmouth-Dennis, it's a win to survive another day or your summer is over. For Brewster and Bourne, you win and it's a rematch of last season's Cape League finals. Brewster rides the wave with a seven-game playoff streak into McKeon Field and Hyannis' most memorable season in recent years hangs in the balance. It's playoff baseball on the Cape, you won't want to miss it!