News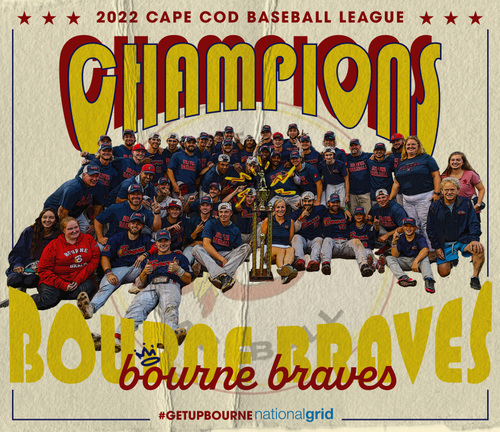 08/12/2022 7:11 AM
Article By: Kayla Gregoire
The Bourne Braves got their revenge on the Brewster Whitecaps with a sweep in the Cape League Championship. This marks the first Championship in 13 years for the Braves..

Bourne set the tone for themselves right off the bat in the first inning. With two outs and only Bryce Eblin on base, the Braves lineup came to life. Chris Brito started the rally off with a single, then Evan Sleight continued with a double to send Eblin home. With a Ryan Enos single, both Brito and Sleight scored. To end the scoring, Nelson Taylor singled to send Enos home and make it a 4-0 game.

Ryan Lasko ended the Braves hopes of continuing the inning with a diving catch off of a John Peck hit that would have likely been a double if not caught.

For the next four innings the Bourne offense went silent, but in the next two innings they put up two more runs in each inning to solidify their 8-1 win.

Matt Shaw started the playoffs quietly, but to end his Championship run, he did not go quietly. Shaw in his five at-bats had three hits with two RBI. Shaw's biggest hit was in the seventh inning with a runner on base. Shaw hit a two-run shot off the left field scoreboard to extend his team's lead. Shaw also had a double in the fifth, but moved to third base on an error by Lasko.

The playoff MVP, Eblin, had himself a night also with four hits in five at-bats. Eblin led the game off with a single, then had another single in the second inning. As the leadoff man, the third baseman constantly did his job of positioning himself on base. Eblin also stole a base to get himself into scoring position.

The Braves had four pitchers on the mound throughout the game, most notably, Hunter Furtado who started the game. Furtado pitched a total of three and a quarter innings and allowed the only run of the game. He also struck out four with three walks. The closer, Ty Cummings also had a solid outing. In his three innings pitched, he did not allow a run with three hits. Cummings also bailed out Cooper Smith in the sixth inning after allowing runners into scoring position.

With a combination of their lineup and pitching, the Braves defeated the Whitecaps with a sweep in the Championships. Brewster's offense could not come back from the seven run deficit.