News
07/07/2000 12:37 PM
Article By:
This week in Baseball
7 July 2000
Cape League Bats Come Alive, Wareham builds grip on first place.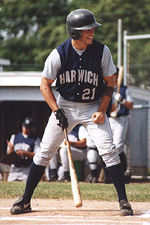 Photo by Sean Walsh
Harwich Mariner outfielder Adam Stern slid into and maintained the lead on Cape League hitters last week, while the battle for first place in both the East and West Divisions continued to intensify.
With the deadline nearing to select this season's Cape League All-Stars for the July 22 Sprint PCS Cape League All-Star Game at Brewster's Whitecaps Field at Cape Cod Tech, the sound of wood against horsehide resonated loudly on Cape Cod this week.
While Chatham A's switch-hitting outfielder Todd Linden (Washington) crept up the ranks among the league leaders in hitting with a .348 clip and 12 RBI, Harwich Mariner outfielder Adam Stern (Nebraska) slid into and maintained his grip on the league lead at .373.
Bourne Braves' sluggers Max Krance and Kevin Youkillis remained steady in the league's top 10 at .328 and .311, respectively, but it was Brewster Whitecap Josh Persell (USC) who began coming on strong last week at a .320 pace and 10 RBI. Other newcomers to the Cape League top 10 sluggers last week included Falmouth Commodore David Mattle (Kent State), Hyannis Mets' Brendan Harris (William & Mary), Orleans' Brad Stockton (Georgia Tech) and Wareham's Ty Parker (Georgia Tech).
Just as the July heat began to simmer, so to did the battles for first place in both the East and West Divisions, with the Wareham Gatemen (13-7) looking exceptionally strong from the hill in the West and Orleans and Harwich tied for first in the East (as of July 5) at 11-8-1.
As Cape League hitters began to make the difficult adjustment to using wooden bats, it appeared as if the Wareham pitching staff began to hunker down and deliver one solid performance after another.
As a team, Wareham also led the Cape league in batting average (.260), but from the mound, no less than three Gatemen were among the league's top 10 hurlers, including: Rice University southpaw Jonathan Gonzalez (1-0, 0.00 ERA), Virginia Tech's Pat Pinkman (3-1, 1.20 ERA) and Harvard's Ben Crockett (3-0, 1.24 ERA). Crockett also remained the top Cape League strikeout ace, with 35 in 36 innings pitched.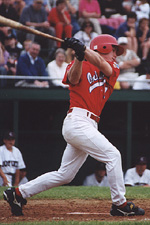 Photo by Sean Walsh
Georgia Tech's Brad Stockton takes a vicious hack and sends it over the fence..
And as Wareham's grasp on first place in the West tightened, the Orleans Cardinals' team opened some eyes by jumping from a 5-7 squad early last week to an 11-8-1 team this week, tied with Coach Buddy Custer's Harwich Mariners for first in the East.
In spite of dropping a fog-shortened, seven-inning affair to the host Chatham A's on July 4 -- a 6-5 nailbiter -- the Cardinals preceded the loss with a six-game winning streak, capped off Sunday (July 2) night at Eldredge Park with a 3-1 win over Falmouth. North Florida sophomore Matt Incinelli notched his second win of the summer (2-0) after going six innings and handing the reins to Cape League save leader Taft Cable (5), a 6-3 righty from UNC-Greensboro.
Falmouth's James Jurries (Tulane) hit his third homer of the season to tie the game in the seventh at 1-1, but Orleans' Mike Woods came through in the clutch in response, delivering an RBI-single to center in the bottom half of the stanza.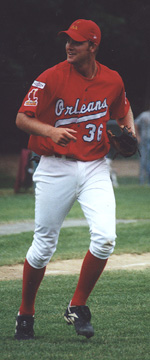 Photo by Sean Walsh
A favorite with all Cape League fans, Orleans Cardinal Lance Niekro departed last week for Single A ball after inking a minor league deal with the San Francisco Giants.
Two-time Orleans Cardinal third baseman Lance Niekro (Florida Southern) won't be making a return Cape League all-star appearance come July 22, as the 1999 Cape League MVP inked a deal with the San Francisco Giants and reported to Single A ball last week.
Niekro, who was a fan favorite not only at Eldredge Park but also at the remaining nine Cape League ballparks, was in uniform for just two weeks after being drafted (61st overall) in the second round of the June Major League Baseball First-Year Player Draft. Niekro, who was featured in May in Sports Illustrated, is the son of 22-year Major League hurler Joe Niekro.
The July 4 game between the Hyannis Mets and Cotuit Kettleers at Lowell Park held special meaning for the family of the late Cape League Umpire in Chief Dick Clegg, who passed away Dec. 30, 1999. Clegg's wife Susan and family was on hand to throw out the first pitch, while Cotuit Kettleer President Ivan Partridge rendered a moving tribute to the diminutive man in blue whose sole life passion was to call balls and strikes. Clegg umpired at every level of the game from the 1950s until the time of his passing late last year.
Cape League president Judy Walden Scarafile reported that Hood Night at Guv Fuller Field in Falmouth Saturday, July 1, was a "Splendid success,'' as both she and league senior vice president Don Tullie were in attendance to welcome one of the league's top sponsors.
Everyone knew he couldn't stay away from the game for long. Longtime Cape Cod Senior Babe Ruth Baseball President Roy Marek, who retired last year after many years of service to youth baseball, was overheard announcing the Bourne Braves' home games recently at Coady Field.
This week's CCBL Coke Hitter of the Week Award (June 25-July 1) went to Brewster Whitecaps' Paul O'Toole. All totaled, O'Toole (Notre Dame) went 8-20 with one triple, two home runs, seven RBI and eight runs scored, to go along with five stolen bases.
This week's CCBL Coke Pitcher of the Week Award went to Chatham A's Bobby Korecky (Michigan), who picked up one win in two starts, but nevertheless scattered 11 hits in 17 innings of work, allowed four runs (none of them earned) and had a rock solid 14 Ks to six walks.
Red hot on the Cape League home run trail last week was Y-D Red Sox masher Travis Wong (Texas A&M) who went yard on three occasions, including two solo blasts versus the Whitecaps on June 26.
Speaking of the long ball, Falmouth Commodore extraordinaire Doc Brooks maintained his lead on Cape League strong men, with five dingers to date (as of July 5).
-- Sean Walsh