News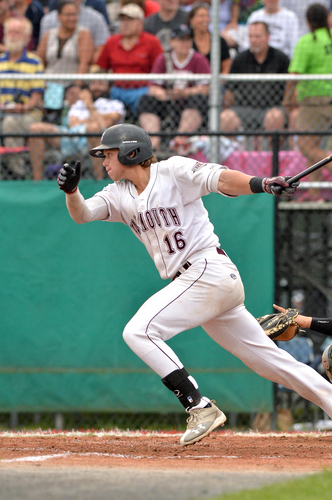 10/30/2022 10:14 AM
Article By: CCBL Public Relations Office
Through two games the World Series is tied up 1-1, turning it now into a best of five series.
After falling behind in Game 1 early, trailing 5-0 after the second inning, the Phillies flipped the script.
Rhys Hoskins (Falmouth '13) came around to score the Phillies first run of the game in the third inning. Alec Bohm (Falmouth '17) followed with a two-run double to cut the lead to 5-3.
In the fifth inning, Kyle Schwarber (Wareham '12) scored the game-tying run on a double from J.T. Realmuto.
The four Cape League alumni in the Phillies lineup (Kyle Schwarber, Rhys Hoskins, Alec Bohm and Bryson Stott) combined to reach base six times in Game 1.
After four scoreless innings from each side, the Phillies took the lead in the 10th inning and David Robertson (Y-D '06) closed the door to steal Game 1 on the road.
The Astros once again jumped out to a 5-0 lead in Game 2.
Jeremy Pena (Chatham '17) delivered an RBI double in the first inning to give Houston a 1-0 lead, before coming home to score one batter later.
The Cape League alumni once again delivered for Philly, reaching base a combined seven times. Ultimately it was not enough, as Houston secured a 5-2 victory to even the series up.
The series shifts to Philadelphia for Games 3-5, the first home World Series games in Philadelphia since 2009.