News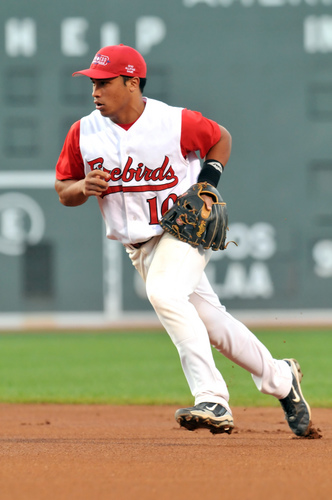 01/05/2023 4:00 AM
Article By: CCBL Public Relations Office
TBT: Wong's Decision Pays Off with Cape League MVP
By: Tristan Hobbles; feature from the 2010 CCBL Postseason Media Guide

You never quite know what result a big decision can have. For Kolten Wong (Hawaii), the decision to forgo Team USA to play with the Orleans Firebirds this summer resulted in the MVP trophy.
Despite missing the last four games of the regular season due to an injury, Wong was honored with the Pat Sorenti Most Valuable Player Award.
Wong certainly warranted the accolade. He finished third in batting average (.341), second in OBP (.426), fourth in slugging (.452) and tied for second in stolen bases (22). The second baseman also made just four errors in 145 chances (.972).
He excelled in every facet of the game. His enthusiasm provided a spark for the Firebirds whether he was batting leadoff or third in the order. He also kept fans on the edge of their seats with his daring base-running and his eloquent, but vicious swing.
"He can really hit and he disrupts baseball games when he gets on base," said Orleans Field Manager Kelly Nicholson. "He's going to steal a base, he can hit a home run, he can drive the ball the other way, he can push and he can drag."
The combination of all those elements made Wong one of the most exciting players to watch this summer. And it almost wasn't to be. He came to Cape Cod with a decision to make - to play for Team USA or for the Firebirds.
"I thought he was the best player in the league," said Y-D Field Manager Scott Pickler. "The numbers he put up, the way he played second base and the way he went about his business. He's a baseball player."
Nicholson could not have been happier with the way things worked out for his second baseman.
"I'm glad this summer turned out the way it did for him because it was a tough decision," he said. "It's going to be fun to follow him and see where he ends up."
Wong, who has enjoyed two outstanding years at Hawaii, is poised to make a high appearance in next year's amateur draft as well on the fields of big league ballparks across the country.
In winning the award, he joins last year's recipient, Kyle Roller (Bourne, East Carolina) and a host of current major leaguers, including Evan Longoria (Chatham '05), Carlos Pena (Wareham '97), and Jason Varitek (Hyannis '93). He is also the first player from an East Division team to win the award since Longoria and the first Orleans player since Lance Niekro in 1999.