News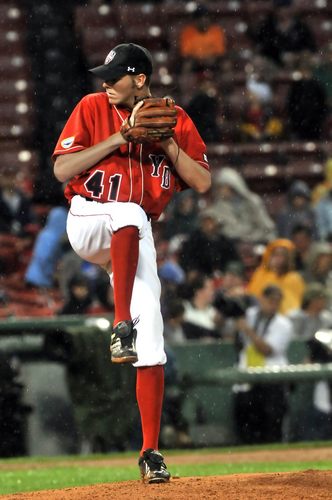 01/19/2023 8:25 AM
Article By: CCBL Public Relations Office
Former Y-D Southpaw Chris Sale Continues Power Pitching in Big Show
By: John Garner; feature from 2017 CCBL Season Opening Magazine
When fire-balling southpaw Chris Sale arrived on the Cape in June of 2009, he had no idea what was in store the next few years.
The 6'6" 180-pound hurler they call "The Condor" was fresh off the campus of Florida Gulf Coast, and ready to take Yarmouth-Dennis and the Cape League by storm.
Sale rocketed to the top of collegiate summer baseball in 2009, posting a 4-2 record with a sparkling 1.47 ERA, earning the league's B.F.C. Outstanding Pitcher Award in the process.
"It was exciting to watch Chris play here on the Cape for Y-D in 2009," said Y-D General Manager Steve Faucher. "Aside from outstanding accomplishments such as Cape League Pitcher of the Year and All-Star Game MVP, Chris was also competitive off the field."
"That year we had a contest at our 50/50 raffle booth and the player who brought in the most money in ticket sales had his picture posted on our website for a year, with the title 'Top 50/50 Salesperson of 2009'. Chris was our top salesperson, and wanted his picture posted on the website."
Sale showed consistency and dominance in nine regular-season starts, tying for league wins (4), and pacing the CCBL with 57 strikeouts. He finished with an astounding 57-9 strikeouts-to-walk ratio. Sale led the CCBL with 55 innings and compiled the third lowest ERA.
"All summer long he had a quality start every time out," said Y-D Manager Scott Pickler. "We didn't support him a couple of times when we couldn't get enough runs for him. He's the best pitcher in this league without a doubt. He's going to be very good when he goes to pro ball."
Fast forward to 2017, and Sale is the top power pitcher in baseball, posting a 7-2 record and a 2.89 ERA after 12 games. He was leading the major leagues with 119 strikeouts and just 17 walks, and leads the AL with 84 innings pitched. Sale tied his own record of seven consecutive games striking out at least 10 batters in a game.
After his junior season at Florida Gulf Coast, Sale was selected 13th overall in the 2010 MLB Draft by the White Sox. He's gone on to be a five-time MLB All-Star, led the AL with 274 strikeouts in 2015, and compiled 17-win seasons in 2012 and 2016.
Sale was one of the early-season success stories in 2016, with a torrid 9-0 start and boasted a 9-2 record with a 2.52 ERA during the first half of the season. In 2017, he's become more of a power pitcher, on pace to strike out over 300 batters. But his success story really began on the Cape in 2009.
"I wanted to come up here and make the All-Star team, and do as well as I could," said Sale in 2009. "But as far as what I've done, I didn't expect to come here and be MVP or Pitcher of the Year. I've always wanted to do that, but I didn't expect to do as well as I have."
Sale exceeded his own expectations during his magical summer on the Cape, not only making the All-Star team, but being named East DIvision MVP. While Sale only threw six pitches, he retired all the batters he faced, giving up no walks and no hits after relieving Brewster's Kyle Blair in the third inning in a game played at his future home, Fenway Park.
"Fenway Park was exciting," said Sale at the time. "It was kind of one of those once in a lifetime things. You set foot out there, and look around, and you're like 'Oh my gosh,'I didn't spend a lot of time out there on the mound, I only threw like six pitches, but it was a great experience."
"He's a great teammate," said Pickler in 2009. "He's like everybody else on this team. He competes when he gets on the mound, and he's had a great personality for our club."