News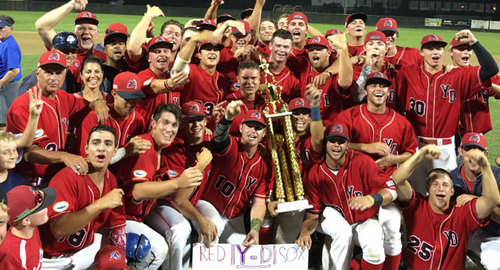 01/26/2023 9:25 AM
Article By: CCBL Public Relations Office
What Does It Take to Complete a Three-peat?
By: Shelby Connelly; feature from 2016 CCBL Postseason Magazine
No team has won the Cape Cod Baseball League Championship more than two years in a row since the Cotuit Kettleers four-peat reign from 1972-75. This was until the Yarmouth-Dennis Red Sox clinched their third consecutive title on Saturday August 13, 2016.
The Red Sox defeated the Falmouth Commodores 3-0 in game three of the Championship Series at Guv Fuller Field. Falmouth took game one at their own field 5-4. In a win or go home situation, Y-D came out strong in game two earning a 9-4 win and forced game three. Three runs in the first two innings were all they needed to secure the crown, a feeling Manager Scott Pickler is quite familiar with.
"It's great for the organization and it's even greater for these kids because they weren't part of the first two. They worked hard all year and this is a great group of kids. The 3-peat is great for the organization and for the people of Yarmouth that work hard all year for us," said Pickler after the game.
This marks Pickler's 19th season with the Y-D Red Sox. He has lead the organization to six championships in the past 12 years (2004, 2006, 2007, 2014, 2015, 2016), two more runner-up finishes (2010, 2012), and five regular season East Division titles. The most impressive part being he did this all with almost completely new rosters each year.
The Red Sox featured many standout players in 2016. Kevin Smith (Maryland) was named the Pointstreak Playoff MVP with six runs, 10 hits, seven RBI, and a .370 batting average in seven postseason games.
Smith was also chosen for the East Division All-Star team along with Matt Winaker (Stanford), Tyler Houston (Butler), and Bryan Pall (Michigan). A standout on the mound during game three of the Championship Series was Bryan Sammons (Western California). Sammons threw six shutout innings against the Commodores, getting six strikeouts and only allowing two hits.
"I just want to congratulate the team and Coach Pickler for a tremendous job this year. I'm so happy for them, and I'm so happy for the Y-D organization," said General Manager Steve Faucher who has served as GM since 2013.
So what's the secret to three titles in three years? According to Coach Pickler, "getting good players that play hard all the way through" is key, and it certainly has paid off.