News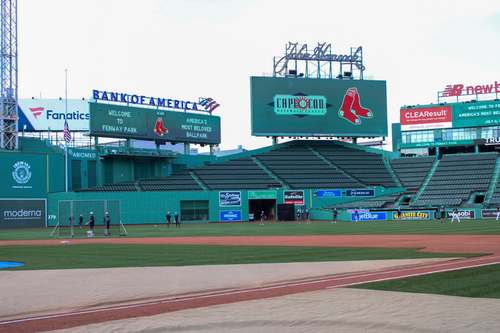 06/05/2023 7:29 AM
Article By: CCBL Public Relations Office
FOR IMMEDIATE RELEASE
June 5th, 2023
Cape Cod Baseball League Prepares for Centennial Season at Fenway Park
Cape Cod, MA – The Cape Cod Baseball League (CCBL) will host their annual league-wide workout day at Fenway Park on Friday, June 9th!
The workout day at Fenway Park will mark the start of the 2023 CCBL centennial celebrations. Media availability from league administration, players, and coaches will be available throughout the day. Any media members interested in attending the event should contact Michael Lane ([email protected]) by Wednesday, June 7th at 6pm.
Summer baseball has been a staple on Cape Cod dating back to the late 19th century, with records of games being played on the Fourth of July as early as 1885. As support grew, so did the number of games being played and by 1923 the "Cape Cod Baseball League" was officially formed. That makes the 2023 season the 100-year anniversary of the league's official formation.
Opening Day for the CCBL's centennial season is scheduled for Saturday, June 10th with all 10 teams in action. Commemorative baseballs recognizing the centennial season will be used during all regular season games this summer.
One notable game on Opening Day features the Brewster Whitecaps hosting the Bourne Braves, a rematch of the 2021 and 2022 CCBL Championship Series.
The 2023 CCBL season will feature a handful of changes, including: a pitch clock to be monitored by umpires, a runner will be placed on second base to begin the 10th inning, and a 10-inning limit for all regular season games. Multiple traditional aspects of the CCBL format remain the same, including: a 44-game schedule, make-up games, and an eight team postseason format beginning on August 4th. The Cape League All-Star Game will return to Whitehouse Field in Harwich for the sixth time on July 22nd.
About Cape Cod Baseball League
The Cape Cod Baseball League is the premiere amateur summer baseball league for college athletes. Players come from around the country to play for one of the ten teams on the Cape. Officially formed in 1923, the Cape Cod Baseball League has helped thousands of players achieve their dreams of making it to the major leagues, including the top selection in four of the past five MLB Drafts and 373 players during the 2022 MLB season.

Media Contacts:
Michael Lane
Director of Public Relations - Cape Cod Baseball League
[email protected]