News
06/22/2001 12:24 PM
Article By:
This week in Baseball
22 June 2001
Y-D Red Sox and Bourne Braves Come Out of the Gate on all Cylinders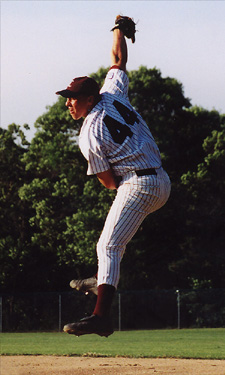 Nice ups -- Cotuit Kettleer first baseman Scott Edwardsen (Le Moyne) leaps for a line drive versus the Y-D Red Sox.
Photo by S.Walsh /CCBL 2001

COTUIT - High fives abounded at Lowell Park Wednesday night, but they were coming directly from the visitors' dugout as the Yarmouth-Dennis Red Sox continued their torrid streak that began after an Opening Day home loss to the Hyannis Mets.

Head Coach Scott Pickler's (Cypress Jr. College) boys remained tied with the Orleans Cardinals for first place in the East Division with both teams at 6-2, but it was Y-D that left Wednesday night's action, hot on a five-game winning streak.

Much thanks was owed to the rough and tumble Y-D first baseman/catcher John Baker (UC Berkeley) who went 4-4 versus the Kettleers and finished Week one fourth in the Cape League in hitting (.379) and tied for first in runs batted in (7) with Orleans' sluggers Larry Broadway and Steve Guthrie. Y-D's Ryan Klocksein (Kansas) was also on fire for the Red Sox through the end of week one, batting .409 and tied for second in the league with Bourne's Nick Italiano (see below).

Michigan's Bobby Korecky was on top of his game versus the Kettleers, picking up his first CCBL win of the season after a rough outing versus Hyannis on Opening Day. Korecky went 3-5 with a 2.45 ERA for the Chatham A's last summer before landing a spot in the Red Sox rotation this summer.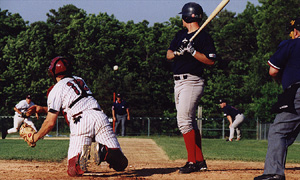 USC's Alberto Concepcion fires to first from his knees and gets the runner as Y-D's John Baker watches from the batter's box before ripping a triple. Sean Walsh/CCBL 2001


Few around the league seemed surprised to see Brian Stavisky's name atop the league batting leaders by week's end as Notre Dame's finest was hitting a solid .464. Stavisky, an Academic All-American in just his sophomore season for the Fightin' Irish in 2001, was a Cape League All-Star last season and MVP for the West Division in the 2000 Sprint PCS Cape League All-Star Game at Brewster. He also led the Hyannis Mets to the CCBL title series last summer.

Bourne's Nick Italiano remained the hot hitter for the Braves through the end of week one, slicing away at a pretty, .409 clip to help keep his squad one point ahead of Falmouth and in first place in the West Division. While the Braves as a team were hitting a combined .193, Ryan Speier (Radford University) may have proven the answer as the Bourne relief ace stood atop all CCBL relievers with five saves.

Three in a row -- Y-D third baseman Hyung Cho (Houston), shortstop Tila Reynolds (Washington) and centerfielder Adam Bourassa (Kishwaukee) pose an iron curtain in the field.
Sean Walsh/CCBL 2001

The Falmouth Commodores - hosts of the upcoming 2001 Sprint PCS Cape League All-Star Game at Guv Fuller Field (July 21) - proved to be a force to be reckoned with on the mound. By week's end, Head Coach Jeff Trundy's (The Gunnery) pitching corps were leading the CCBL in team ERA at 1.61 and had allowed a stingy 39 hits in eight games.

Baylor's Steven White led the CCBL with a 2-0 record and a 0.oo ERA with 19 Ks and just five walks in 14 innings pitched. Hot on White's trail was teammate Steven Jackson (Clemson) who was 1-0 with a 0.00 ERA. Tied with White for the league lead in wins and ERA was Chatham A's righty Corey Hamman (Montclair State), first listed on the A's roster as a temporary player but whom may have increased his chances of a permanent spot with his performances.
Cape League Notebook

Weekly Awards - The first CCBL Coca-Cola Batter of the Week - as awarded by Sportsticker/Howe Sports Data for games through June 16 -- was second-year rightfielder Brian Stavisky (Port Allegany, PA/Notre Dame). In five games for the Hyannis Mets, Stavisky hit .647 (11-for-17) with a double, triple, home run and six RBI. He also stole a base. He currently leads the league in hitting at .464.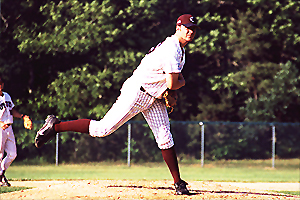 Cotuit righthander Scott Wade (Kentucky) loosens up before taking on the Y-D Red Sox at Lowell Park.
Sean Walsh/CCBL 2001

Week One Coca Cola Pitcher of the Week was Falmouth's Steven White (League City, TX/Baylor) who was near perfect in six innings of work. He allowed just one hit, one run (unearned), walked one and struck out 13 in a 2-1 victory over defending CCBL Champions Brewster. White was credited with the complete game win in the fog-shortened game.
The pitcher and player of the week will be interviewed live each week on WXTK radio every Friday from 9:35-10 a.m. League sponsor, Fleet Bank, sponsors the show.
More notes on Stavisky -- Returning for the Hyannis Mets is Brian Stavisky (Notre Dame), who was recently named an academic All American. A sophomore, who was the West Division MVP in the 2000 Spring PCS All-Star Game, Stavisky led Notre Dame this spring to its first ever 48-win season in baseball. Here on the Cape, Stavisky is on his third uniform number with the Mets. Last season he wore #17 before switching to #44 midway through the season. This year, he is wearing #19…for now.

It's going, going gone -- The Mets have set into motion a plan to host the First Annual Hyannis Mets Home Run Derby, a fundraising event tentatively scheduled for August 2 at McKeon field. It will take place prior to the team's last regular season game against Y-D.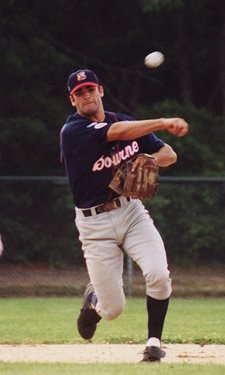 Action Jackson -- Bourne Braves third baseman Conor Jackson (UC-Berkeley) fires across the diamond to get the out.
Sean Walsh/CCBL 2001

Some major improvements -- The people behind the scenes at Y-D were very busy this winter. Red Wilson Field now sports a new backstop and outfield fence. The Sox also have new uniforms this year.

The Cape Cod Contingency - While it may be increasingly difficult for native Cape Cod players to hit the College Baseball big time, there were four Cape-bred players on rosters through the end of week one, including Orleans Cardinals Brad Scioletti from (West Point/Barnstable High School), Cotuit's Jayme Dorr for the Hyannis Mets (Trinity College), Barnstable's Eric Paone for the Brewster Whitecaps and John Muldoon for the Cotuit Kettleers (Mass. Maritime/Wareham). In addition, Hyannis Port's Jay Carberry (Holy Cross), who pitched three seasons for Barnstable Senior Babe Ruth and is now a junior righthanded hurler/outfielder at Holy Cross, is busy interning for the Hyannis Mets.

Some things to plan ahead for -- CCBL All Star Game - July 21 at Falmouth 6 p.m. July 28 - CCBL All Stars vs. NECBL at Keene, NH. August 2 - Summer Catch benefit screening at the Cape Cod Mall/Hoyts Cinemas. August 24 - nationwide release of Summer Catch

Schedule Change -- Please make a note of the following changes to the schedule: July 22- Chatham will play at Bourne at 4 p.m. August 1 - Bourne will play at Chatham at 6 p.m.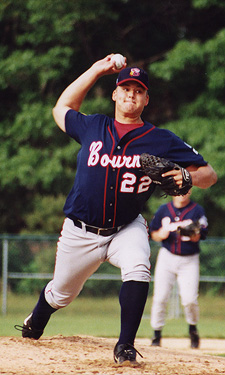 Bourne Braves' Joe Blanton (Kentucky) picked up a shutout victory and was among the league leaders in Ks with 15 by week's end.
Sean Walsh/CCBL 2001

A Job Well Done - Marist College righty flamethrower Chuck Bechtel was commended by Yarmouth-Dennis Red Sox Head Coach Scott Pickler for his relief performance versus the Hyannis Mets on Opening Day. It was Bechtel's first outing in over a year.

Team USA Wins some, Loses Some - With many Cape League teams anxiously awaiting the news of which players it would snag from CCBL rosters, Team USA announced it is keeping 18 players who had signed letters of commitment to play on Cape in 2001. Among those kept by Team USA was former Falmouth Commodore righty ace Bob Brownlie (Rutgers), who was picked the Top CCBL Pro Prospect in 2000 by Baseball America. Brownlie also opened some Team USA eyes last summer when he staged a brilliant performance against Team USA at Veterans Field in Chatham. In that effort, Brownlie had struck out one of the nation's top Big League prospects - Mark Teixeira (Georgia Tech) - walking off the field with fist-pumping fury.

Special Events - The Orleans Cardinals spent the last days of school visiting Lower Cape elementary school classrooms, while across Cape in Barnstable the Cotuit Kettleers and Hyannis Mets hosted the players of the Barnstable Junior League with a complimentary three-hour clinic at McKeon Field and Lowell Park, respectively.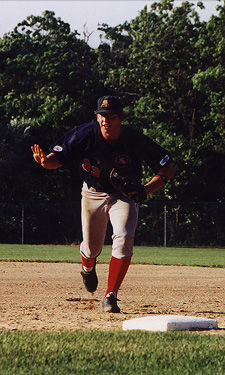 Got it Covered -- Y-D first baseman John Baker takes it himself in late-week action versus Cotuit. Baker went 4-4 in the game from the plate.
Sean Walsh/CCBL 2001

Orleans Milestone - The Cardinals, now in their 38th season, notched the franchise's 800th victory Wednesday night, defeating the Harwich Mariners in an 8-2 tilt at Eldredge Park. Washington University righty Sean White, now 1-1, notched the win for the Redbirds while fellow Huskie Tyler Davidson offered a pair of RBI singles to help seal the deal.

Double Vision - Northeastern University twin brothers Omar and Pedro Pena have been busy making things difficult for opponents of the Wareham Gatemen, if not wreaking havoc with CCBL scorekeepers, statisticians and local sportswriters. The Haverhill, MA family duo is separated, though, by position and weight. Omar, a shortstop, weighs in at about 160 pounds, while his brother, Pedro, an outfielder, is at approximately 190 pounds.

Hockey or baseball? - Former Y-D Red Sox player turned Wareham Gatemen star Joey Monahan cannot only boast a two-time stint in the prestigious CCBL, he can boast he's the grandson of a Hall of Famer - an NHL Hall of Famer, that is. Monahan's grandpa is none other than Montreal Canadien all-time great Boom Boom Geoffrion. Monahan's father, Hartlan Monahan, also played in the NHL for 11 seasons. Monahan's older brother Shane Monahan, formerly of the Seattle Mariners, played for the Y-D Red Sox in 1993.


The Hammer -- Y-D Red Sox DH Paul O'Toole (Notre Dame) has been equally vicious against CCBL opponents thus far this season as he was for the Whitecaps last year.
Sean Walsh/CCBL 2001



Like Clockwork -- Y-D slugger Ryan Klocksein (Kansas) was second in the league in batting by week's end at a steady .409 clip.
Sean Walsh/CCBL 2001

It's in the Genes - Back in the mid-1960s, Mattapoisett native Don Dorr may have had high school football titles and a full football scholarship to Syracuse University, but the former Old Rochester Regional High School quarterback was also seen playing first base for the Wareham entry in the Cape League. Now, Dorr can be seen sitting in the bleachers watching his son Jayme Dorr (Trinity) playing third base for the Hyannis Mets. The elder Dorr, who played linebacker at Syracuse and was once featured in Sports Illustrated, was head football coach at Barnstable and Plymouth South High Schools before retiring from football coaching in 1997. Jayme Dorr did his father proud, going 2-4 on opening day versus the Y-D Red Sox.

Sweet Redemption - Former two-time Cape Leaguer Kevin Brown (Miami) may have struggled a little bit with the wood while playing for the Hyannis Mets in 1998 (.175) and 1999 (.154), but his home run and five RBI in the final game of the College World Series last week was enough heroics to earn him and his teammates World Series Championship rings. Combined with the pitching of Luke DeBold, who went 3-0 last summer for the Bourne Braves, Miami defeated Stanford 12-1 to win its second CWS title in three seasons.
-- Sean Walsh/Missy Alaimo