News
01/22/2002 11:19 AM
Article By:
for immediate release: 22 January, 2002
Two Cape League Officers Receive Off-Season Accolades

BARNSTABLE -- League President Judy Walden Scarafile and Vice President Richard Sullivan have been busy during the off-season.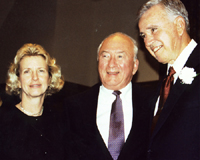 Cape League Hall of Fame Inductee Fred Ebbett (far right) shares a light moment with longtime friends Dick Sullivan and Judy Scarafile.
Sean Walsh/CCBL 2002
On February 3, 2002, Judy Walden Scarafile will be presented with the Massachusetts Baseball Coaches Association Award of Distinction. This award is given to individuals in the state of Massachusetts that have dedicated their lives to the promotion of baseball and in particular, the development of youth in the community.
The award will be given at the Sunday Awards Brunch at the association's annual clinic. The brunch will be held at the Sheraton Resort Hotel-West End Circle in Hyannis, MA. Tickets for the event can be purchased by contacting Gary Lombard at (508) 385-8416. Tickets may also be purchased at the door; however, there will be an additional charge by the hotel.
Previous winners of the MBCA Award of Distinction include the Boston Red Sox' Dick Bresciani and the late Jean Yawkey, and the Cape League's John Wylde and Archie Allen.
Judy Walden Scarafile was recently elected for an 11th term as league president.


Sullivan's Tenure Marked With Professionalism
Recently, the Planned Giving Council of Cape Cod named Richard Sullivan the Outstanding Volunteer of the Year. The award was presented at the council's annual philanthropy day in November. Cotuit Kettleers General Manager Emeritus, Arnold Mycock is a former recipient of the award
Sullivan, who has worked with the Cape League for close to 30 years in numerous offices, also deserves belated congratulations as a key member of the Cape Cod Senior Softball team that advanced to the Championship game in August. The Senior World Series was held in Canton, Michigan, and the team, sponsored by Cape Cod Five, lost to the defending champions by just a run in the Triple AAA division.

-- Missy Ilg Alaimo, Publicist