News
06/24/2002 1:04 PM
Article By:
This week in Baseball
24 June 2002
Quinn's Kettleers Barnstorm Through CCBL Circuit
COTUIT - Coming into Sunday night's home game versus the visiting Hyannis Mets (2-5-1, through June 22), first-year Field Manager Garrett Quinn's Kettleers stood atop the West at 8-0 and remained the only Cape League team to be undefeated after the first week of the 2002 season.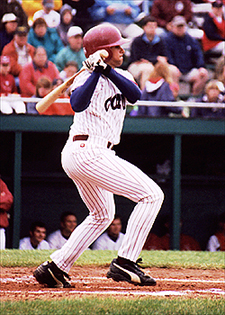 Pete Stonard (Alabama) and the red hot Cotuit Kettleers kept on ripping and ended the week undefeated at 9-0.
Sean Walsh/CCBL 2002

By the 4th inning, with Hyannis up 1-0, it appeared Cotuit might be resting momentarily on its early-season laurels, but that brief glint of hope for Hyannis evaporated as quickly as Cotuit catcher Stephen Ghutzman's (Wake Forest) vicious rope over the leftfield fence. Followed shortly thereafter by a Brian Anderson (Arizona) bomb, also to left field, Cotuit's firm hold atop the Western Division seemed cemented.

Facing Villanova's Tom Kandybowicz in the eighth inning, Ghutzman turned on another Hyannis offering, this time hacking from the left side of the plate. For the first time in years, a Cape Leaguer had connected for home runs from both sides of the plate in the same game. While Hyannis made a brief, two-out comeback on a two-run triple by Wichita State's Brandon Green, it was too little too late as Cotuit ended again victorious, 6-3 and 9-0 in the win-loss column.

In the Eastern Divison, fellow first-year Field Manager Carmen Carcone found himself in a position similar to that of his Western Division counterpart Quinn. At 4-4, Carcone's Orleans Cardinals went into Sunday (June 23) atop the Eastern Division, one point ahead of the Chatham A's (3-3-1) and just one win ahead of Buddy Custer's Harwich Mariners (3-4).

Georgia Southern's Brian Rogers and UNC-Chapel Hill's Whitley Benson made sure of the Cardinals' first place standing Saturday while visiting Veterans Field and the Chatham A's and combining for a 3-0 shutout. Rogers, whose 2-0 start this week and 14 Ks in 12 innings pitched (0.00 ERA), garnered him the 2002 season's first Coca Cola Pitcher of the Week honors. Benson, who struck out six Chatham A's in three relief innings, notched his first Cape League save and helped ensure the shutout.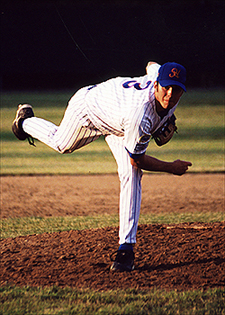 Hard-throwing relief man Sean Walker (Baylor) brings pure smoke for the Hyannis Mets this week.
Sean Walsh/CCBL 2002

At 3-3-1 in third place in the Western Division, the Falmouth Commodores appeared to be average on paper but in reality were anything but. In spite of dropping a well-pitched, close game to Hyannis at home Friday (June 21) night, the Commodores' batsmen continued to tear Cape League pitching apart, led by Sal Frisella (Southern Illinois) and second-year speed demon Jon Kaplan (Tulane). With Frisella atop the league leaders (through June 22) in batting at .375, and Kaplan third in the league at .360, some fans may have been left scratching their collective heads as to why Falmouth wasn't on top of the Western Division rather than in the middle of the pack. While part of the answer may lie in the team's cumulative 3.26 ERA, more to the point may be the fact that Falmouth's roster has been decimated by the College World Series and Team USA tryouts.

Ahead of the Commodores in second place in the Western Division, was the Bourne Braves, also coached by a first-year field manager in Northeastern's Matt Noone. While Noone's hurling corps may have had a sixth-best CCBL Team ERA at 2.51, the Braves' pitching staff was anything but forgiving to opponents this week, hurling three consecutive 1-0 shutouts in the course of four days of work (one day off, June 20).

In what could have been billed as an all-star pitching duel, Chatham second-year southpaw Daniel Moore (UNC) went toe-to-toe with Cal-Berkeley's Big Matt Brown, a second-year righty for the Braves.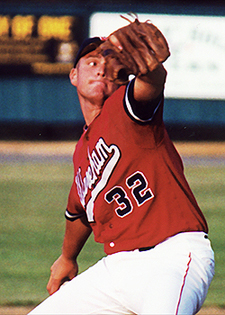 Michael Parisi (Manhattan College) delivers versus the Hyannis Mets early this week at McKeon Field.
Sean Walsh/CCBL 2002

Brown ended the victor, tossing a 1-0 combined shutout with Cape league saves leader Chris Ray (William & Mary). Brown struck out seven and scattered three Chatham hits, but Chatham's Moore was no slouch striking out five in seven innings of work and walking only one to brown's two free passes.

Regardless, it was Ray again for Bourne, this time Friday night (June 21) versus Orleans at Coady Field. In for Braves starter Paul Thorp (Baylor) in the top of the ninth inning, Ray notched the win when the Braves put forth the game's sole run in the bottom of the frame. Thorp went eight innings allowing no runs and struck out five.
On Saturday afternoon versus the visiting Harwich Mariners club, Bourne won its third straight shutout victory, this time on a combined effort by four pitchers, Matt Durkin (San Jose State), Jeff Alleva (Duke), Ryan Morgan (Boston College) and Ray for the save.
Swinging the Stick - Alabama's Pete Stonard was seeing the ball quite well this week for the Kettleers, garnering Coca Cola Player of the Week honors. Following Stonard's .367 clip was none other than third-year Cape Leaguer Steve Ghutzman (Wake Forest), who played for the Kettleers in 2000, then Falmouth last year and this year is back again with the Kettleers. "Ghootz," as he's fondly called by his teammates, was at .357 through Saturday, not including Sunday's monster day at the plate which included two home runs. Behind Ghutzman, who has made it public he will no longer be attending Wake Forest in the fall, was Kettleer Brian Ingram at .348. While he was just off the leader board in batting average, Georgia's Lee Mitchell remained in the league lead in RBI with 10 in the first week of 2002, with many thanks to three home runs.

Getting' Their Groove On - Three Brewster Whitecaps sluggers suddenly found themselves in the CCBL Top 10 in batting (through June 22), led by San Diego State's Anthony Gwynn who by week's end was rolling at a steady .345 clip. Behind the smooth-footed Gwynn, were teammates Pat Maloney (Kansas State) at .321 and William & Mary third baseman Trey Wakefield at .320.

A Real Eye Opener - According to Hyannis Mets General Manager John Howitt, Mets' slugger Ben Harrison (Florida) paid a visit early Friday morning to league-sponsor Eye Health Services to have his contact lenses adjusted. Friday night behind 2-1 in the top of the eighth inning at Guv Fuller Field in Falmouth, Harrison showed his little visit to the eye doctor paid off in spades as he launched a screamer over the left field fence to give the Mets a much-needed win versus the multitalented Commodores.

Back in the Sidesaddle - Cape League fans just knew there was no way former Cotuit Kettleers field manager Mike Coutts could stay away. With new Field Manager Garrett Quinn's Kettleers steamrolling through the opposition and undefeated at 9-0 through Sunday (June 23), Coutts was officially put back on the roster this week as an assistant coach.

Merry Go Rosters - Cape League fans may be slightly perplexed by the almost daily roster changes that have been occurring on each CCBL franchise, but it's fairly par for the course. Final rosters are not due into CCBL Commissioner Bob Stead's office until June 27.

15 Years Ago -- On July 3, 1977, Chatham's Jim Lauer connected for home runs from both sides of the plate in a single game. Cotuit's Stephen Ghutzman (Wake Forest) ended that 25-year switch-hitting slump Sunday night (June 23) by connecting for a solo (lefthanded) and two-run shot (righthanded).

It's All in the Wood -- According to Cape League Historian Bruce Hack, Sunday's 12 home runs were the most hit by the entire league in one day since the league's return to wooden bats in 1985. Hack also maintains that Cotuit's 9-0 start to this season is the best undefeated run to begin a season since the Hyannis Mets went 9-0 in 1979 with Holy Cross' Ronnie Perry leading the way. The all-time best start to a season came in 1967 when the Falmouth Commodores achieved that mark, but ut was the Chatham A's who went onto become league champions that year.

Stetson's Bryan Zenchyk kept swinging hard this week for the Cotuit Kettleers.
Sean Walsh/CCBL 2002


Bourne Braves righty ace Paul Thorp spun eight innings of scoreless baseball versus Orleans this week, maintaining his 1-0 record and 0.00 ERA
Sean Walsh/CCBL 2002

-- Sean Walsh/CCBL 2002

Oklahoma State righty Joe Weaver of the Orleans Cardinals bears down on the Wareham Gatemen.
Sean Walsh/CCBL 2002


Chris Snavely (Ohio State) squares around but fouls it off versus the Y-D Red Sox this week.
Sean Walsh/CCBL 2002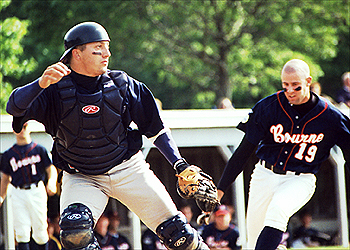 Y-D Red Sox catcher Jake Fox (Michigan) awaits the throw to home plate as Bourne Braves' third baseman Ryan Morgan (Boston College) slides in safely.
Sean Walsh/CCBL 2002

Vanderbilt's Jon Douillard snares an infield pop fly as Baylor's Josh Ford puts on the brakes in the nick of time.
Sean Walsh/CCBL 2002


Y-D's Darric Merrell (Cal State) makes his pitch to the visiting Harwich Mariners at Red Wilson Field.
Sean Walsh/CCBL 2002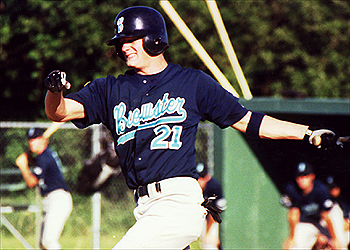 Brewster third baseman Trey Wakefield (William & Mary) was red hot for the Whitecaps this week.
Sean Walsh/CCBL 2002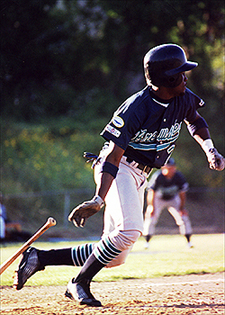 Brewster's Anthony Gwynn (San Diego State) rips his way into the CCBL Top 10 in hitting.
Sean Walsh/CCBL 2002
-- Sean Walsh