News
07/02/2002 1:03 PM
Article By:
This week in Baseball
1 July 2002
Cotuit Shatters Record Versus Chatham
Harwich Takes Four Straight to Tie for First
COTUIT - Still undefeated at week's end with a 13-0-1 record, rookie field manager Garrett Quinn's Cotuit Kettleers broke the modern-day consecutive wins (to start a season) record by dropping Chatham 9-1 at Elizabeth Lowell Park before a crowd of close to 1,000 Chatham and Cotuit fans. The former record was 11 consecutive wins to start the season.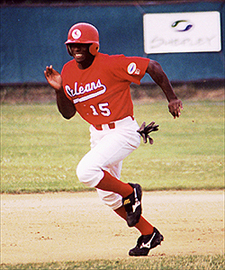 Georgia Tech's Brandon Boggs (Orleans) takes off for third base in mid-week action versus the Hyannis Mets.
Sean Walsh/CCBL 2002

While the Kettleers banged out 15 hits in all (Wednesday, June 26), it was outfielder Lee Mitchell's third inning grand slam on a 1-2 count that made victory and a new league record seem apparent for the hosts. When the dust finally settled, it almost seemed unreal that in addition to Cotuit's dominant line-up, the Kettleer pitching staff combined to no-hit the visiting A's. Arizona's Joe Little picked up the win while striking out five and allowing seven walks, followed by Jarred Stuart, Kevin Ool (Marist) and Josh Banks (Florida International). Stuart allowed Chatham's sole run of the day.

Through Saturday, Cotuit had three batters in the top 10, including the top two in Pete Stonard (Alabama) at .373 and Stephen Ghutzman (Wake Forest) at .353. Brian Ingram, who tied a Cape League mark with two triples in one game versus Chatham (June 26), was ranked ninth in league hitting at .292. Mitchell was tied for first in home runs (4) with Chatham slugger Jamie D'Antona (Wake Forest), but held a solid lead in the RBI department (15) over teammate Stonard (11), D'Antona (10) and Falmouth's Sal Frisella (Southern Illinois) and Vasili Spanos (Indiana), tied with D'Antona at 10.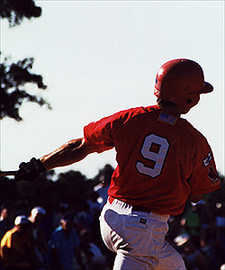 Orleans second baseman Steve Garrabrants (Arizona State) hit a walk-off home run to beat Wareham 1-0 at Eldredge Park Saturday night.
Sean Walsh/CCBL 2002

Leading Harwich to an 8-6 mark by week's end was Chris Snavely (Ohio State) who leapt high among the CCBL batting leaders with a .324 clip. The upstart Mariners, tied with the Orleans Cardinals for first place in the Eastern Division (through June 29), offered the visiting Bourne Braves a well-defined beating Saturday, cranking out 20 hits, with Snavely leading the charge going 2-3 with four RB, followed by backstop Mitch Maier (3-6) who knocked in three. Winning pitcher Josh Schwartz (Rowan College) upped his tally to 2-0 with five solid innings pitched, collecting nine Ks while walking just one.

Fellow Harwich hurler Mark Weinmunson (Southeast Louisiana), a 6'3" southpaw, picked up Coca Cola Pitcher of the Week honors in collecting his first win of the 2002 season (1-1), by showing off a spectacular 0.60 ERA and 16 Ks in 15 innings pitched. The Southwest Missouri State Mariner duo of closer Shaun Marcum and righty Brad Ziegler, though, may have spelled the difference this week for the Whitehouse Field boys, as Marcum wrapped up the week as the league leader in saves (6), while Ziegler, who pitched for Chatham last summer, continued to impress with a solid 1-0 mark, 1.23 ERA and 18 Ks in 14 2/3 innings pitched. As if that pitching crew wasn't enough to show Buddy Custer's Mariners mean business this summer, tack on Ohio State's Josh Newman with a 2-0 mark and an 0.69 ERA and what Harwich may have is a solid recipe for continued success through the all-star break and beyond.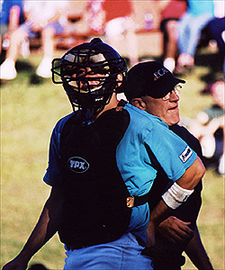 Brewster Whitecaps catcher Brady Burrill (Michigan State) and home plate umpire Peter Hall are juxtaposed amid the shadows at Whitecaps Field.
Sean Walsh/CCBL 2002

Could the Harwich nine be motivated by the simple fact that B.F.C. Whitehouse Field is playing host to the 33rd Annual Cape Cod Baseball League All-Star Game?

Speaking of all-star caliber performances, Yarmouth-Dennis Red Sox return star Adam Bourassa (Wake Forest), turned it on this week, watching his batting average climb to .341, fourth best in the league behind Stonard, Ghutzman and Wareham's David Murphy (.341). Bourassa, who came to Y-D as a temporary player last summer out of Kishwaukee Community College, quickly found his way into the Y-D starting line-up and into the Eastern Division All-Star line-up. In the fall, Bourassa transferred to Wake Forest and has more than proven himself not merely one of the Cape League's top players over the past two summers, but one of the top collegiate outfielders in the nation.

Interestingly, four of the CCBL's current top 10 hitters are return players, including Ghutzman, who is back for his third season (Cotuit 2000, Falmouth 2001), Murphy (Wareham 2001), Bourassa and Jon Kaplan (Falmouth 2001).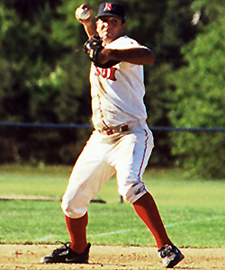 Y-D Red Sox third baseman Jake Kungl (Cal State-Northridge) guns the runner down at first versus Orleans.
Sean Walsh/CCBL 2002

Chatham may have found itself at 6-7-1 and in second place in the Eastern Division, but never count the perennial Eastern Division contenders out of the playoff hunt. Southpaw Frasier Dizard (South Carolina) yielded one run and six hits and struck out 10 batters over seven innings to get the win in a 2-1 triumph over Yarmouth-Dennis on June 27. Coca Cola Player of the Week Jamie D'Antona (Wake Forest) blasted a home run and had two RBI in the victory. The following night, D'Antona went 4-for-5 with a pair of homers and four RBI in a 12-2 triumph at Brewster. Designated Hitter Colt Morton (NC State) went 4-4, hit a pair of home runs and drove in three runs in the victory. Righty flamethrower Tim Stauffer tossed six scoreless innings and allowed just three hits to get the win. Stauffer, a member of the 2002 NCAA Division I All-American team as a Sophomore at the University of Richmond, went 2-0 and yielded two runs and 11hits over 20 innings, fanning 28 batters over his first three starts. Stauffer was the league leader in Ks through Saturday, June 29.
Cotuit's Streak Ends with Tie, but Still No Losses
In an extra-inning affair Saturday (June 29) at Lowell Park, Cotuit and Brewster tied 1-1 (10 innings), in effect ending the Kettleers' winning streak, but now the ball club's streak continues at 14 straight games without a loss. The Kettleers have tied the record for most wins in June, 13 by Orleans in 1994 (13-3-0). A win on Sunday would give Cotuit the record for June. According to CCBL Historian Bruce Hack, the best record in one month was 15-0, by Chatham in July, 1966. Incidentally, the tie Saturday night between Brewster and Cotuit tied Cotuit's longstanding mark of 14 games without a loss when Cotuit went 14-0 in July, 1964. Other marks include most wins in a month: 17, Cotuit, July, 1983 (17-6); 16, Cotuit, July, 1992 (16-7); 15, Hyannis, July, 1979 (15-4-1). Cotuit's 13-0-1 mark through Saturday is also a record for the best win-loss record by a rookie field manager (Garrett Quinn).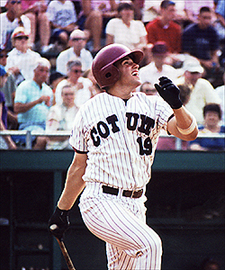 Cotuit's Stephen Ghutzman (Wake Forest) was the league's leading hitter for most of the week, but finished one step down at second at .353 for the red hot Kettleers.
Sean Walsh/CCBL 2002
Cape Cod Baseball League Notebook

Brown is Very Impressive
Bourne Braves return righty ace Matt Brown (UC-Berkeley) spun seven scoreless innings and yielded just two hits, striking out eight batters without issuing a walk but did not get a decision in a 1-0 triumph over Falmouth on June 25. Brown went 1-1 and allowed just three runs -- two earned -- and nine hits over his first 19 innings.

He Knows How to Get on Base
Tulane's Jon Kaplan, a second-year starting outfielder for Jeff Trundy's Falmouth Commodores, hit safely in seven straight games (9-for-28, 2 2B, 2 HR, 3 RBI, 5 SB) June 22-29 and was leading the league in stolen bases (10), was tied for first in runs (14) and was second in hits (16).

Mets Begin to Improve
Following a league-trend, LSU hard-throwing righty Brian Wilson dyed his hair blonde and then hurled seven scoreless innings Friday night (June 28), yielding just three hits to get the win in a 7-0 triumph over Orleans. Teammate Joey Watts (Tampa), who led the University of Tampa staff with 80 strikeouts in his Sophomore season, spun eight scoreless innings and allowed just five hits to get the win in a 5-0 triumph at Falmouth the following night.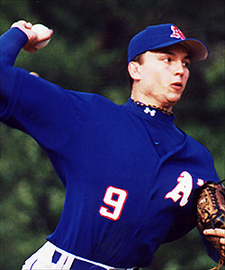 Chatham's Mike McDonald (Maine) works hard versus Cotuit in an honest effort to stave off some hot bats.
Sean Walsh/CCBL 2002

It's in the Cards'
Orleans righty Brian Rogers threw seven scoreless innings (6 H,
2 BB, 7 SO) but did not get a decision in a 1-0 triumph over
Wareham on June 29. Rogers, who had a 5.06 ERA in his Sophomore
season at Georgia Southern, went 2-0 and did not allow a run in
19 innings over three outings June 17-29 (11 H, 4 BB, 21
SO)...RHP Anthony Del Prete went 1-1 with three saves and did
not allow an earned run over 8 2/3 innings in seven games June
16-26 (2 H, 1 R, 1 BB, 5 SO). Shortstop Matt Maniscalco (Mississippi) went 8-for-16 with six stolen bases in as many games June 20-25.

Double-Trouble on the Mound
Wareham righty Kevin Guyette (Georgia Tech) tossed six scoreless innings (3 H, 3 BB, 2 SO) in a 2-0 win over Brewster on June 26. Guyette went 2-1 and allowed just two runs -- one earned -- and 12 hits over 20 1/3 innings in his first three starts June 15-26. Gatemen southpaw David Sanders pitched seven scoreless innings and allowed just four hits, while fanning 11 batters to get the win in a 2-0 shutout of Bourne on June 28. Sanders (Wichita State) allowed just two runs - one earned -- and 12 hits over 23 innings in his first three starts June 16-28, going 2-1 over that span. Fellow lefty Nic Touchstone (Okaloosa) yielded just two hits over 6 1/3 shutout innings and struck out 10 batters but did not get a decision in a 1-0 defeat at Orleans the following night.

Sean Walsh/CCBL 2002
Many thanks to SportsTicker.Com