News
07/07/2002 1:02 PM
Article By:
This week in Baseball
7 July 2002
Ziegler Paces Harwich in East
Cotuit Remains the Team to Beat in the West
HARWICH – They say walks will kill you every time.

Funny, that same, often-proven-true adage somehow just doesn't apply when Harwich Mariners righty ace Brad Ziegler is pitching.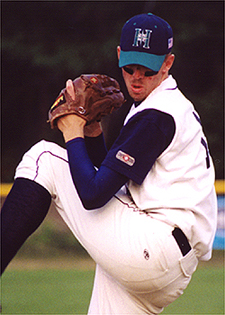 Harwich Mariners righty Brad Ziegler (Southwest Missouri State) is focused on a new Cape League record -- consecutive innings pitched without a walk (21.2) -- as he bears down on the Chatham A's this week for his second win (2-0).
Sean Walsh/CCBL 2002

Somehow lost amid the excitement and blur of last year's semifinals and Cape League Championship Series, the tall, lanky Southwest Missouri State flamethrower didn't rest on the laurels of a very respectable 3-1 season and a 1.96 ERA. He wanted another shot at Cape League glory and this week, the young but personable and determined pitcher forever etched his name in the Cape League record book when he completed seven innings for his second win against the visiting Chatham A's (July 1).

Yes, Ziegler not only dropped his ERA to a paltry 0.83 by allowing no runs and scattering just three hits (11 Ks) against many of his former teammates, but he did so without allowing a single walk. All totaled, Ziegler hasn't offered up a single "freebie" to opponents this year in 21 2/3 innings pitched and has accumulated 29 Ks in the process.

There could be many reasons for Ziegler's continued success against Cape League opponents, but it isn't as if the Major Leagues haven't noticed. Drafted in the 31st round this year by the Oakland A's, Ziegler opted to not sign with hopes of getting more attention this year on the Cape. If an individual Cape League record isn't enough, how about helping bolster the confidence of field manager Buddy Custer's starting nine: after a tough start, the Mariners have been rolling, took first place briefly at the end of last week and were neck and neck with Orleans (12-8, first place) and the Yarmouth-Dennis Red Sox (11-8-1) in the Eastern Division title race at an even 10-10 (.500).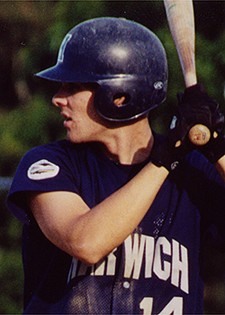 Ohio State's Chris Snavely has paced the Mariners to a hotly contested pennant race in the Eastern Division, batting .407 through July 5.
Sean Walsh/CCBL 2002

But Ziegler isn't the only Mariner on a red hot, burning roll of late. Enter, Ohio State outfielder Christian Snavely. Amid the league leaders in hitting since the opening of the 2002 season, Snavely turned it on earlier this week, watching his batting average soar to the top at .407. While one "off day" may have settled the lefty slugger down a bit Saturday (July 6), thus placing him second in the league in hitting at .379, Snavely isn't likely to fall too far from grace: all totaled, the Mariner has 22 hits in 19 games, with two home runs and six RBI. Through July 6, the Buckeye was fourth in the league in total hits and first in slugging percentage (.534).

But hopping both feet first into the Eastern Division race this week, thus knocking Harwich down a slot into third place, was Scott Pickler's Y-D Red Sox. Boasting three of the league's top 10 hitters in Adam Bourassa (Wake Forest) at .347, Michael Bourn (Houston) at .306 and Brett Cooley (Houston) at .284, the Red Sox bounced back this week from a mediocre start to a sudden 11-8-1 grip on second place in the Eastern Division. While just one point behind the 12-8 Orleans Cardinals through July 6, the Red Sox were rolling with the tide of a solid 8-2 stretch in their last 10 games, had the fifth best attendance record in the league (9,771 fans to date), were tops in team batting average in the league at .261. Y-D also ranked third in team pitching with a solid 2.15 ERA, and had also marked the franchise's 700th all-time victory.

Could things get much better for Y-D as the season creeps toward the all-star game (July 27, at Harwich)?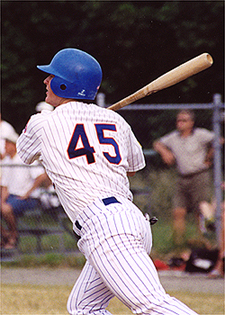 Hyannis Mets' Danny Putnam (Stanford) was batting .375 through July 6.
Sean Walsh/CCBL 2002

Why not? Asked UCLA's Wes Whisler, as the 6'5" lefty first baseman went on an 8-game hitting binge, racking up a quick .467 batting average and the league all-time record for consecutive hits (9). On July 3, Whisler homered in his last at-bat (3-4 on the day), then went 5-5 on the Fourth of July versus Hyannis, and had three straight hits on Friday, July 5 versus Wareham before grounding out in his last at-bat. The previous record for consecutive hits, according to CCBL Official Historian Bruce Hack, was seven, both record-setting stints coming in 1979. According to Hack, Jim Curl of Hyannis collected seven straight hits on June 16-17 of that season, followed by Rick Walters of Orleans on July 3-4. Interestingly, the CCBL was using aluminum bats that year, thus making Whisler's record that much more impressive.

Don't think we've forgotten about Orleans Cardinals first-year field manager Carmen Carcone's still hot Redbirds. At 12-8 and in first place in the East through July 6, Carcone's Cardinals were still riding a 7-3 mark in the team's last 10 games, had the league's third best team batting average at .225 and were still in awe of Brian Rogers' (Georgia Southern) third straight, eye-opening win.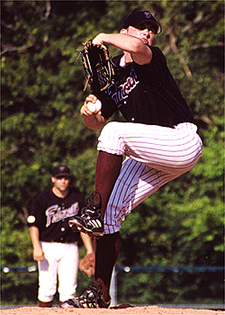 Falmouth's Chris Niesel (Notre Dame) pours his arm and heart into his first victory over the first place Cotuit Kettleers at Lowell Park on the Fourth of July.
Sean Walsh/CCBL 2002

Named last week's Coca Cola Pitcher of the Week after a 2-0 start, Rogers threw another gem Saturday (July 6) versus host Harwich at Whitehouse Field, going seven innings, allowing no runs in his fourth start (26 IP). Offering just two hits to the Mariners, Rogers became just the second Cape League hurler to go 3-0 this year (Garry Bakker/Cotuit) and added to his tally of 34 Ks (four walks).

In the Western Division, Cotuit had plenty of room to spare in maintaining its firm grip on first place. Dropping or tying six of its last seven games since breaking the league record for most consecutive wins to start a season (13), Cotuit nevertheless remained 12 points (31) ahead of second place Bourne (19/9-10-1) with a 14-3-3 record. Still, Alabama's Pete Stonard remained atop the league leaders in batting with a .387 clip in all 20 games played.

Pickler to Soon Reach Milestone – Y-D Red Sox Field Manager Scott Pickler (Cypress Junior College/CA) remained just three wins shy Sunday (July 7) morning to become the 26th Cape League helmsman in CCBL history to collect 100 lifetime wins. Ironically, Pickler's 13th win this season will tie him with CCBL Commissioner and former Y-D Red Sox Field Manager Bob Stead (99-140-16). Coach "Pick," as he's more affectionately known, needs 22 wins this season to move into 23rd place all-time and 24 wins to tie former Y-D skipper John Barlowe (110-140-11) for 21st place on the all-time list.

And the Milestones Just Keep on Rolling By – Should John Schiffner's vaunted Chatham A's collect 23 victories this season, the organization will have reached its 925th all-time victory, thus becoming the first-ever franchise to reach that incredible mark. By the same token, if first-year field manager Garrett Quinn's Cotuit Kettleers collect 21 wins this year, Cotuit will become just the second team in modern-CCBL history to amass 900 all-time wins. But that's not all: Wareham is just three wins shy this season of reaching the 850 all-time win mark, and in doing so the franchise will become the third team to attain such elite status; Orleans needs 21 wins this year to reach the 825-win mark (4th team to do so); Falmouth became the fifth team in league history this year to reach 750 all-time wins with its third victory of the 2002 season and Harwich is just nine wins shy of the organization's 725th all-time win.

Kaplan is the Captain of Swing – Tulane's Jon Kaplan pretty much erased any semblance of a doubt as to his incredible skill and talent when the Falmouth Commodores' second-year outfielder connected for a vicious home run at Lowell Park versus the Cotuit Kettleers on July 4th. The potential CCBL all-star connected for another bomb two days later (July 6) to give him four on the season, but better yet, raised his 4th best in the CCBL batting average to .320. The league leader in stolen bases with 12, Kaplan ranked second in hits (25) through July 6, was fifth in on-base percentage (.422), second in slugging percentage (.532), tied for second in extra-base hits (8) and tops in runs scored (20).

Two Local Players Make the Cut – While the early season my have at times seemed like musical rosters was being played around the CCBL, two collegiate ballplayers of native origin have made the permanent rosters. Wake Forest second baseman Brad Scioletti, who first donned an Orleans Cardinals' uniform, was released and then picked up by the Yarmouth-Dennis Red Sox but got bumped when second-year Cape League All-Star Steve Sollmann (Notre Dame) arrived from the College World Series in Omaha, NE. Scioletti, who joins many of his Wake Forest teammates on the Cape this summer, is a Hyannis native and graduate of Barnstable High School. He is now playing for the Brewster Whitecaps. Joining Scioletti is Trinity College second baseman Jayme Dorr, released by the Wareham Gatemen but picked up July 4 by the Bourne Braves when the team's second baseman Matt Tolbert suffered a summer-ending knee injury. Dorr, who attended and played baseball, football and basketball at Barnstable High School, later transferred to and graduated from Avon Old Farms (CT).

His Consistency is His Power – Texas Christian's Jake Duncan may only be batting .197, but don't let that fool you into thinking the Y-D Red Sox slugger can't wield the lumber. Through Saturday, July 6, the 5'11" right-handed hitter led the league in both home runs and runs batted in at five and 16, respectively, surpassing league leader Lee Mitchell (Georgia) from Cotuit, Jamie D'Antona (Wake Forest) from Chatham and Sal Frisella (S. Illinois) from Falmouth.

In His Father's Footsteps -- Orleans Cardinals' Rod Allen Jr. would one day like to be in his father's position. Rod Allen Sr. is currently a television and radio broadcaster for the Arizona Diamondbacks. He took on his position with the Diamondbacks after retiring from a professional baseball career. Allen Sr. played for the Detroit Tigers, and wears a 1984 World Series ring. He was an outfielder and spent his last three years in professional baseball playing overseas in Japan. Rod Allen Jr. attends Arizona State University, and went to high school in Culver City, Ca. He plays centerfield for the Cardinals and wears number 10. He posts a .273 batting average, and is fourth in the league for stolen bases with eight. The Cincinnati Reds drafted Allen Jr. out of high school in the 34th round. When asked of his plans for the future, Rod said he hopes to continue his career in baseball. He claims he would love to be drafted by the Diamondbacks due to his favoritism of the team. "I may get a bit of an advantage (with the draft), but I hoped to be drafted based on my ability to play and not for who my dad is."

Sean Prospects in Action – Bourne Braves lefty Jared Theodorakos (Baylor) allowed just two hits over 7 2/3 shutout innings and fanned 10 batters in a 1-0 win at Falmouth on July 1, but it was second-year righty ace Matt Brown (UC-Berkeley) who went 2-0 and did not allow a run in 28 1/3 innings over four starts from June 19-July 6. Brown allowed just 12 hits, walked four and struck out 30 in that time span, but his most impressive outing may have been Saturday versus Wareham when the Braves Big Bruiser yielded just three hits and fanned 11 batters in 7 1/3 innings pitched. Through July 6, Brown was leading the league with 36 Ks. Tack on San Jose State righty Matt Durkin's last few performances and it appears Bourne is once again fighting for the Western Division top slot (second place) on the very back of its collective pitching staff.

Oh Jay Can He See – Brewster Whitecaps' outfielder Jayce "Jay" Tingler (Missouri) was leading the league in on-base percentage (.494), was third in the league in runs (14), was tied for fifth in stolen bases (9) and was sixth in batting (.305) through July 6.

Another Moon Shot – Second-year Chatham A's second sacker Mike Moon (USC) was 6-for-13 with a triple, a pair of home runs and three RBI in four games from June 30 through July 4.

One of Wake Forest's Finest – Cotuit Kettleer righty closer Adam Hanson did not allow an earned run over 19 1/3 innings in nine appearances from June 19-July 5, scattering 10 hits, allowing just two runs, walking six and striking out 21 batters. Hanson went 1-0 with four saves in that span. Hanson wasn't the only Kettleer righty to show off a nasty repertoire of pitches as fellow hurler Garry Bakker (UNC) won three straight starts (June 18-June 30).

Stonard's Bat Bleeds Deep Crimson – Kettleer outfielder Pete Stonard (Alabama) continued his torrid hitting streak through July 6, remaining atop the league in hitting with a .387 clip. In 16 games (from June 18-July 6), Stonard hit .441, going 26-59 with three doubles, 11 RBI and six stolen bases. Stonard also led the league in hits (29), was second in on-base percentage (.473) and was fourth in runs batted in (14) through week's end.

They Might Deserve a Break – The Falmouth Commodores triumvirate of Dave Aardsma (Rice), Pat Misch (Western Michigan) and Chris Tracz (Marist) may be deserving of a lucky hop or two after Aardsma went 2-0, saved two games and did not allow a hit in 10 2/3 scoreless innings over six games from June 22-July 6. Aardsma's fine showings were joined by southpaw Misch who fanned 10 batters and allowed just one run and two hits over seven innings but suffered the loss in a 1-0 pitcher's duel with Bourne's Big Matt Brown (UC-Berkeley). Fellow Commodore southpaw Tracz may have made up for it when he pitched eight shutout innings, allowing four hits to get the win in an 8-0 triumph at Bourne on July 5.

Mariners Rely on Marcum in More Ways Than One – When he's not busy playing infield or outfield, Harwich relief ace Shaun Marcum (Southwest Missouri State) was busy saving eight straight games without allowing a run from June 19-July 1 (eight innings pitched, five hits, no walks, 10 Ks).

No Rest for the Weary – While he may have just arrived late last week for the Hyannis Mets, Stanford's Danny Putnam hopped right into the Cape League flow, collecting a hit in each of his first 10 games (15-40, 6 2B, 2 HR, 2 RBI, 1 SB). Putnam's late arrival was due to Stanford's long stay in the College World Series.

Baker and Rogers, at Your Service – The Orleans Cardinals may soon be heralding the outstanding efforts of their top pitchers in Oklahoma State's Scott Baker and Georgia Southern's Brian Rogers. Baker struck out 10 batters (5 IP, 6 H, 2 R) in a 7-2 win over Chatham on July 5, followed by another stellar effort by Rogers who yielded just two hits over seven shutout innings and struck out 13 batters in a 2-0 win at Harwich on July 6. Rogers went 3-0 and did not allow a run in 26 innings over his first four starts (13 H, 4 BB, 34 Ks).

Sean Walsh/CCBL 2002
Many thanks to Josh Goldfine of SportsTicker.com
With special thanks to CCBL Official Historian Bruce Hack
and Public Relations Department Intern Sarah Hinckley

Omar Quintanilla (Texas) defies the laws of physics in this infield grab.
Sean Walsh/CCBL 2002


Falmouth's Erik Schindewolf (Texas A&M) delivers for the Commodores in a clutch win versus Cotuit on the Fourth of July.
Sean Walsh/CCBL 2002

Orleans' Matt Maniscalco (Mississippi State) plates a run as Y-D Red Sox catcher Jake Fox (Michigan) watches the play unfold.
Sean Walsh/CCBL 2002


Bourne Braves' Dane Bubela (Rice) is reborn on the Fourth of July after hitting a game-winning home run versus the visiting Wareham Gatemen.
Sean Walsh/CCBL 2002

Cardinals' third baseman Brent Lewis (Mississippi State) gets under an infield fly versus Hyannis.
Sean Walsh/CCBL 2002


Cotuit's Brian Snyder (Stetson) launches a deep one at Elizabeth Lowell Park.
Sean Walsh/CCBL 2002

Andy Wilson (Stetson) fires it across the diamond to get a routine out for the Falmouth Commodores.
Sean Walsh/CCBL 2002

-- Sean Walsh