News
07/14/2002 1:01 PM
Article By:
This week in Baseball
14 July 2002
Western Teams Creep Up On Cotuit
Orleans Widens Lead in East on Brewster, Y-D, Harwich
HYANNIS - Taking the Western Division win-loss column at face value, Cape League fans may have overlooked what has begun to take shape as a battle for second place and a spot in the 2002 Playoffs.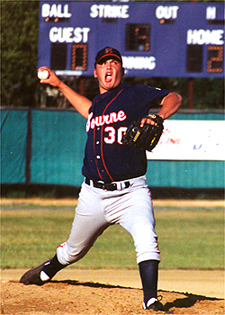 Bourne Braves righty ace Matt Brown (UC-Berkeley) unloads another fastball, setting a club record for most consecutive innings pitched without allowing a run.
Sean Walsh/CCBL 2002

With the Bourne Braves in second place at 11-12-3 (through July 14) and the Wareham Gatemen (11-15-0) tied for third place with the streaking Hyannis Mets (10-14-2), the Falmouth Commodores were in last but by just one point. At 10-15-1, Jeff Trundy's Commodores were poised to make things change and change quickly. Nevertheless, as the four Western Division teams below first-place Cotuit (15-6-5) battled for dibs at a playoff spot, the Kettleers were riding a tough streak of ties, losses and just two wins since breaking the modern-day Cape League record of consecutive wins to start the season (13) on June 26 versus Chatham.

Oddly, Cotuit's line-up remained no less potent than when its torrid 2002 campaign began. Led by league-leading hitter Pete Stonard (Alabama) at a .361 clip and the red-hot bat of Player of the Week Brian Snyder (Stetson), Cotuit still had plenty of breathing room going into the second half of the season.

Atop the league batting leader board, though, came cruising Danny Putnam (Stanford) at .379. A late arrival to the Mets following the College World Series, Putnam has wasted little time in revitalizing a Mets line-up that last season was the bane of opposing Cape League pitching. In just 16 games, Putnam has rapped out 25 hits, including two home runs to pace the Mets who have been an even .500 at 5-5 over the last 10 games. In 2000, the Mets finished at .500 to earn a playoff spot, eventually sweeping Wareham to head to the Championship Series versus eventual 2000 CCBL Champion Brewster.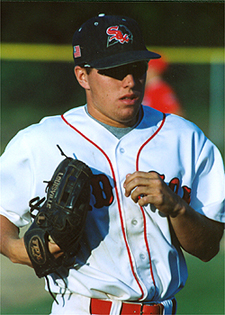 Y-D's Adam Bourassa (Wake Forest) found himself ranked among the top hitters in the CCBL at .344 this week.
Rainne Sullivan/CCBL 2002

But Putnam wasn't the only Hyannis Mets' player heating it up last week. Enter Florida State southpaw Trent Peterson, who at 2-0 with a 0.90 ERA and 31 Ks in 30 innings pitched, squared off against Bourne Braves' top dog Matt Brown (UC-Berkeley) on Friday night in Hyannis in what promised to be a pitchers' duel, if nothing else. Ironically, it ended up a near blowout by the host Mets as their bats got the best of the usually stingy, right-handed Brown. Now at 2-2 (1.41 ERA) but leading the league in Ks with 44, Brown has lived up to his pre-season hype and even went as far as breaking the Braves' consecutive scoreless innings pitched record last week when he peaked at 28 1/3 consecutive scoreless innings pitched. The old Braves' record was 26 consecutive innings pitched without allowing a run, set by Winston Wheeler in 1989). Brown's new standard is the fifth longest streak in modern Cape League history.

Regardless, Hyannis got to the hard-throwing big man, who in five innings allowed 10 hits, four runs and one deep blast by Florida's Ben Harrison to cap it off. Somehow, Brown still managed to strike out eight batters, but it was Hyannis' southpaw Peterson who went to work on the Bourne line-up that night (July 12). Peterson struck out 12 in seven innings of work, walked none and allowed no runs. Mets' relief men Mark Jecmen (Stanford) and Shane Hawk (Oklahoma State) closed it out for the combined shutout, preserving the flawless, much-needed win.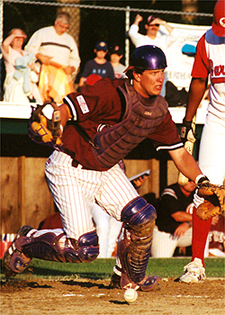 Cotuit Kettleer backstop Steve Pysik (Clemson) pounces on a blocked ball in the dirt versus Orleans.
Sean Walsh/CCBL 2002

Still, the Braves' pitching staff has been anything but forgiving this season. Not only has Bourne supplied the last two Coca Cola Pitchers of the Week (Brown and Oregon State's Ben Rowe), but field Manager Matt Noone's staff has combined to hurl an eye-opening 7-0 record in one-run shutout victories this season. According to CCBL Historian Bruce Hack, the Braves' seven shutouts are one short of the team record set last season and two behind the league mark set by Yarmouth-Dennis last season.

Speaking of Y-D, it may seem even more ironic that in the Eastern Division the Sox found themselves in fourth place at 13-12-1 and on the tail end of a 6-4 streak in the squad's last 10 games. While Y-D's offense has been paced by the red hot bat of UCLA's Wes Whisler (.375 in 14 games) and 2001 CCBL All-Star Adam Bourassa (Wake Forest) who ranked fourth in batting overall and was second in hits with 33, field manager Scott Pickler's pitching staff hasn't exactly been laying down.

While Michigan righty and 2001 CCBL All-Star Jim Brauer may have been hanging onto a deceptive 1-2 record, his ERA (1.23) was sixth best in the league and his walks-to-strikeouts ratio was very respectable (12-30) in 29 innings pitched. Joining Brauer on the Y-D hill and perhaps overlooked among the league leaders due to a statistical quirk is 6'2" Stanford righty John Hudgins who now stands at 2-0 with a nasty 0.50 ERA. With 21 Ks and only five freebies in 18 innings of work, Hudgins may prove one of Y-D's most valuable assets down the long stretch toward the playoffs. Tack on Cal State Fullerton's Darric Merrell (2-1) and N.C. State's Mike Rogers (2-1) and it would not be surprising to see Y-D headed for postseason play for the second straight summer.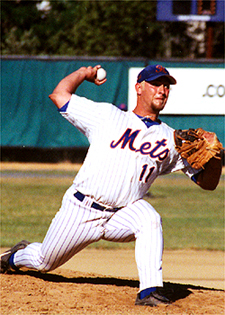 Kentucky right-hander Corey Hahn picked up an important win for the Mets this week.
Sean Walsh/CCBL 2002

While Orleans widened its lead in the East by beating Cotuit, Falmouth and Y-D (twice) last week and is on the hot end of a 7-3 run, it was anyone's guess with Brewster (12-10-4) and Harwich (14-12-0) locked up in second place and just ahead of the Red Sox. While Harwich (4-6 in last 10 games) seemed to be tapering off a bit last week as righty ace Brad Ziegler dropped a tough one versus his former teammates at Chatham, Dave Barnard's Whitecaps were turning it up a notch with an 8-2 stint.

Missouri's Jayce Tingler found himself fifth best in the league in hitting at a .330 clip, followed by San Diego State Major League prodigy Anthony Gwynn, ninth best in the league at .295. Tingler, a three-time all-state basketball player in high school despite being just 5'7", was leading the league in on-base percentage (.464), was tied for second in runs (20) and was fifth in hits (29) and batting (.330) through July 13.

Nearing the all-star break - this year's game will be played at B.F.C. Whitehouse Field, home of the Harwich Mariners, Saturday, July 27, 1 p.m. gates open - it looked like any fan's best guess at which team would make snare second place in the West and East, while Cotuit and Orleans continued to pad their first place leads.
Mid-Season Report -- At the halfway point of the 2002 season, the Cape League is hitting .219, four points lower than last season's first half average. Despite the drop in batting average, the slugging percentage has gone up 11 points from .293 in 2001 to .304 in 2002. The main reason is a 35 percent increase in home runs, from 71 in 2001 to 96 in 2002. Doubles are up 30 percent from last season, 206 to 269. Does this increase in power mean the pitchers are taking more of a beating? The earned run average in 2002 is 2.75, slightly higher than the 2.72 of last season. Shutouts are up to 29 from 26, while saves dropped from 64 to 60.

He Can Bring It - Already once named Coca Cola Pitcher of the Week this season and now at 3-0 with a 0.00 ERA, Orleans' Brian Rogers streak of 28 consecutive scoreless innings pitched is a Cardinals team record.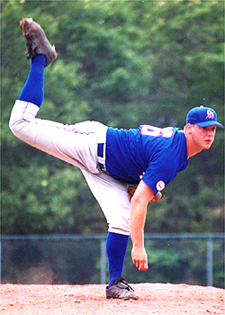 Chatham A's righty Greg Condon (George Washington) is a portrait of poise and grace on the pitcher's mound.
Sean Walsh/CCBL 2002

He Needed Just One Run - Bourne Braves righty Kyle Schmidt (Georgia Tech) pitched nine scoreless innings and allowed just five hits, striking out 11 batters and walking none but the Braves' offense was equally stymied. In just his second appearance of the 2002 season, Y-D southpaw David Marchbanks (south Carolina) also went nine innings, allowing just two hits, striking out four and walking three. Neither hurler got the decision in the 1-0 Bourne victory on July 8.

Barnard's Boys Can Throw - Brewster Whitecaps' righty Bobby Sawicki (Southwest Texas State) pitched a complete-game shutout on July 7 versus Wareham, yielding six hits in a 3-0 win, the only complete-game shutout thrown by a Cape League hurler this summer thus far. Southpaw Taylor Tankersley went 4-0 with a 1.93 ERA in five games June 30-July 13 (23 1/3 IP, 18 H, eight runs, five earned runs, 10 walks and 22 Ks.

Trying to Put it All Together - While the Chatham A's may be in last place in the Eastern Division at 9-15-2, the A's did hand Harwich ace Brad Ziegler a tough interdivisional loss Saturday (July 13) as Frasier Dizard (USC) went 5 1/3 innings to pick up the victory, backed up by relievers Adam Yates (Mississippi) and Zane Carlson (Baylor) who closed it out for his seventh save of the summer. Dizard has allowed just five runs over 22 1/3 innings in four starts June 27-July 13 (22.1 IP, 20 hits, five runs, all earned, 11 walks and 28 Ks), going 2-1 over that stretch.

Falmouth Has Some Answers - Although the Commodores are still trying to put it all together (10-15-1), they are not far off the track. One answer may lie in Lefty Pat Misch (Western Michigan), who allowed no runs and just three hits over seven innings and struck out 10 batters in a 6-1 win at Orleans on July 7. Misch went 1-1 and allowed just one run and seven hits in 22 innings over three starts June 25-July 7 before surrendering four runs -- three earned -- and seven hits in 7 2/3 innings in his following start, a 4-2 loss at Brewster on July 13. Falmouth righty David Aardsma (2-0, 0.00 ERA) did not allow an earned run, yielding just one hit, striking out 23 batters and issuing just two walks in 15 2/3 innings over eight consecutive games June 22-July 12. Aardsma also picked up three saves along the way. And while his batting average may have dropped of late, Vasili Spanos (Rice) remained tied this week for the league lead in RBI (18) with Cotuit's Lee Mitchell (Georgia). Doing the lion's share of the offensive work for Falmouth, however, has been second-year Commodore Jon Kaplan (Tulane) who has reached base safely by hit or walk in 20 consecutive games June 22-July 13 (19-76, 4 2B, 4 HR, 8 RBI, 11 SB) and was leading the league in stolen bases (16) and runs (23) and was tied for second in home runs (4) through July 13.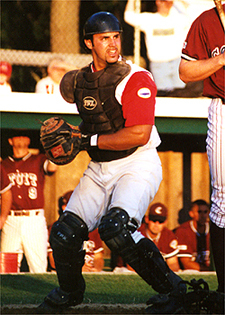 Orleans Cardinals catcher Joey Wolfe (Louisiana/Monroe) dares the runner to take off to second base at Eldredge Park.
Sean Walsh/CCBL 2002

Mariners are Masters on the Hill - Harwich right-hander Andy Baldwin (Western Kentucky) did not allow a run in 13 1/3 innings over seven games June 22-July 10 (4 H, seven walks, 16 Ks), followed by southpaw ace Mark Weinmunson (SE Louisiana) who went 1-1 and allowed just seven runs -- five earned -- and 15 hits over 29 innings in four starts June 21-July 10. Second-year righty Brad Ziegler (Southwest Missouri State) went 3-0 and did not issue a walk in any of his first five games, allowing just six runs -- four earned -- and 21 hits, while striking out 31 batters over 27 2/3 innings. Ziegler walked just one batter in 35 2/3 innings of work this summer, while striking out 38.

Snavely Just Keeps on Truckin' - Ohio State must be pretty proud right now because there have been few opposing pitchers able to handle the sweet stroke of Harwich Mariners' second baseman Chris Snavely this summer. Snavely hit .457 (16-35, three doubles, one triple, here home runs, 4 stolen bases) with 10 RBI in as many games June 29-July 10. He was second in the league in slugging (.536) and was third in batting (.357) through July 13.

Have Pitching, Need to Generate Some Offense - Wareham hurlers have been getting the job done this season, but the team's collective bats could use a boost. Lefty Nick Touchstone (Oskaloosa/Walton) was 1-2 through July 13, but still maintained a superb 1.73 ERA. He allowed one run, three hits and struck out 10 batters over 6 1/3 innings in a 1-0 loss at Chatham on July 11. Touchstone went 1-1 and allowed just two runs and 13 hits over 22 2/3 innings in four starts June 23-July 11. Fellow Wareham southpaw Jeremy Sowers (Vanderbilt) went 3-3 and allowed two earned runs or fewer in each of his first six starts (41 IP, 31 hits, 13 runs, nine earned, nine walks, 34 Ks). Sowers, who was the 20th overall selection in the 2001 draft by the Reds Organization but elected to attend Vanderbilt University, was leading the league with 41 innings pitched through July 13. Rounding off Wareham's parade of lefthanders this week was Texas A&M's Kyle Parcus who did not allow an earned run in 16 innings over 10 games June 24-July 10 (12 hits, two runs, seven walks, 16 Ks), posting a 1-1 record with one save over that stretch.

-- Sean Walsh/CCBL 2002
Special thanks to CCBL Historian Bruce Hack and Josh Lerner at SportsTicker.com in helping provide statistics for this report