News
07/21/2002 1:01 PM
Article By:
This week in Baseball
21 July 2002
Orleans Steamrolls its Way Toward the Postseason
Can Wareham Survive Close Battle for Second in West ?
ELDREDGE PARK, ORLEANS – If such a dichotomy could be personified, then first-year Orleans Cardinals field manager Carmen Carcone had the image down to a science; appearing simultaneously fired up yet at ease with his surging ball club's hot streak, Carcone's face maintained a steely visage, his lips almost pursed, yet at the same time he clapped his hands together in loud smacks of encouragement to his batter.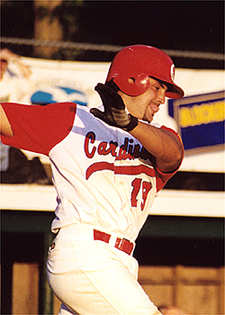 Orleans Cardinals catcher Joey Wolfe (Louisiana-Monroe) appeared to be enjoying the sweet taste of his team's 9-1 run and its firm grasp on first place in the Eastern Division this week.
Walsh/CCBL 2002

It is an image not unimaginable as the Red Birds went 9-1 over their last 10 games, reaching a 21-11 mark atop first place in the Eastern Division, yet it is also an image that may truly depict how honed in on a postseason berth these Cardinals may be.

It's almost as if Orleans can taste the postseason coming and can barely wait for it to arrive.
Not only does Orleans have two solid catchers to select from in Ryan Hanigan (Rollins) and Joey Wolfe (Louisiana-Monroe), helping maintain a pitching staff (2.36 team ERA through July 21) that has allowed the least amount of hits this summer (209), but the Cardinals' catchers can hit and hit they have.

Hanigan, amid the league leaders in batting virtually the entire summer, wrapped up last week at a solid .291 clip in 26 games behind the dish, with 23 hits and eight RBI. His partner in crime? Wolfe was at .339 with 20 hits, one home run and eight RBI. All totaled, the two backstops have combined to make a paltry three errors on the 2002 campaign.

Yet while having a pair of good receivers is essential to keeping a successful pitching staff intact and coming out of the gate firing on all cylinders, it has been a bevy of Cardinals' arms that may prove to be the deciding factor for an Orleans' title bid this summer.

Enter Georgia Southern righty ace Brian Rogers. At 4-0 with a remarkable 0.23 ERA and 49 Ks (just six walks) in 38 innings pitched, Rogers has been unbeatable. In what could have been billed as a duel staged between the CCBL's top two guns this summer on Saturday night (July 20) at Orleans, Rogers faced Richmond All-American righty Tim Stauffer of the Chatham A's.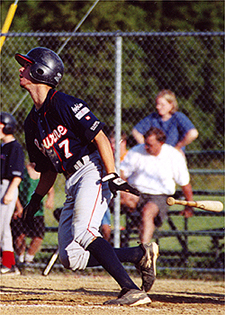 Bourne Braves' all-star shortstop Trey Webb (Baylor) collects a base hit and heads for first base.
Walsh/CCBL 2002

With Stauffer at 2-0 and Rogers at 3-0 before the dust settled, the game took on an almost playoff-like atmosphere. In the end, though, it was Rogers' eight Ks, no walks and one run allowed pitted against Stauffer's six Ks, three walks and five earned runs allowed that gave Rogers his fourth win and the Chatham righty his first loss.

Either way, the crowd of close to 2,500 was treated to an evening that may very well have featured two future Big League pitching stars.

And it was not an affair devoid of hitting. In fact, Orleans third baseman Myron Leslie paved the way for the Cards, going 2-3 with two RBI. On the other side, UNC-Chapel Hill's Jeremy Cleveland went 2-4 with two RBI while USC third sacker Mike Moon had a 2-5 day with a run knocked in and DH Jaime D'Antona (Wake Forest) tossed in a 2-4 performance.

But as Chatham tried to climb out from under in the Eastern Division (11-19-2), second place Brewster and third place Harwich continued to battle for every possible point in the standings the two teams could respectively gain.

Following nine consecutive wins, Orleans tasted that Harwich hunger Sunday night in front of a crowd of 850 or so fans at B.F.C. Whitehouse Field. With Rice righty Jeff Niemann on the hill to try and break Orleans' hot streak, the Mariners' chances looked good Sunday night, as Niemann (0-1, 2.55 ERA) went seven strong innings, walking none, striking out five, allowing one earned run and scattering four hits. But Niemann's solid seven-inning performance went for naught as Orleans kept it tied at 1-1 until Niemann was lifted for Middle Tennessee State's John Williams. Williams, whose Mariner teammates gave him a run and whose all-star colleague Shaun Marcum (Southwest Missouri State) closed the deal on his league-leading 10th save, nabbed the win. Orleans closer Robbie Van (UNLV) got stuck with the loss when he allowed Harwich to plate a late-inning run for a 2-1 loss.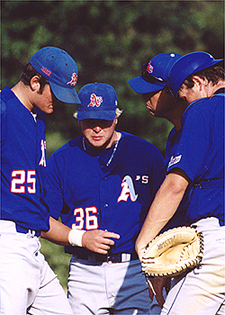 Chatham A's lefty flamethrower Daniel Moore (UNC-Chapel Hill), who picked up a big win this week, consults with second baseman Mike Moon (USC), first baseman Jeremy Cleveland (UNC Chapel Hill) and catcher Colt Morton (NC State).
Rainne Sullivan/CCBL 2002

The second-place Brewster Whitecaps' team, however, may be the dark horse candidate heading into the final stretch of the 2002 season. At 15-13-4 through July 21, Dave Barnard's overachieving Whitecaps have gone 6-4 in their last 10 games and have watched two of their top batters slowly but surely creep into the top 10 in batting.

Fifth in the league in hitting (through July 21) at a .316 clip, Brewster centerfielder Anthony Gwynn (San Diego State) helped pace his squad through the week, followed by Jayce Tingler (Missouri) who was just one of seven CCBL everyday players batting over .300 at .303. Gwynn, the son of future Major League Hall of Famer Tony Gwynn (Who was in attendance at Sunday's game between Brewster and the Y-D Red Sox), was also ranked fourth in hits in the league with 37 behind Y-D's Adam Bourassa (39,.328) of Wake Forest and Cotuit's Brian Snyder (Stetson, 39, .315) and Pete Stonard (Alabama, 43, .364).

Speaking of Alabama, Brewster southpaw Taylor Tankersley picked up a big win this week over the Chatham A's (July 19), to earn him a solid 4-1 mark on the season and lower his ERA to 1.80. Whitecaps' closer George Huguet, a righty out of Miami, increased his saves tally to seven on the season with a 1.04 ERA.
Wareham Creeps in on Cotuit, Passes by Bourne

So the defending CCBL Champion Wareham Gatemen have decided to hang around after all.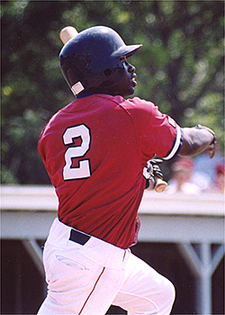 Wareham Gatemen second baseman Tim Moss (Texas) gives it all he has versus the Bourne Braves.
Walsh/CCBL 2002

Struggling at the plate in the early season but blessed with a fine contingent of hurlers, the Gatemen pulled ahead of the Bourne Braves this week for second place bragging rights in the Western Division. At an even 16-16 through July 21, Wareham was riding a 6-4 streak heading into Monday (July 22) morning, and feeling like there indeed existed some light at the end of a long tunnel.

Backed by a league-leading team ERA of 1.99 and having allowed the least number of home runs to opponents of any CCBL staff, Wareham could very well find itself suddenly at the helm of a very close pennant race.

Baylor southpaw David Sanders, named this week to the CCBL All-Star team, stood at 3-2 with 0.94 ERA and picked up Coca Cola Pitcher of the Week honors for a complete-game shutout from the week before. Fellow Gatemen lefty Kyle Parcus (Texas A&M) was also listed among the league's top pitchers this week with a 1-1 mark and a 1.33 ERA in 27 innings pitched (30 Ks). Wareham righty Kevin Guyette (Georgia Tech) went 3-0 with a 1.48 ERA in five games from June 21-July 15 (24 1/3 IP, 20 hits, four earned runs, 19 Ks). Second-year Wareham all-star outfielder Dave Murphy, also from Wichita State, stood among the league leaders in batting at .297 with 33 hits and 14 RBI. With Cotuit still in first place at 18-9-5 (41 points), Bourne only one point behind in third place at 14-15-3 and 12 regular season dates left to go, it could very well prove to be anyone's guess in the West.
Arms Made of Iron – Orleans Cardinals righty ace Brian Rogers (Georgia Southern) had a streak of 28 2/3 consecutive scoreless innings pitched before allowing one run versus the Chatham A's on Saturday, July 20. Prior to that, the 4-0 top hurler had been "lights out." Speaking of "lights out," Bourne Braves' righty Matt Brown (UC-Berkeley) had been almost unhittable until the Hyannis Mets took out the lumber on Friday, July 12. Brown had gone 28 1/3 consecutive scoreless innings before picking up a loss. Nevertheless, both all-star pitchers' streaks are new team records. It is also the first time in the CCBL modern era (Post-1965) that two pitchers have had streaks of at least 25 innings in the same season. Brown was tied for the league lead in strikeouts (53) through July 20.

There is No Such Thing as a Tie in Baseball – Actually, there is when it comes to the Cape League and that's only because half the ballparks do not have lights, including Cotuit, Hyannis (no longer functioning), Bourne, Y-D and Brewster. When games reach the extra innings or weather becomes inclement in the late innings at any one of those teams' ball fields, more often than not the game gets called a draw. According to CCBL historian Bruce Hack, Cotuit's five ties this season equals the team record set in 1976, 1981 and 1988. The league mark for most ties in a season is nine (9) by Orleans in 1977.

Harwich Mariners' catcher Mitch Maier (Toledo) heads for home on the heels of yet another Mariners' rally.
Walsh/CCBL 2002

He Just has to be in the Line-up – Harwich Mariners' field manager has an interesting predicament when it comes to all-star closer Shaun Marcum (Southwest Missouri State). When the righty ace isn't busy adding to his 4-1 record or lowering his 0.38 ERA, he's in the batting line-up more than likely playing outfield. In 15 appearances this summer, Marcum has 10 saves, is 4-1, has 30 Ks in 23 2/3 innings pitched and has walked a meager four batters. Fairly incredible stuff for a guy who also happens to be batting .200 with one home run and seven RBI.

Like Whitecaps' Lightning – Brewster righty Sean White may just be another reason why the Whitecaps are in second place right now. The University of Washington senior-to-be upped his record to 3-0 with a clutch interdivisional victory over Y-D on Saturday (July 20) when he tossed seven scoreless innings (six hits, one walk, four Ks). White went 3-0 with a 1.62 ERA in five games from July 4-20 (33 1/3 IP, 25 hits, eight runs, six earned runs, nine walks and 28 Ks.

Cleveland Rocks in Chatham – Second-year A's first baseman Jeremy Cleveland (UNC-Chapel Hill) finally got the lumber going this week, hitting safely in 11 straight games (18-43, three doubles, one home run, six RBI) from July 7-20, and raised his average from .195 to .275. A fan favorite at Veterans Park, Cleveland batted .252 with two home runs and 22 RBI in 2001, helping lead Chatham to the playoffs.

Speaking of hot streaks in Chatham, Mississippi right-hander Adam Yates went 12 1/3 innings without allowing a run from July 8-18, picking up a win while striking out 15 batters.

Cotuit Still on Top in West – With many thanks to league-leading hitter Pete Stonard (Alabama), the Kettleers remained atop the standings in first place in the Western Division. Called "Stoney" by his teammates, the Cotuit centerfielder was at ..369 with a league-leading 45 hits and was second in RBI behind teammate Lee Mitchell (Georgia) who had 23 and Falmouth first baseman Vasili Spanos (Indiana) who also had 23. Stonard was also second in the league in steals (15) behind Falmouth's Jon Kaplan Tulane) who had 17 thefts through July 22.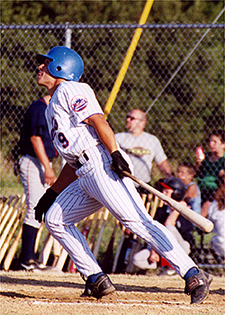 Hyannis Mets' third baseman Adam Fox (Ohio) launches one to deep left centerfield at McKeon Field.
Walsh/CCBL 2002

As if Stonard's consistency wasn't enough, fellow Kettleer Brian Snyder (Stetson) was at .305 with three homers and 20 RBI through July 22. Kettleer righty closer Adam Hanson (Wake Forest) allowed no earned runs in 25 2/3 innings over 13 games from June 19-July 20 (11 hits, two runs, eight walks, 29 Ks), posting a 1-0 record and saving four games over that stretch. Fellow Cotuit righty Marc LaMacchia (Florida State) struck out 10 batters and allowed just two hits over six shutout innings in a 13-0 win at Hyannis on July 20. LaMacchia went 2-0 and allowed no earned runs in 19 1/3 innings over five games from June 29-July 20 (10 hits, one run, seven walks, 25 Ks), while southpaw Eugene Espineli (Texas) did not allow a run in 13 2/3 innings over eight games from July 1-20 (eight hits, three walks, nine Ks).

There are All-Stars Shining in Downtown Falmouth – While the Commodores were at 13-18-1 through July 21, that doesn't mean there weren't some bright spots on the immediate horizon. All-star righty David Aardsma (Rice) went 2-0, saved four games, did not allow a run and yielded just two hits, while fanning 27 batters and issuing just two walks in 17 2/3 innings over 10 games from June 22-July 16. Right behind Aardsma was fellow Falmouth righty Chris Niesel (Notre Dame) who pitched seven outstanding and scoreless innings in a 2-0 win at Cotuit on July 16. Niesel, who overcame cancer to help pace Notre Dame to the College World Series this year, has proven a godsend to Jeff Trundy's staff. So hasn't the return of Tulane's Jon Kaplan in centerfield for the Commodore nine. Kaplan, also named to the all-star team this week, reached base safely in 21 consecutive games from June 22 through July 16, going 20-81, with four doubles, four home runs, eight RBI and 11 stolen bases. He leads the league in base-thefts this year at 17. Kaplan led Falmouth in home runs and stolen bases last year (three and 11, respectively) and has already surpassed his marks this year.

There is Hope in Hyannis – Just ahead of Falmouth in the Western Division, the Hyannis Mets were blessed with the addition of Florida State southpaw Trent Peterson who went 3-0 and allowed just five runs – three earned -- in 36 innings over five starts from June 24-July 19. With an all-star ERA of 0.95 and 39 Ks in 38 innings pitched, Peterson has proven he is the Mets' ace to beat this summer. Kentucky righty Corey Hahn hasn't exactly been a slouch for the Mets, either. The two-time high school All-American allowed just one earned run in 21 2/3 innings pitched over three starts from July 5-18, going 2-0 over that stretch. Hahn remains at 2-2 with a brilliant 1.06 ERA and this week joined Peterson on the Western Division all-star squad.

Stanford slugger Danny Putnam has been on virtual fire since his late arrival to the Mets following the College World Series. In 15 games from June 29 through July 16, Putnam earned his all-star status by going 23-60 (.383) with a league-leading 10 doubles and an additional two home runs and five RBI. Through July 22, Putnam was fourth in the CCBL in batting at .322.

No Doubts About Bourassa – If even a remote semblance of doubt remained last year about whether Adam Bourassa was of all-star caliber, that soon vanished when the multitalented outfielder earned a permanent spot on the Yarmouth-Dennis roster and then was named to the 2001 Eastern Division all-star team. Named for a second consecutive season to the Eastern Division All-Star Squad this week, Bourassa remained on fire at a .328 clip with 39 hits. At Wake Forest this year after transferring from Kishwaukee Community College last fall, Bourassa was also tied this week for fourth in steals (13) and was third in hits.

With the late roster addition of UCLA's Wes Whisler to the Y-D line-up, things have been anything but quiet at Red Wilson Field. Through July 22, Whisler was seeing the ball and seeing it well with a .346 average, six home runs and 15 RBI in just 20 games played.

New Mexico righty Jamie Vermilyea may be 1-3 on the summer, but his 2.03 ERA and recent outings may be proof enough that he is the real deal. Vermilyea allowed no earned runs in 18 innings over nine games from June 23-July 18 and has 30 Ks in 22 1/3 innings pitched.

Special Thanks to Josh Lerner of SportsTicker.Com
and CCBL Historian Bruce Hack for adding to this report.

-- Sean Walsh/CCBL 2002