News
07/28/2002 1:00 PM
Article By:
This week in Baseball


CCBL
All Star Game
27 July 2002
West Overpowers East in 2002 CCBL All-Star Tilt
Snyder Leads Both Squads in Hits and RBI

HARWICH – What a fabulous day for Cape League fans.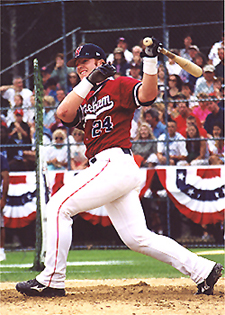 2002 Baseball Factory Home Run Hitting Contest Champion Matt Murton (Wareham) smiles as another one of his patented bombs zooms out of Whitehouse Field at the 2002 Cape Cod Baseball League All-Star Game.
Sean Walsh/CCBL 2002

While the weather was not picture perfect, the players' smiles and long-hit baseballs were plentiful as 5,787 fans cheered on the East and West Division top players in the 2002 Cape Cod Baseball League All-Star Game at B.F.C. Whitehouse Field in Harwich. And long after one of the most memorable home run hitting contests since Falmouth's Doc Brooks wowed the crowd in Wareham in 1999, the West all-stars won, 4-1, for the first time since 1997.
Many thanks to All-Star Game Offensive Most Valuable Player Brian Snyder (Stetson) of the Cotuit Kettleers, and the starting third baseman for the winning side. Snyder, who has been swinging a red hot bat this season for first place Cotuit, snapped out of a recent slow spell at the plate just in time to lead the West to victory when he went 3-4 with three runs batted in.

But all it truly took to down the East – CCBL All-Star Game winners from 1998-2001 – was Snyder's first at bat in the top of the first inning. Facing the hard-throwing Orleans Cardinals' ace Brian Rogers (Georgia Southern), Snyder got all of the top gun's fastball and hammered it to deep left field for a quick 2-0 West team lead, driving in Bourne Braves' all-star shortstop Trey Webb (Baylor) who had singled to lead off the game.

It was as if Snyder had taken a page directly from his West Division counterparts in the pre-game Baseball Factory Home Run Hitting Contest. In round one of the contest, Ben Harrison (Hyannis Mets/Florida) first gave the crowd some excitement when he tied Harwich Mariners' Cesar Nicolas (Vanderbilt) at 6-6 in the opening of round one. While Orleans Cardinals Mike Rapacioli (St. Bonaventure) and Y-D's Wes Whisler (UCLA) combined for a total of five additional East home runs in round one, it was Cotuit's Lee Mitchell (Georgia) who connected for five bombs and then Wareham's Matt Murton (Georgia Tech) who connected for seven to show that this year, the West seemed to have true clout. In round one the West had totaled 18 home runs to the East's 11.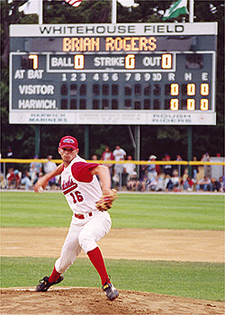 Eastern Division All-Star starting pitcher Brian Rogers (Orleans) delivers a fast ball in the first inning of the 2002 CCBL All-Star Game.
Sean Walsh/CCBL 2002

But tied at six bombs apiece for second place honors, Harrison and Nicolas were forced into a do or die playoff, eventually won by Nicolas. In round three, Murton found himself in a similar position, as he had been the year before against Y-D two-time Home Run Hitting Contest Champ Jason Cooper. Murton did not fail to please, nor did Nicolas as the two deadlocked at three homers apiece before Murton unleashed the final blast to make it 4-3, earning himself the 2002 trophy.

Matt Brown, a second-year, right-handed top prospect for the Bourne Braves got the starting nod for the West, while Rogers took the hill to open things up for the East. Brown picked up the win and Rogers took the loss. Because each squad used a different pitcher in each inning, it was left to the official scorer's discretion which pitcher picked up the win or was handed the loss.

It was the West's 13th all-star game victory in the past 15 years, but the East had been on a roll, winning in 2001, 2000, 1999 and 1998.

Chatham A's right-handed flamethrower Tim Stauffer picked up 2002 CCBL All-Star Game Defensive Most Valuable Player honors after a fine fifth inning. Stauffer, a first- team All-American this spring at Richmond, is currently ranked second in the league in strikeouts with 53, just behind Bourne's Brown (59).

The East was not without its fair share of all-star caliber play in this grand all-star fete. Enter Yarmouth-Dennis Red Sox second-year all-star centerfielder Adam Bourassa (Wake Forest). The spry, multitalented outfielder went 2-3 on the evening with a walk, the sole run scored by the East and three stolen bases. He also unleashed what many West players deemed "a cannon" from centerfield in the top of the eighth inning.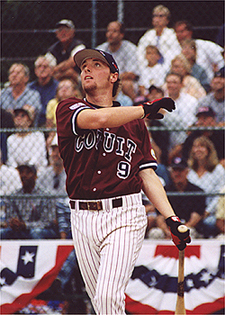 Western Division starting all-star Lee Mitchell (Cotuit Kettleers) hammers one of four straight out of the park in the Baseball Factory Home Run Hitting Contest at the
2002 Cape League All-Star Game.
Sean Walsh/CCBL 2002

Snyder, racing home after a line drive single by Wareham's David Murphy (Baylor), was caught dead in his tracks, turned tail and headed back for third only to get caught in a run-down by Harwich catcher Mitch Maier (Toledo).

Pitching for the West was Brown, Hyannis Mets' southpaw Trent Peterson (Florida State), Wareham Gatemen righty Kevin Guyette (Georgia Tech), Cotuit Kettleer righty Josh Banks (Florida International), Cotuit Kettleer righty closer Adam Hanson (Wake Forest), Falmouth Commodore righty David Aardsma (Rice), Cotuit Kettleer righty Chris Pillsbury (Florida Atlantic), Wareham Gatemen righty Brian Burks (Georgia Tech) and Bourne Braves righty closer Chris Ray (William & Mary).

Pitching for the East was Rogers, Brewster Whitecaps' southpaw ace Taylor Tankersley (Alabama), Y-D righty John Hudgins (Stanford), Harwich righty Brad Ziegler (Southwest Missouri State), Stauffer, Y-D righty Jamie Vermilyea (New Mexico), Orleans righty Scott Baker (Oklahoma State), Orleans righty Whitley Benson (UNC-Chapel Hill) and Harwich Mariners top gun Shaun Marcum (Southwest Missouri State).

Bourne's Webb also had two hits (2-3) on the evening. Maier and Orleans Cardinals catcher Ryan Hanigan (Rollins) were the catchers for the East. Bourne Braves David Castillo (Oral Roberts) and Falmouth's Devin Ivany (South Florida) were the catchers for the West.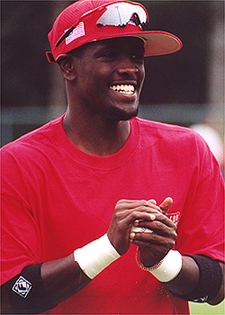 Eastern Division all-star outfielder Anthony Gwynn (Brewster Whitecaps) had loads of laughs on a fun-filled afternoon at
B.F.C. Whitehouse Field.
Sean Walsh/CCBL 2002

Other fine defensive gems were turned in by Snyder and Falmouth first baseman Vasili Spanos (Indiana). Brown, Aardsma and Marcum each struck out two in their one inning of work. The West collected nine hits while the East had seven. The East had the game's sole error.

-- Sean Walsh/CCBL 2002

Western Division All-Star Corey Hahn (Hyannis Mets) high-fives Baseball Factory Home Run Hitting Contestant and Hyannis Mets' teammate Ben Harrison after Harrison ties Cesar Nicolas (Harwich Mariners) for the early lead.
Sean Walsh/CCBL 2002


Harwich Mariners slugger and starting Eastern Division designated hitter Cesar Nicolas watches another bomb leave the Whitehouse Field yard.
Sean Walsh/CCBL 2002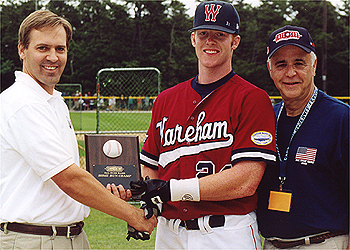 Baseball Factory's Steve Bernhardt (left) and Cape Cod Baseball League Deputy Commissioner Sol Yas congratulate Wareham Gatemen slugger Matt Murton (Georgia Tech) on winning the 2002 Baseball Factory Home Run Hitting Contest at the 2002 Cape Cod Baseball League All-Star Game at B.F.C. Whitehouse Field, Harwich.
Sean Walsh/CCBL 2002

Bourne Braves all-star Matt Brown (UC-Berkeley) fires one in as the starting pitcher for the Western Division squad in the 2002 CCBL All-Star Game.
Sean Walsh/CCBL 2002


East all-star Jeremy Cleveland (Chatham A's) squares around on one prior to the beginning of the 2002 CCBL All-Star Game.
Sean Walsh/CCBL 2002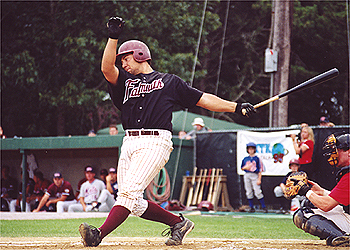 Falmouth all-star Vasili Spanos (Indiana) takes a vicious hack at an early inning pitch in the 2002 CCBL All-Star Game at Harwich. Orleans Cardinals' all-star catcher Ryan Hanigan (Rollins) is behind the plate.
Sean Walsh/CCBL 2002

Y-D Red Sox all-star pitcher John Hudgins (Stanford) signs an autograph for a lucky fan prior to the start of all-star game action at Whitehouse Field, Saturday, July 27, 2002.
Sean Walsh/CCBL 2002


Starting Eastern Division All-Star first baseman Wes Whisler (Y-D Red Sox) waits his turn to loosen up in the batting cage.
Sean Walsh/CCBL 2002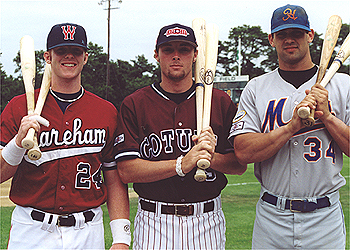 West home run hitters were (from left) Matt Murton (Georgia Tech/Wareham), Lee Mitchell (Georgia/Cotuit) and Ben Harrison (Florida/Hyannis).
Sean Walsh/CCBL 2002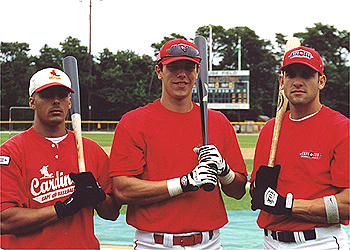 East Division home run hitters included (from left) Mike Rapacioli (St. Bonaventure/Orleans), Wes Whisler (UCLA/Y-D) and Cesar Nicolas (Vanderbilt/Harwich).
Sean Walsh/CCBL 2002

East Division all-star third baseman Brett Cooley (Houston/Y-D) darts in after a ground ball in 2002 CCBL All-Star Game action at Whitehouse Field.
Sean Walsh/CCBL 2002


Florida's Ben Harrison (Hyannis) puts everything he has into the 2002 Baseball Factory Home Run Hitting Contest.
Sean Walsh/CCBL 2002

East all-stars Brad Ziegler (Southwest Missouri State/Harwich), Adam Bourassa (Wake Forest/Y-D) and Mitch Maier (Toledo/Harwich) and others sign autographs by the dozen for appreciative Cape League fans.
Sean Walsh/CCBL 2002


West Division All-Star MVP Brian Snyder awaits the pitch he would hit out of the park for a 2-0 West leadin the top of the first inning.
Sean Walsh/CCBL 2002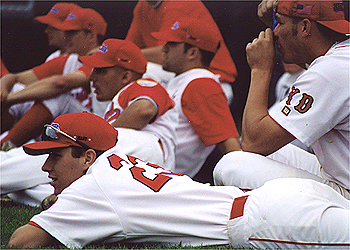 East Division superstar Adam Bourassa and his all-star teammates show they are baseball fans as much as the next guy.
Sean Walsh/CCBL 2002

Orleans all-star Dave Coffey (Georgia) loosens up in the outfield prior to the start of all-star action at Whitehouse Field.
Sean Walsh/CCBL 2002


Cape League Hall of Famer Lennie Merullo tosses out the ceremonial first pitch at the 2002 CCBL All-Star Game at Whitehouse FIeld.
Sean Walsh/CCBL 2002

Cotuit all-star and West MVP Brian Snyder (Stetson) focuses on having a great day at the plate.
Sean Walsh/CCBL 2002


East Division All-Star shortstop Matt Maniscalco (Mississippi/Orleans) enjoys his all-star moment.
Sean Walsh/CCBL 2002

Bourne all-star Trey Webb (Baylor) fires one to first base to get the out.
Sean Walsh/CCBL 2002


Orleans field manager Carmen Carcone hits a few fungoes to loosen the East boys up before the big game.
Sean Walsh/CCBL 2002

-- Sean Walsh