News
07/30/2002 1:00 PM
Article By:
This week in Baseball
30 July 2002
Cape League Playoffs Near, Excitement Builds
East and West Teams Claw for Postseason Position

WAREHAM - Bolstered by the late-season arrival of 2001 Cape League Most Valuable Player Matt Murton (Georgia Tech), but thrown for a loop by the passing of former Cape Leaguer Wally Pontiff, the Wareham Gatemen grasped somewhat tenuously to second place in the West, while Brewster tried to stave off Harwich, Y-D and Chatham in the East.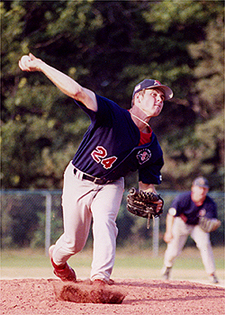 Y-D Red Sox righty Mike Rogers (NC State) upped his record to 4-1 with a 1.42 earned run average this week.
Sean Walsh/CCBL 2002

After breaking his finger in Team USA tryouts, Murton returned to Wareham early last week to offer some much-needed punch to the Wareham lineup, hitting .414 in the team's last nine games and driving in four runs. The affable but hard-swinging outfielder/DH then flaunted some of his power by capturing the 2002 Baseball Factory Home Run Hitting Contest at Saturday's (July 27) Cape Cod Baseball League All-Star Game at B.F.C. Whitehouse Field in Harwich.

And while other Cape League bats began to heat it up as the regular season neared the end, pitching is what spelled the difference for the Brewster Whitecaps and their sudden but hard-earned hold on second place behind the red hot and rolling Orleans Cardinals (24-12-1 through July 30).
University of Washington righty Sean White, southpaw Taylor Tankersley (Alabama), righty George Huguet (Miami) and Maine's Mike Collar all combined to make last week a rock solid one for the Brewster Whitecaps pitching staff.

White, who allowed two earned runs or fewer in six consecutive starts from June 29 through July 26, posted a 4-0 record during that span, tossing 39 2/3 innings, striking out 32, walking 10 and allowing just seven earned runs. Huguet, the Whitecaps' closer, allowed no earned runs in 13 consecutive games from June 29 through July 28, striking out 10 opponents in 14 1/3 innings pitched. The masterful righty collected 10 saves in that time span, placing him in a tie for first in the league in saves (through July 29, now led by Chatham's Zane Carlson at 11). Maine righty Collar went 1-0 and did not allow a run in eight outings from July 1 through July 28, striking out 10 batters in 10 2/3 innings pitched.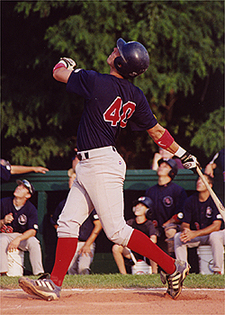 Y-D Red Sox slugger Wes Whisler (UCLA) and his teammates (background) eye the loft of a foul ball at Lowell Park.
Sean Walsh/CCBL 2002

Tankersley, who was leading the league with five wins (5-1), allowed two earned runs or fewer in five consecutive starts from July 3 through July 24. In 32 innings pitched. Tankersley struck out 26 and allowed 11 walks (31 hits).

Pacing the Whitecaps' offense was the all-star duo of outfielders Jayce Tingler (Missouri0 and Anthony Gwynn (San Diego State). Tingler, the Whitecaps' right fielder, was leading the league in on-base percentage (.459), was third in runs (26) and was fifth in batting (.306) through July 28. Gwynn, who went 2-4 Monday night (July 29) in a loss to Cotuit at Lowell Park, upped his average to .304 (41 hits, 8 stolen bases).

Perhaps the most unique characteristic of the battle for second place in the East, though, was the simple but undeniable fact that the heretofore floundering Chatham A's actually remained in the hunt. With seven regular-season games remaining on the schedule (as of July 30), the A's were in last place at 15-20-2, but were only eight points behind second place Brewster, five points behind fourth place Y-D and six points behind third place Harwich. And while righty ace and all-star Tim Stauffer (Richmond) tied for the league lead in strikeouts (59) with a win over Hyannis Monday night (July 29), the resurgence of A's southpaw Daniel Moore (UNC-Chapel Hill) may have suddenly given field manager John Schiffner the weapon he needs to continue Chatham's perennial appearance in the postseason. Moore, who struck out 13 batters in a 2-1 win over the visiting Hyannis Mets Sunday (July 28), yielded just one unearned run and three hits in 7 2/3 innings of work and has won his last two starts after a rough 0-5 start.

A's righty Carlson jumped into the league lead in saves Monday night with his 11thfor the win, while fellow A's right-hander Thomas Pauly fanned 10 batters in a 5-0 win over Harwich (July 25) to bring his season win-loss record to a respectable 3-0 (3.82 earned run average). In 33 innings of work in his last 12 games, Pauly has struck out 34 batters while walking just 10.

Pacing the Chatham lineup, though, was the red hot Jeremy Cleveland (UNC-Chapel Hill), an East Division all-star. Named last week as the Coca Cola Player of the Week, followed this week by Chatham's Ryan Johnson (Wake Forest), Cleveland had a 12-game hitting streak going before it was snapped on July 22. Regardless, Cleveland had raised his average to .275 with 38 hits, two home runs and 11 RBI, while teammate Steve LeFaivre (Wake Forest) also turned up the volume at the plate. LeFaivre connected last week for two home runs versus Brewster.
A Tale of Two First-Place Teams
In first-place in the West for all of the 2002 season and at 21-11-5 through July 30, the Cotuit Kettleers did not miss a step even with last week's loss of Omar Quintanilla (Texas) who went home to attend to family matters.

Alabama's Pete Stonard, on top of the league leaders in hitting with a steady .360 clip (through July 30), continued to lead the league in hits (50), batting average, was second in RBI (24), tied for third in steals (16), third in on-base percentage (.429) and was fourth in runs scored (21). Stonard's continued all-star season was followed closely last week by the hot bat of all-star third baseman Brian Snyder (Stetson).

Snyder, who garnered West Division All-Star Most Valuable Player honors after a 3-4 day with one home run and three RBI on July 27 at the 2002 CCBL All-Star Game in Harwich, cranked another home run Monday night (July 29) and raised his average to the league's third-best at .305.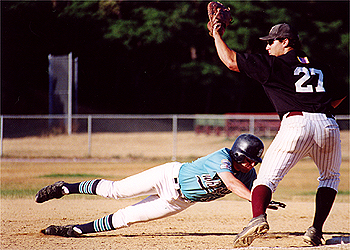 Brewster Whitecaps first baseman Pat Maloney (Kansas State) dives back to the bag as Falmouth's Vasili Spanos (Indiana) awaits the pick-off throw.
Sean Walsh/CCBL 2002

On the mound for the Kettleers, things have been no less daunting than when Cotuit batters step to the plate. Wake Forest all-star Adam Hanson, the Cotuit closer this summer, allowed no earned runs in 14 consecutive games from June 19-July 22. In 26 1/3 innings of relief work, Hanson struck out 30 batters while walking just eight, going 1-0 with four saves during that stretch. Florida State righty Marc LaMacchia won three straight starts with his third coming Sunday, July 28 versus the Bourne Braves at Lowell Park. In 17 2/3 innings of work, the 3-0 LaMacchia struck out 19 but walked only two batters. The Orleans Cardinals fought hard to get to first place in the East this season and have not looked over their shoulder in weeks, continuing last week to increase the distance between first place and their four counterparts game after game.

One might say that a staff loaded with all-star caliber pitching has something to do with that continued success. With a league-best record of 24-12-1, Orleans led second-place Brewster by nine points in the standings. While the point differential between first and second place in the East was not quite as lofty as Cotuit's 13-point lead over second place Wareham, it was also at the same time not technically insurmountable. With seven games remaining through Aug. 6, Cotuit needed just one more win to clinch the West Division Championship and a spot in the playoffs. For all intents and purposes, if Orleans dropped its remaining slate of seven games and Brewster, Harwich and Y-D continued to win, it could be anybody's guess atop first in the East.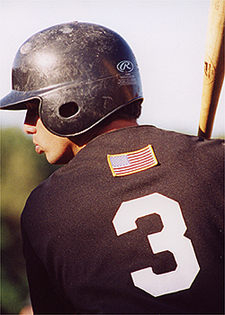 One of the league's top hitters this summer, Jon Kaplan (Tulane) stands beneath a ray of sunlight at Whitecaps Field as the shadows of dusk encroach.
Sean Walsh/CCBL 2002

But the consensus around the Cape League this week was that with the type of pitching Orleans has this season, the ink is all but dried on a regular season title for the Red Birds.

Enter all-star pitchers Brian Rogers (Georgia Southern), Whitley Benson (UNC-Chapel Hill) and Scott Baker (Oklahoma State), and add in UNLV southpaw Robbie Van and 2001 all-star Steven White (Baylor).

Benson, who stood at 1-0 with a 1.54 ERA in 16 relief appearances through July 29, did not allow a run in 10 games between June 29-July 22. In 9 2/3 innings of relief work, Benson struck out nine and walked two, picking up four saves. Van was no less impressive from July 11-25. In five consecutive games, Van allowed no earned runs. He struck out 15 batters in 11 1/3 innings pitched and walked just four. He went 2-1 in that time span and now stands at 3-2 with an amazing 0.88 earned run average, sixth best in the league.

East all-star starting pitcher Rogers, who remained at 4-0 on the season through Monday (July 29), had a league-best 0.24 earned run average and remains poised to set a modern day Cape League ERA record. Baker, a righty and fellow all-star, pitched seven scoreless innings (two hits, one walk, five Ks) in a 3-1 win at Cotuit on July 24.White, a 2001 top hurler for Falmouth who joined Orleans this summer, allowed two runs or fewer in three consecutive starts from July 11-25. In 19 innings of work in that span, White scattered eight hits, allowed just three earned runs, walked seven and struck out 16, picking up one win. White is 2-0 with a 1.78 ERA this summer.
Falmouth One Point from Second Place
While Wareham held onto second place, field manager Jeff Trundy's Falmouth Commodores trailed by just one point in the standings in third place. Fighting tooth and nail for a playoff spot - the Commodores just missed the playoffs last summer - Falmouth was bolstered by the persistent clutch pitching of Notre Dame's Chris Niesel. Niesel, a righty, won three straight starts from July 4 through July 28, striking out 18 batters in 20 innings of work.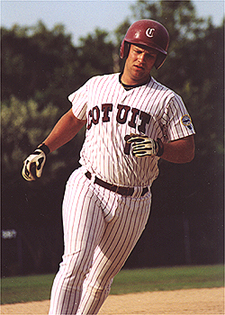 Cotuit's Bryan Zenchyk (Stetson) heads for home after belting one out of Lowell Park.
Sean Walsh/CCBL 2002

The true stud in Falmouth this season, however, has been all-star righty David Aardsma (Rice) who dazzled Major League Scouts with his heat at Saturday's annual all-star game at Harwich. Aardsma, who stood at 2-0 in 14 appearances for the Commodores through July 29, also had seven saves and an incredible earned run average of 0.83. Texas A&M righty Brian Finch, 3-1 in 10 appearances this summer with an ERA of 2.64, had 36 Ks in 30 1/3 innings pitched for Falmouth this summer, adding true depth to the Falmouth staff.

At the plate, Falmouth catcher Collin Mahoney (Clemson) hit .500 (7-14) with two doubles, two home runs and seven RBI in games from July 18 through July 24, adding more depth to a Falmouth backstop platoon that includes all-star catcher Devin Ivanay (South Florida). Leading the way for Falmouth this season has been the undisputed hot bat of Indiana first baseman Vasili Spanos, a West Division first-team all-star. Leading the league in runs batted in with 25, Spanos has been Mr. Everything for Falmouth this summer, collecting 17 extra-base hits (ranked 1st), was second in doubles (10), third in slugging (.472) and was tied for third in home runs (5). Lest we forget Tulane centerfielder Jon Kaplan, a second-year Commodore who just can't avoid getting on base this summer. Through July 29, Kaplan was the league leader in stolen bases (18) and runs scored (20). He was also named to the 2002 all-star team and was ranked eighth in batting (.296) through Monday, July 29.
Harwich Pushing Hard for Playoffs in East
Hats off to Mariners field manager Buddy Custer whose talented ball club has been in the mix all season and promises to make the fight for the second playoff spot a tough one indeed. And tough isn't the word when it comes to Southwest Missouri State closer Shaun Marcum. A 2002 CCBL all-star, Marcum's 4-1 record and 10 saves peg him as the pitcher to beat this season. In fact, the hard-working righty not only plays in the lineup when he's not mowing them down on the mound, but he when he did get the nod to pitch he was busy locking the door and throwing away the proverbial key. In his last six appearances he has yet to allow a run and has gone 4-0 with two saves.

Meanwhile, southpaw Mark Weinmunson (Southeast Louisiana), a Coca Cola Pitcher of the Week this season, allowed only two earned runs or fewer in six consecutive starts from June 21-July 22. In 42 innings pitched, this Harwich workhorse struck out 33 while walking a paltry seven batters. While his 2-3 record was not indicative of his persistency and power on the hill, his 1.10 earned run average proved Weinmunson is the real deal.

Also leaving it on the field, so to speak, was Harwich all-star catcher Mitch Maier (Toledo). Maier, who went 10-18 from July 18-21, hit .556 with three doubles and two runs batted in, pacing the Mariners' offense.
While the Hyannis Mets may still be searching for an answer in the battle for second place in the West, the team's all-star righty ace Corey Hahn (Kentucky) has answered correctly in each of his last three starts. Tossing a one-hitter versus the Bourne Braves on July 24, Hahn improved to 3-0 with 0.28 ERA over his last six games July 11-24. In his 3-0 shutout over Bourne, Hahn struck out 11 and issued only two walks. It was his fourth straight start allowing two runs or less. In 30 2/3 innings pitched in his last four starts, Hahn has struck out 30 and walked 12. Through Monday (July 29), Hahn had the league's fifth best earned run average at 0.84 with a 3-2 record on the summer.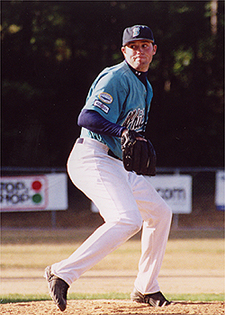 Brewster southpaw ace Taylor Tankersley (Alabama) upped his record to 5-1 last week against the Falmouth Commodores.
Sean Walsh/CCBL 2002

While he displayed incredible power in the Baseball Factory Home Run Hitting Contest at the 2002 CCBL All-Star Game in Harwich, Florida outfielder Ben Harrison has been no less impressive in the Mets lineup of late. Between July 11 and July 24, Harrison hit an amazing .441 (15-34) with one double, one triple, one home run, had three runs batted in and stole five bases. Joining Harrison on the warpath was Stanford freshman Danny Putnam, who (through July 29) was leading the league in doubles (11), was second in slugging (.475), was tied for second in extra-base hits (13) and was sixth in batting (.303).
Pitching is the Name of Gatemen's Game
While the Wareham bats have been relatively quiet this summer, the Spillane Field pitching staff has been second-year field manager Cooper Farris's saving grace.

Southpaw Jeremy Sowers, at 4-4 with a 1.76 ERA this summer, was leading the league with 56 innings pitched through Monday, July 29 and proving to be the workhorse of the Wareham staff. A freshman from Vanderbilt, Sowers allowed two earned runs or fewer in eight consecutive starts from June 14 through July 28. In 56 1/3 innings, Sowers allowed just 11 earned runs, struck out 44 and gave up only 10 walks.

All-star southpaw David Sanders (Wichita State) has been equally effective for Wareham this summer, allowing no earned runs in three consecutive games from July 16-26. While Sanders went 1-1 in 18 innings of work in that time span, he walked none and struck out 11.

On the right side of the mound, enter Georgia Tech freshman and CCBL all-star Kevin Guyette. In six appearances from June 21 through July 22, Guyette went 4-0 with a 1.39 earned run average, fanning 25 batters in 32 1/3 innings.

Making a surprise appearance and tossing one inning for the West as an all-star alternate at the 2002 CCBL All-Star Game was Georgia Tech's Brian Burks. While he possessed a deceptive 0-1 record with a 4.11 ERA, Burks was fourth in the league in saves with nine.
Can the Y-D Red Sox Pull it off?
Through Monday, July 29, the talent-laden Y-D Red Sox were at an even .500 at 18-18-1 and had been 5-5 in the team's last 10 games.

In the West, Y-D's record would be good enough for second place, but in the East, that .500 record had Y-D placed deceptively in the fourth slot.

On the heels of Michigan righty Jim Brauer's no-hitter over Chatham (July 24), field manager Scott Pickler's boys could not wholly be counted out of the playoff hunt. In fact, the Red Sox found themselves head into the last seven-game stretch of the season ready to cause some damage and perhaps play the role of spoiler.

Wake Forest's Adam Bourassa - a two-time CCBL all-star - and UCLA's Wes Whisler, named the starting first baseman for the East all-star squad on Saturday, were two chief reasons why Y-D has grown this summer to become the team to beat in the East. Bourassa was ranked second in the league in hitting (through July 29) at a solid .338 clip, was second in hits (47) and was tied for third in stolen bases (16).

Swinging a heavy stick since the moment he stepped onto Merrill "Red" Wilson Field in South Yarmouth, Whisler has quickly become the bane of opposing pitching. Ranked fourth amid Cape League hitters at .305, Whisler has already once been named a Coca Cola Player of the Week. He is tied for first with Falmouth's Spanos for home runs at six, and is tops in slugging at .537. Joining Whisler and Bourassa in this all-star Red Sox lineup is Houston's Brett Cooley.

The second Y-D third baseman in as many years to hail from the University of Houston and the second straight year Y-D has had the starting man at the hot corner in the all-star game (Hyung Cho, Y-D 2001), Cooley has been slowly creeping up the batting leader board. Through July 29, Cooley was second in the CCBL in extra-base hits (14), second in slugging at .478 and fourth in RBI (22). Hitting .243 as a team, Y-D ranked only second to Cotuit in that category.

-- Sean Walsh/CCBL 2002
With Special Thanks to Kevin Winter/Sportsticker.com