News
08/01/2002 12:58 PM
Article By:
This week in Baseball
1 August 2002


Orleans Ties Modern Day Record for July
Cotuit Clinches West Division Title

COTUIT -- Deadlocked at 0-0 heading into the top of the fourth inning, Wednesday night's game at Elizabeth Lowell Park in Cotuit between the Kettleers and Orleans Cardinals promised to be a pitchers' duel. Oklahoma State all-star righty Scott Baker was feeling the groove and keeping the usually hard-hitting Kettleer line-up off balance. Chris Pillsbury (Florida Atlantic), a righty also named to this year's all-star squad, was hitting his spots and getting some brilliant defense to back him up.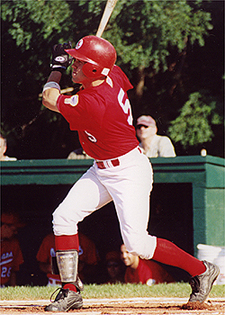 Orleans' all-star Dave Coffey (Georgia) rips a game-winning home run versus Cotuit in a tight, 2-1 game Wednesday at Lowell Park.
Sean Walsh/CCBL 2002

Then Pillsbury made one tiny mistake to Orleans all-star outfielder David Coffey (Georgia) and that was all she wrote. Coffey connected for a two-run blast to right field and Orleans had all the runs it would need. While Cotuit's Pete Stonard (Alabama) offered a solo blast in the bottom of the seventh inning, the Kettleers could not manufacture another run and ended with Tulane shortstop Anthony Giarratano stranded in scoring position. Baker picked up the win to make his record a respectable 3-1 with a 1.76 ERA, while Pillsbury took the loss to go 1-4 with a 2.13 ERA. UNLV southpaw Robbie Van picked up the save for Orleans.

The Orleans victory meant that the Cardinals had tied the modern-day Cape League record for most wins in July at 17. The previous high win mark for July was held by Cotuit, when the Kettleers went 17-6 in July, 1983. At 17-5-1 this month, it is little wonder first-year field manager Carmen Carcone (Dowling) sees his squad squarely atop the East Division, ahead of second place Brewster by seven points with five games to go in the regular season. While the Cardinals stand at 25-13-1 on the summer and for all intents and purposes seem to be a lock for the postseason, nothing is finalized in the playoffs race in the East.

Cotuit, on the other hand, clinched the West Division regular-season title by clinching a first place finish with a 4-1 win Tuesday against Chatham. While Cotuit has won just one game at home since June 26, the Kettleers have been virtually unbeatable on the road and are atop the West at 22-12-5. Even if first-year field manager Garrett Quinn (St. Thomas University) somehow watched his team drop its remaining five games, it would not matter.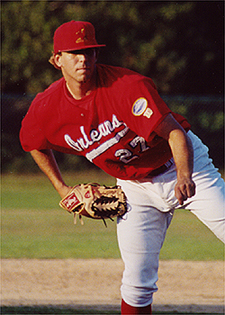 UNLV southpaw Robbie Van picked up his second save versus Cotuit and now stands at 3-2 on the summer with a 1.27 ERA.


Sean Walsh/CCBL 2002
Through July 31, second place Wareham stood at 19-20-0. With five games left on the season, Wareham could win all five but gain only 10 points in the standings, leaving it in second place. Falmouth, in third place in the West through July 31, found itself in a similar position as Wareham. Only one win (two points) behind the Gatemen, Falmouth could win its remaining five games and finish with 46 points. While Wareham and Falmouth will not meet again this season, field manager Jeff Trundy's squad plays host to Cotuit on the final day of the regular season, Tuesday, Aug. 6, leaving room for Cotuit to play the role of spoiler. Technically, fourth place Bourne and fifth place Hyannis are not eliminated from the hunt for second place in the West, and in the Cape League, stranger things have happened when it comes to deciding which teams will end in the hunt for a championship title.

Orleans, while 17-5-1 in July and looking sharper each day, remains ahead of Brewster by seven points and the Yarmouth-Dennis Red Sox by 10. By the looks of it, the East will come down to the wire with new possible playoff scenarios developing each day starting with today's games (Friday, Aug. 2).

For Cape League fans wondering how things will play out, it's a good idea to stay posted.

The top two teams in each division (East and West) will make the playoffs. The interdivisional playoff series begin Thursday, Aug, 8, with the winner of two out of three games advancing to the Championship Series. Once the interdivisional series are concluded, the championship series will begin. The team with the best won-loss record during the regular season will play host twice in both the interdivisional and championship series. No games will be played beyond Thursday, Aug. 15.

Orleans all-star righty Scott Baker (Oklahoma State) picked up his third win Wednesday versus Cotuit and now stands at 3-1 with a 1.76 ERA. He has 45 Ks in 51 innings of work this summer.
Sean Walsh/CCBL 2001


Kettleers' shortstop Anthony Giarratano (Tulane) hammers one but just foul to the opposite field versus the orleans Cardinals Wednesday night (July 31).
Sean Walsh/CCBL 2001

Cotuit's Stephen Ghutzman, transferring to UNLV from Wake FOrest this fall, rips a late-inning single but was left stranded versus Orleans.
Sean Walsh/CCBL 2001


Cotuit all-star pitcher Chris Pillsbury (Florida Atlantic) brings the heat against Orleans, but the Cardinals prevailed 2-1 in a win at Lowell Park.
Sean Walsh/CCBL 2001

-- Sean Walsh, CCBL 2002
Special Thanks to CCBL Official Historian Bruce Hack