News
08/05/2002 12:56 PM
Article By:
This week in Baseball
5 August 2002
Commodores Refuse to Lose in Battle for Playoffs
Y-D Red Sox Tie Brewster for Second Place

FALMOUTH -- With each passing day and only two days and two games remaining in the regular season, the hunt for second place and a playoff spot in the Western and Eastern Divisions continued to get more interesting Sunday night.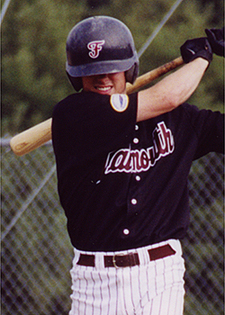 Falmouth catcher Collin Mahoney (Clemson) belted two home runs versus Harwich to keep the Commodores in strong contention with Wareham for second place in the West.
Sean Walsh/CCBL 2002

The Falmouth Commodores, uplifted by Clemson catcher Collin Mahoney's two home runs and another fine relief performance from Rice University's David Aardsma, outlasted a tough Harwich team at Fuller Field, 8-7 in 10 innings. The win for Falmouth brought field manager Jeff Trundy's squad two points within tying Wareham for second place in the West. Wareham fell, 3-2, to the visiting Yarmouth-Dennis Red Sox at Spillane Field. Wareham remains in second place at an even 21-21 with 42 points, while Falmouth (19-21-2) raised its point total to 40 points. Falmouth plays the Y-D Red Sox at Red Wilson Field tonite at 5 p.m., while Wareham heads to Cotuit to play its division rival Kettleers at 5 p.m.

For Harwich, Sunday's loss means it must win tonight against Orleans and top CCBL pitcher Brian Rogers (4-0), and then again tomorrow night at Brewster.

The Whitecaps, who lost to Cotuit Sunday night in a 9-2 tilt at Cape Cod Regional Technical High School, are now tied with the Y-D Red Sox for second place in the East, both teams with 44 points. Brewster is 20-18-4, while Y-D is 21-19-2.

Should Y-D and Brewster end up tied in the East, and Falmouth and Wareham in the West, all four teams will square off in a one-day playoff on Wednesday, Aug. 7. The first Western Division playoff game is already scheduled to be played Thursday, Aug. 8 at Elizabeth Lowell Park in Cotuit at 3 p.m., followed by the first Eastern Division playoff game set for Orleans at 7 p.m.

Other Notes

In a game between the host Hyannis Mets and Chatham A's Sunday night, Chatham A's catcher Colt Morton (NC State) smashed two home runs and drove in five runs to lead the A's in a 5-2 victory.

Chatham A's slugger Colt Morton (NC State) hammered two homers versus Hyannis Sunday night in a 5-2 win at McKeon Field.
Walsh/CCBL 2002

Falmouth all-star closer David Aardsma (Rice) raised his record to 3-0 and lowered his ERA to 0.70 to help lead the Commodores over Harwich in a 10-inning affair Sunday night at Fuller Field.
Walsh/CCBL 2002
-- Sean Walsh/CCBL2002