News
08/06/2002 12:53 PM
Article By:
This week in Baseball
6 August 2002


2002 Cape League Season Winds Down
Regular Season Final Week Was One for Record Books

HYANNIS – In two summers on Cape Cod, Chatham A's righty relief ace Zane Carlson (Baylor) has, in a phrase, stayed the course. From being on the hill in the final moments of last year's final championship playoff game against Wareham at Clem Spillane Field, to setting himself apart from other relievers of his day, Carlson has more than proved he can pass muster. On Sunday night at John McKeon Field against the Hyannis Mets, Carlson picked up his league-leading 12th save, matching the same number of saves he collected last year for the A's. In 2001, Carlson ranked only second to Bourne's Ryan Speier (Radford College) who broke the modern-day saves record with 16.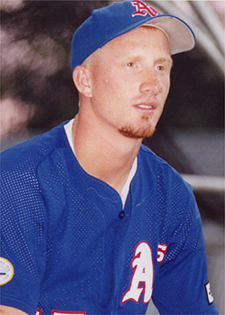 Chatham A's righty relief ace Zane Carlson (Baylor) picked up his league-leading 12th save Sunday night and earned a spot in the record book.
Sean Walsh/CCBL 2002

All totaled, Carlson has 24 lifetime saves to his credit and is the first pitcher in modern day Cape League history to attain two summers of 10 or more saves. Through Aug. 4, Carlson was tied for 10th in appearances (40) and sixth in relief appearances (40) on the all-time list. He stands alone at the top of Cape League relievers with 24 lifetime saves.

But Carlson wasn't the only Cape Leaguer to cross a familiar milestone this week. Three-year Cape Leaguer Stephen Ghutzman (UNLV), who plays this year for Cotuit, and Bourne Braves' outfielder Kyle Frank (Clemson), each marked their 100th lifetime Cape League game played this summer. Frank, who played for Cotuit in 2000, Hyannis in 2001 and for Bourne this summer, marked his 100th game on Saturday, Aug. 3 versus Wareham. Ghutzman marked his 100th career game versus the Bourne Braves on Sunday, July 28. Ghutzman played for Falmouth in 2001 for 39 games and for Cotuit in 2000 for 34 games. Frank played for 31 games for Cotuit in 1999 and in 43 games for the Hyannis Mets in 2001.

Leave it to longtime Chatham A's skipper John Schiffner to find his way once again into the record books: the perennial league title contender moved into fifth place on the field manager's all-time wins list when Chatham defeated Brewster, 8-4, on July 22. In capturing his 214th win that day, Schiffner surpassed 2002 Cape Cod Baseball League Hall of Fame Inductee George Greer (213-143-21 with Cotuit). "Schiff," as he's known more familiarly inside and outside the confines of Veterans Field, now has a 220-187-9 record (through Aug. 4). He is also the fifth CCBL field manager to reach the 500 games plateau. Now in coach Schiffner's sights is the record of longtime Falmouth and Wareham field manager Bill Livesey, also a 2002 CCBL Hall of Fame Inductee. Livesey compiled a 240-157-4 lifetime record.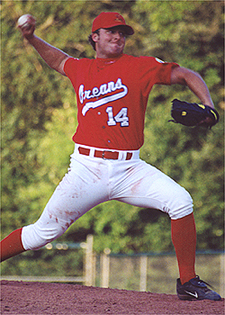 Orleans righty relief ace Whitley Benson (UNC-Chapel Hill) has been the red Birds go-to guy in the late innings.
Sean Walsh/CCBL 2002

As the battle for second place and a playoff spot broiled in the respective Eastern and Western Divisions this week (through Aug. 5) and just one day remaining on the regular-season schedule (Tuesday, Aug. 6), it seemed like there could be few Cape League records out of harm's way.
Following last Saturday night's games (Aug. 3), CCBL pitchers had combined for 120 saves, shattering last year's tally of 117. For the third consecutive season and only the fourth time in modern day CCBL history had Cape pitchers combined for 100 or more saves in a season. In addition, this year's total of 46 shutouts tied for second place (46 shutouts in 2001 as well) on the modern day records list. Yet, as CCBL Official Historian Bruce Hack noted, "With the success of the closers brings about the decline in complete games. With only 11 this season, this will be the fewest in modern era history. The previous low was 28 set in 2001," he said.

Another hot streak and one for the record books came with the recent performances by Wareham Gatemen southpaw David Sanders (Wichita State), who for the second time this season was named Coca Cola Pitcher of the Week (Aug. 3). At 4-3 but with an ERA of 0.73, Sanders had a streak of 29.2 consecutive innings pitched without allowing a walk through Sunday. This is a Gatemen record and the second longest in modern Cape League history. Earlier the year Harwich's Brad Ziegler (Southwest Missouri State) set the league record with 31.1 consecutive innings pitched without allowing a walk. Both hurlers were CCBL all-stars.

Good Hitting Runs in the Family – Bourne Braves' outfielder Dane Bubela (Rice) may not have been a contender for league batting champion this season, as his older brother Jaime Bubela had won in 1999, but down 4-2 in the seventh inning against Cotuit last Friday (Aug. 2), the younger Bubela flashed some power. With bases loaded, Bubela hammered an Adam Hanson fastball to deep right at Coady Field and as the Cotuit right fielder hopped up on the fence to make a bid for the ball, the crowd cheered and it appeared the young man had hit a go-ahead grand slam home run. But as Bubela trotted toward second base and the Braves' base runners headed for home, the first base umpire called the runners back and called the ball a ground rule double. Nevertheless, the Braves pulled a magic rabbit out of the hat and plated two more runs, enough for the win.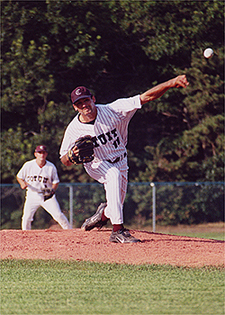 There remained little doubt this week that Cotuit will be counting on Arizona southpaw Joe Little in the playoffs.
Sean Walsh/CCBL 2002

In Brewster, Huguet Gets It – It's little wonder the Whitecaps remained in second place in the Eastern Division through Monday, Aug. 5 (tied with Y-D), because when the going gets tough, field manager Dave Barnard (Williams) goes and gets Miami's George Huguet. Through Sunday's games, Huguet had 11 saves and a 0.84 earned run average and 17 Ks in 17 appearances. The workhorse right-hander allowed no earned runs in 14 consecutive games from June 29 through July 30 (15 1/3 IP, 4 H, 1 R, 4 BB, 13 SO), collecting all 11 of his saves in that time span. And when Coach Barnard needs a southpaw? It's been Alabama's Taylor Tankersley of course. At 6-1 (through Aug. 3), "Tank" remained in the league lead for wins at 6-1. From July 3 through July 30, he allowed two earned runs or fewer in six consecutive starts.

They Went Out With Pride – While the A's may have placed last in the East, the Chatham boys were due some respect last week and earned it big time. NC State slugger Colt Morton collected five RBI with two blasts versus Hyannis on Sunday night, taking care of all the runs the A's would need for the win. Morton also connected for a dinger on Aug. 2 versus Harwich and in those two games went 4-8 with six RBI. Princeton righty Thomas Pauly finished out the 2002 season with a perfect 4-0 record. In 14 appearances from June 18 through Aug. 4, Pauly worked 47 innings, striking out 47 and walking only 11 batters. He allowed just 17 earned runs and gave up 36 hits.

Stonard is Like a Rock in the Kettleer Line-up – Nothing has seemed to faze Alabama's Pete Stonard who through Sunday night remained the league leader in hitting with a .354 clip, a full .025 points ahead of Y-D all-star Adam Bourassa (Wake Forest). Stonard, who hit safely in 12 straight games from July 19 through Aug. 4, also flashed he leather from second base, third base and even shortstop in recent weeks, deviating from his usual post in centerfield. As of Monday (Aug. 5) morning, "Stoney" was leading the league in hits (56) and batting (.354), was second in RBI (27), third in on-base percentage (.423), fifth in stolen bases (17) and was tied for fifth in runs (22).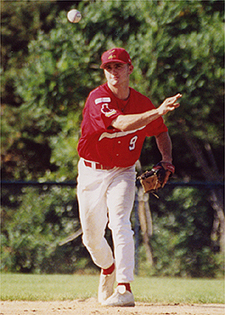 Orleans second baseman Steve Garrabrants (Arizona State) belted a game-winning two-run homer versus Bourne Sunday night.
Sean Walsh/CCBL 2002

A Ship Sent from the Heavens – Falmouth Commodores skipper Jeff Trundy may have been thanking a deity above for the recent hot streak of stalwart backstop Collin Mahoney (Clemson) who hit two season-saving bombs versus the visiting Harwich Mariners Sunday, Aug. 4. In a do-or-die situation for second place in the West, Mahoney was joined by the all-star bat of first baseman Vasili Spanos (Indiana). Superb with the glove, Spanos is just as dangerous at the plate and in 18 games from July 10 through Aug. 2 he proved it. In that time span, Spanos hit .355, going 27-76, belting seven doubles, one triple, two home runs and collecting 16 RBI. Through Sunday, the rough-and-tumble Commodore first sacker was leading the league in RBI (31) and extra-base hits (19), was tied for first in home runs (6) and was tied for second in doubles (11).

A Pair of Whitehouse Field Wonders – Southpaw Mark Weinmunson (Southeast Louisiana) allowed two earned runs or less in seven consecutive starts from June 21-July 29 and in 49 innings of work had scattered 27 hits, gave up just six earned runs, struck out 41 and walked only 10. While he had just a 2-3 record to show for his efforts, Weinmunson was this season's first Coca Cola Pitcher of the Week and had a highly respectable 1.64 ERA. On the right side, Rice University's Jeff Niemann allowed two earned runs or fewer in three consecutive starts from July 21-August 3. In 20 innings of work in that span, Niemann struck out 17 and walked just three, allowing only three earned runs.

Last Call in Hyannis – Mets third baseman Adam Fox (Ohio) chose the home of the Cotuit Kettleers Saturday night to be the scene for an awesome 4-for-5 day with a double, homer and five RBI in an 11-4 rout. Joining Fox was Mario Garza (Florida) who went 3-5 with two RBI, Danny Putnam (Stanford) who went 1-2 with an RBI and kept his average at .308, and shortstop Travis Garcia (Iona) who belted his first homer of the season, a three-run job. Through Sunday, Putnam was leading the league in doubles (12) and was third in slugging (.471).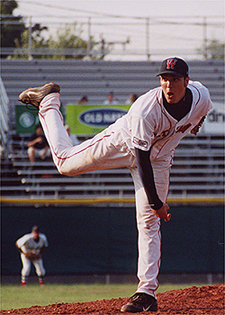 San Diego State's Rory Shortell couldn't get by the surging Y-D Red Sox Sunday night as the Wareham Gatemen fell 3-2.
Sean Walsh/CCBL 2002

Champing at the Bit for the Postseason – At 27-13-2 and 7-3 in their least 10 games (through Aug. 3), the Orleans Cardinals had clinched the East and set the cruise control awaiting Thursday's Eastern Division Playoff Series. Sharp and looking ready to handle anything was The Citadel's Eric Talbert who upped his record to 4-1 and lowered his ERA to a paltry 0.96 Sunday night versus Bourne. In 8.1 innings of work, the Cardinals' southpaw struck out seven, walked just one and allowed no runs in a combined shutout with closer Whitley Benson (UNC-Chapel Hill). Benson earned the save, his 10th on the year. Taking care of offense in that game was second baseman Steve Garrabrants (Arizona State) who went 2-3 with a two-run homer, his first of the season.

Talbert allowed no earned runs in five consecutive games from July 12-Aug. 4 (23 1/3 IP, 13 H, 2 R, 3 BB, 19 SO), going 4-0 during that stretch. CCBL top gun Brian Rogers (Georgia Southern), who was leading the league with a 0.41 ERA through Aug. 4, allowed two runs or fewer in seven consecutive starts from June 17-July 30 (44 IP, 22 H, 3 R, 2 ER, 7 BB, 52 SO), going 4-0. But that's not quite the entire cast of pitching characters for the Red Birds. Add to the Talbert and Rogers show UNLV southpaw Robbie Van who allowed no earned runs in seven consecutive games from July 11-31 (14 1/3 IP, 4 H, 1 R, 4 BB, 20 SO), and going 2-1 in the process. Then add right-hander Whitley Benson (UNC-Chapel Hill) who saved five straight games from July 24-August 4 (4 IP, 2 H, 1 R, 1 ER, 4 BB, 5 SO), and why not throw in righty Steven White. The Baylor two-year Cape Leaguer went 3-0 with a 1.67 ERA in eight games from June 20-Aug. 2, working 43 innings and striking out 38, giving u[p just eight earned runs. Last but not least, Orleans righty Scott Baker (Oklahoma State) went 3-0 with a 1.74 ERA in five games from July 5-31, tossing 31 innings while striking 36, his last effort coming against Cotuit for the win.

They Can Pitch in Wareham, Too – If rock solid pitching is the key to success in the Cape League this summer, then by all means the Wareham Gatemen have saved themselves with a bullpen chock full of arms. Southpaw Jeremy Sowers (Vanderbilt) allowed two earned runs or fewer in nine consecutive starts from June 14-Aug. 3 to lead the league in innings pitched at 65. With a 5-4 record and a 1.54 ERA, Sowers fanned 56 batters, walked just 11 and allowed only 11 earned runs. He fanned 12 batters in a complete-game win at Bourne on Saturday, Aug. 3, allowing just a run and four hits. Georgia tech right-handed frosh Kevin Guyette was no slouch either from June 21 through last Wednesday, going 5-0 with a 1.56 ERA in seven games, 40.1 innings of work. San Diego State righty Rory Shortell allowed two runs or fewer in four consecutive starts from July 19 through Aug. 4 (23 2/3 IP, 21 H, 4 R, 2 ER, 9 BB, 23 SO), posting a 1-1 record. And in 11 appearances from July 8 through Aug. 2, Wareham closer Brian Burks (Georgia Tech) remained tied for second in the league with 11 saves.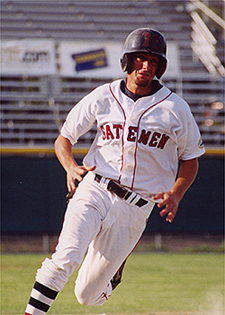 Wareham's Matt Kutler (Brown) has been cutting up opposing pitching of late, pacing the Gatemen offense.
Sean Walsh/CCBL 2002

Y-D Pitching is Just Downright Nasty – Locked in a second place tie with Brewster through Monday morning (Aug. 5), the Yarmouth-Dennis Red Sox relied heavily upon a cadre of arms rivaling the top staffs on the Cape this summer. New Mexico State righty and CCBL All-Star Jamie Vermilyea allowed no earned runs in 13 consecutive games from June 23-Aug. 3, working 23 innings and striking out 30. The hard-throwing NC State ace Mike Rogers cranked his record up to 5-1 on the summer with an impeccable 1.11 ERA. On July 30 in a 3-1 win at Harwich, Rogers pitched seven scoreless innings for his fourth consecutive game without allowing an earned run. Rogers was tied for second in the league with five wins through Aug. 4. Stanford righty John Hudgins remained one of the best relievers in the league at 3-1 with a 1.03 ERA and three saves in just 10 appearances. The affable but hard-throwing hurler had struck out 45 batters in 35 innings of work through Monday morning.

On the base paths, Y-D lead-off man Michael Bourn continued his rampage and increased his league lead in steals to 23 in a 2-4 day (double) versus the host Wareham Gatemen Sunday (Aug. 4), followed by the continued red-hot bat of CCBL all-star Brett Cooley (Houston). Through Monday, Cooley was tied for first in the league in home runs (6), was second in slugging (.481) and extra-base hits (16) and was third in RBI (24).

Sean Walsh/CCBL 2002
Special Thanks to Kevin Winters/SportsTicker.Com
and CCBL Official Historian Bruce Hack statistical data