News
08/06/2002 12:54 PM
Article By:
This week in Baseball
6 August 2002


Y-D Takes Second Place Spot
Wareham Clinches Playoff Spot

SOUTH YARMOUTH -- Cape League all-star slugger Wes Whisler (UCLA) uncharacteristically chomped on a pink towel, hoping the irony of a 6'5" power hitter doing so would somehow bring his Y-D Red Sox some good luck.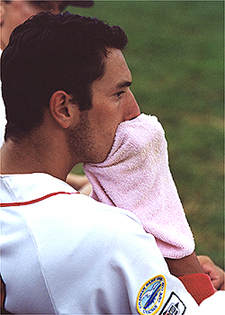 Y-D Red Sox slugger Wes Whisler (UCLA) chomps on his lucky pink towel in a 6-6 tie with Falmouth last night at Merrill "Red" Wilson Field.
Rainne Sullivan/CCBL 2002

It worked.

Needing to win or tie to gain valuable points in the Eastern Division standings, and praying that Brewster might somehow fall to the Chatham A's, the Y-D Red Sox battled it out with the equally scrappy Falmouth Commodores at Red Wilson Field last night, ending in a 6-6 tie after eight innings. The game was called due to to darkness, and while Falmouth had gained one point in the standings (41 total), it was one point too few as the second place Wareham Gatemen (22-21) defeated the Cotuit Kettleers, 7-1 at Lowell Park. Wareham picked up two points for a total of 44 with one game left (tonight versus Bourne), while Falmouth's tie left the Commmodores at 41 points. A win tonight versus the visiting Kettleers would only mean 43 points, not enough even if Wareham loses to the Braves.

Wareham will travel to Cotuit for a 3:00 p.m. game, Thursday, Aug. 8, in the first of the best-of-three Western Division playoffs. Falmouth ends its season with Cotuit tonight at home at 7 p.m.

Backed by a three-run homer by Houston's Brett Cooley and the catching heroics of Michigan's Jake Fox, the Red Sox advanced one point ahead of the Brewster Whitecaps for second place in the East. The Whitecaps fell to last place Chatham, with the A's proving the spoiler to the Whitecaps' hopes for the evening. A Brewster win tonight (versus Harwich at 5 p.m. at Whitecaps Field), combined with a Y-D loss to the Hyannis Mets, would mean Brewster would regain second place outright and eliminate Y-D from the playoffs. A Brewster tie with Harwich, combined with a Y-D loss to Hyannis would mean a one game playoff between Y-D and Brewster for second place honors and the final remaining playoff spot. A Y-D win over Hyannis would simply eliminate Brewster from the picture altogether.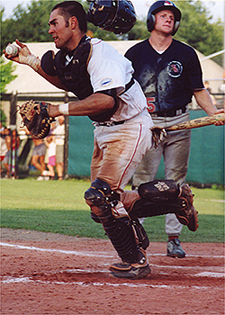 Wareham catcher Mike Nickeas (Georgia Tech) chases down Y-D's Brett Cooley (Houston) as Nick McIntyre (Purdue) reacts to his missed squeeze bunt Sunday night in Wareham.
Sean Walsh/CCBL 2002

In other action, the Orleans Cardinals eliminated the Harwich Mariners from playoff contention in an 8-4 Cardinals' victory at B.F.C. Whitehouse Field last night, while the Bourne Braves defeated the Hyannis Mets, 2-1.


--Sean Walsh/CCBL 2002
With Special Thanks from Will Bussiere